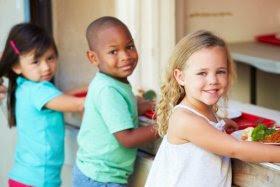 Penn-Harris-Madison's Food Service Department, 56100 Bittersweet Road, Mishawaka, IN 46545 (located in Penn High School)
Director of Food Service: Jill Riggs (574) 258-9552; Assistant Director: Mark Wilcox (574) 258-9572; Secretary: Stacey Rach (574) 254-2814
Penn-Harris-Madison schools meals meet tough new nutrition standards
P-H-M students have healthy new choices in their school cafeterias. Penn-Harris-Madison Food Service is serving school meals that meet tough new federal nutrition standards, ensuring that meals are healthy, well-balanced and provide students all of the nutrition they need to succeed at school. 
School meals offer students milk, fruits and vegetables, proteins and grains, and they must meet strict limits for saturated fat and portion size.  Starting this fall, school lunches will meet additional standards requiring:
•    Age-appropriate calorie limits
•    Larger servings of vegetables and fruits (students must take at least one serving of produce)
•    A wider variety of vegetables, including dark green and red/orange vegetables and legumes
•    Fat-free or 1% milk (flavored milk must be fat-free)
•    More whole grains
•    And less sodium
"We're always working to offer our students healthier and tastier choices," said Jill Riggs, director of food service at Penn-Harris-Madison.  "In addition to meeting new nutrition standards, we're also creating healthy and delicious menus that are appealing to our students."
 
School Lunch Menus
Food programs offered at P-H-M
For information on the different food programs P-H-M offers, click on the links below:
Free/Reduced Meal and Textbook Information
We encourage families who are struggling to meet expenses due to the loss of a job or reduction in work hours to apply for the National School Lunch Program's free and reduced-price lunch. The application is easy to fill out (one per household) and it includes a place to indicate that you also want to apply for textbook assistance.
Please make sure to fill out only one form (application) per household, even if the children are in different schools. You must mark the textbook section to be eligible for textbook reductions and sign the form in the textbook section. Free or reduced textbook eligibility will substantially reduce your textbook cost. You may still be required to pay some materials fees.
Click on this link for answers to frequently asked questions about the Free/Reduced Meal and Textbook Application.
Payment Options
The P-H-M Food Service Department recommends debit cards as an easy to use option so your child does not need to bring money to school for breakfast or lunch on a daily basis. You may pay on line at www.mylunchmoney.com or send cash or a check to school. Please specify your child's name and "lunch money" on the envelope. Don't forget to specify meal account or ala-carte account. The meal account only allows full meal purchases, ala-carte allows meals or snacks. Meal prices are $1.90 for elementary and $2.10 for middle and high school. If you would like to buy a week's worth of meals, the cost would be $9.50 for elementary and $10.50 for middle and high school. Snacks at the elementary range from $.25 to $.75. Ala-carte at the middle and high schools is from$.50 to $3.00. Milk or juice is $.50. Additional options for Combo meals are available at the high school for $2.25 to $3.00.
When you provide a check as payment for a food purchase in the food service department, you authorize the P-H-M Food Service Department to process the payment as a check transaction. Federal Automated Recovery Systems (FARS) processes our electronic collection of checks returned for insufficient funds (NSF).
You may register your child at MyLunchMoney.com, which is a prepayment system that allows parents to create a secure online account for payment of school meals. MyLunchMoney.com is a very easy and convenient service to manage your student's meal choices and purchasing privileges. Deposits utilizing this service have a nominal cost of $1.95 per deposit. When registering your student, please be sure to add a zero (0) in front of your student's ID number. The registration number must be seven (7) digits.
In addition to the parent tools, MyLunchMoney.com has added a service called "Smart Pay". Smart Pay is designed for busy parents who want to make sure their child always has money but may not always have the time to constantly check their account balance. Smart Pay allows parents to set up their account to automatically replenish when the balance gets low and sends automatic monthly transaction reports of all their MyLunchMoney.com payments.
Please make sure that your child has lunch money available each day. Children without lunch money may be required to call home or have a peanut butter and jelly sandwich, milk and fruit, after the first charged meal. You will still be charged for peanut butter and jelly meals. Ala-carte and snack items may not be charged. If your child has a negative balance, they will not be allowed to purchase snacks. Food Services is not allowed to carry negative balances on children's accounts in the National School Lunch Program so if a meal is charged for your student, you must pay the amount due the following day.
P-H-M Birthday Service
Introducing the P-H-M Food Service Department's Birthday Service - Let us help you celebrate your child's birthday!  Each birthday package includes 35 individually wrapped treats, a card, and a pencil for the birthday child. The cost is only $15 per package and you have your choice of eight different treat options. All choices are peanut free and meet the Wellness Criteria for a healthy snack choice. Please be sure to check with your individual school to make sure that they participate in the P-H-M Birthday Service. If your school does participate and you would like to order, send the completed form with your payment to your school's Food Service Department at least one (1) week in advance. Here is a flyer and the form you need to complete - P-H-M Birthday Service form.
Links to sites of interest:
Indiana School and Nutrition web site
The U.S. Department of Agriculture prohibits discrimination against its customers, employees, and applicants for employment on the bases of race, color, national origin, age, disability, sex, gender identity, religion, reprisal, and where applicable, political beliefs, marital status, familial or parental status, sexual orientation, or all or part of an individual's income is derived from any public assistance program, or protected genetic information in employment or in any program or activity conducted or funded by the Department. (Not all prohibited bases will apply to all programs and/or employment activities.)
If you wish to file a Civil Rights program complaint of discrimination, complete the USDA Program Discrimination Complaint Form, found online at http://www.ascr.usda.gov/complaint_filing_cust.html, or at any USDA office, or call (866) 632-9992 to request the form. You may also write a letter containing all of the information requested in the form. Send your completed complaint form or letter to us by mail at U.S. Department of Agriculture, Director, Office of Adjudication, 1400 Independence Avenue, S.W., Washington, D.C. 20250-9410, by fax (202) 690-7442 or email at program.intake@usda.gov.
Individuals who are deaf, hard of hearing or have speech disabilities may contact USDA through the Federal Relay Service at (800) 877-8339; or (800) 845-6136 (Spanish).
USDA is an equal opportunity provider and employer.
It is the policy of the Indiana Department of Education not to discriminate on the basis of race, color, religion, sex, national origin, age, or disability, in its programs, activities, or employment policies as required by the Indiana Civil Rights Law (I.C. 22-9-1), Title VI and VII (Civil Rights Act of 1964), the Equal Pay of 1973, Title IX (Educational Amendments), Section 504 (Rehabilitation Act of 1973), and the Americans with Disabilities Act (42 USCS § 12101, et seq.).
Inquiries regarding compliance by the Indiana Department of Education with Title IX and other civil rights laws may be directed to the Title IX Coordinator, Indiana Department of Education, Room 229, State House, Indianapolis, IN 46204-2798, or by telephone to (317) 232-6610 or the Director of the Office for Civil Rights, U.S. Department of Education, 111 North Canal Street, Suite 1053, Chicago, IL, 60606-7204 (312) 886-8434 – Glenda Ritz, Indiana Superintendent of Public Instruction.