SAFETY IS A TOP PRIORITY!
Safety and security is P-H-M's top priority because the emotional and physical well-being of our students is of the utmost importance. Our students must feel safe in order to be able to learn. Our families must trust that we are doing all we can to protect children while they are in our care. It is our goal to work with you, our families, to make our students feel safe and supported. Click to meet P-H-M's experienced Safety Team. As a nationally recognized leader in school safety, we use best practices in evaluating school threats and threats of targeted violence. Our administration works closely with the Indiana Department of Education School Safety Academy to train School Safety Specialists.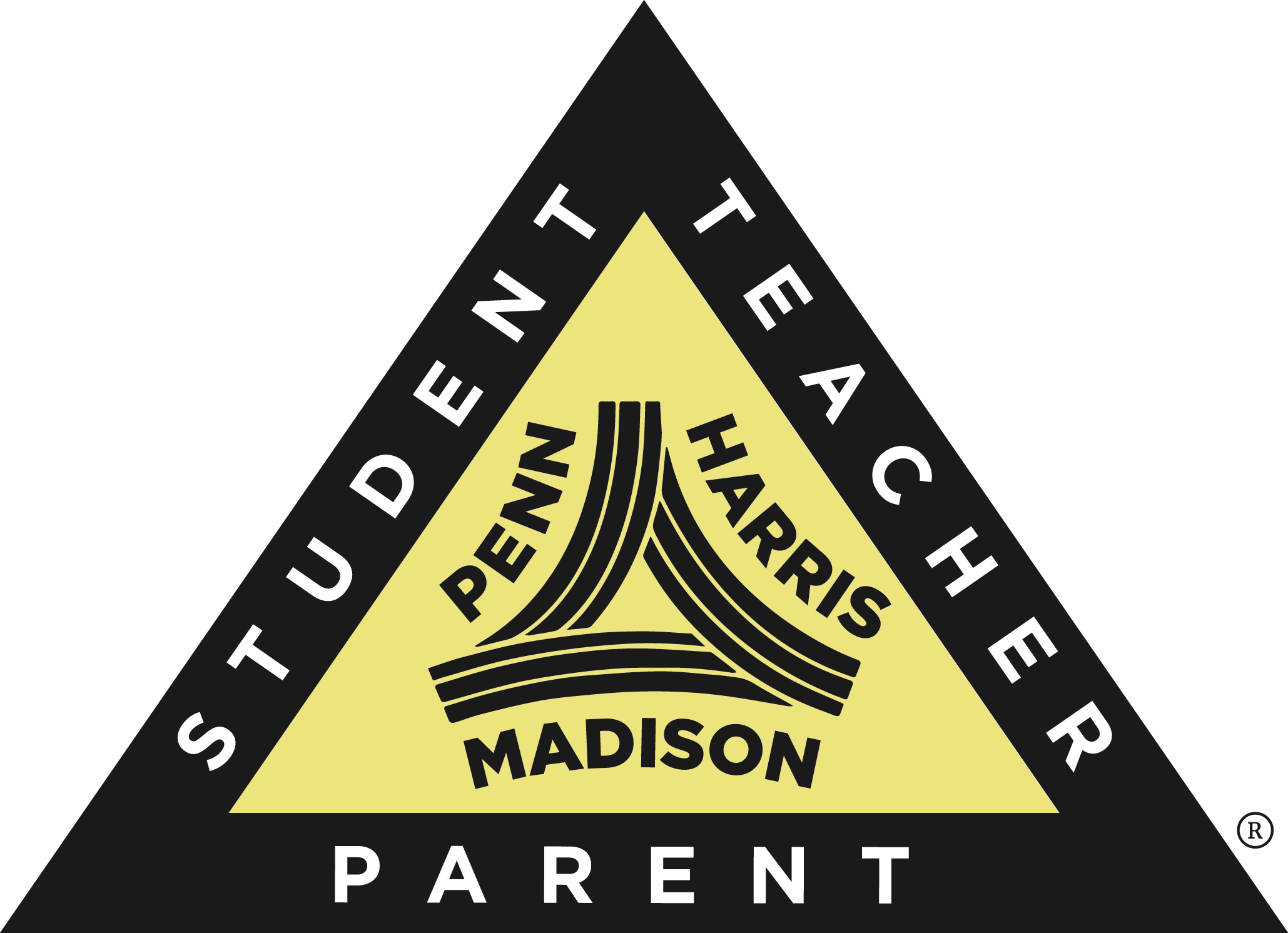 P-H-M's "Triangle of Success" connects students, teachers, and parents/families. We are a community working together to educate students in a safe learning environment. Please tell your children  … See something, hear something, say something!
Our efforts are guided by the P-H-M SAFETY MISSION STATEMENT: 
Penn-Harris-Madison has developed effective school safety plans and crisis management plans. We will utilize an ongoing process to update district-wide safety plans that includes in-service training, crisis preparation, a district safety committee and student/family participation. Through research, planning, implementation and follow-up, and a coordinated effort among students, families, educators and community members, P-H-M will continue to have safe schools that support student learning.
---
Report Concerns via Safe School Helpline
P-H-M utilizes the Safe School Helpline® as a confidential way to report student concerns about weapons, threats, suicide, drugs, bullying or anything else that threatens the safety of our schools. 
Four Ways to Report to the Safe School Helpline®:
Call: 1-800-418-6423  ext 359
Text: TIPS to 614-426-0240
Online: SafeSchoolHelpline.com
Mobile App: Download the FREE app from the GOOGLE PLAY STORE and the APPLE APP STORE

 
---
What to do in a School Emergency
IN AN EMERGENCY, visit the homepage of the P-H-M website first for P-H-M contact information and communication protocols to keep parents/families informed in an emergency. 
---
3-Layered Approach Secures P-H-M Schools
In 2013, P-H-M instituted a nationally recognized 3-layered approach to student and staff safety in all 15 schools.
Included in these layers are electronic access controls that involve exterior and interior lock systems. P-H-M worked with architect, Fanning / Howey Associates, Inc., along with Honeywell Buildings Solutions, to put into place a system that locks off the learning communities in case of a threat. P-H-M's 3-layered school safety design element was was recognized in 2016 by School Designs.com. Click here to read the article.
Included in these layers are access controls that involve primary and secondary lock systems at each entrance.

3M™ Scotchshield™ security film has been placed on all interior and exterior glass windows of all 15 schools.

All visitors, volunteers and contractors are required to show a government issued ID or be pre-approved through the volunteer or vendor SafeVisitor Management System. 

Safety drills to prepare students and staff are conducted regularly so everyone can practice how to respond in weather/natural disasters, fire, school safety drills, including internal school lockdown drills. Click here for more information on how we partner with the IDOE's School Building Physical Safety and Security.

We have a memorandum of understanding with St. Joseph County Police to provide School Resource Officers (SROs) in our schools.

P-H-M partners with VSS Security Services to provide additional police officers in all schools and Hall Monitors at Grissom, Schmucker and Discovery Middle Schools as well as Penn High School.
Threat Assessment Team & School Safety Committees
Every school in our district has a Threat Assessment Team (TAT) and School Safety Committee.  When a threat has been identified, the School Threat Assessment Team (TAT)  conducts a threat assessment using a national threat assessment model. If a threat is determined substantive, appropriate action is taken with authorities along with safety plans with involved students and families are notified.  Rest assured, every threat  is taken seriously and if determined substantive in nature, the appropriate law enforcement agency is notified.  The District Threat Assessment Team reviews all substantive threats monthly and ensures safety plans are current and in place.
---
A.D.D. – AVOID, DENY, DEFEND
P-H-M is focused on preparing students and staff for a crisis in the unlikely event that something should happen. In 2018, the Safety and Security Department worked with local police and fire response agencies in the training video below to explain what to do in dangerous situations whether during the school day or after school hour activities. This video features former P-H-M Director of Safety & Security Mike Seger of 19 years. Click to learn more about the security measures Mr. Seger has put in place to help make our schools among the safest in the nation.
PLEASE CLICK TO WATCH THE VIDEO BELOW.
---
Meet our Experienced Safety Team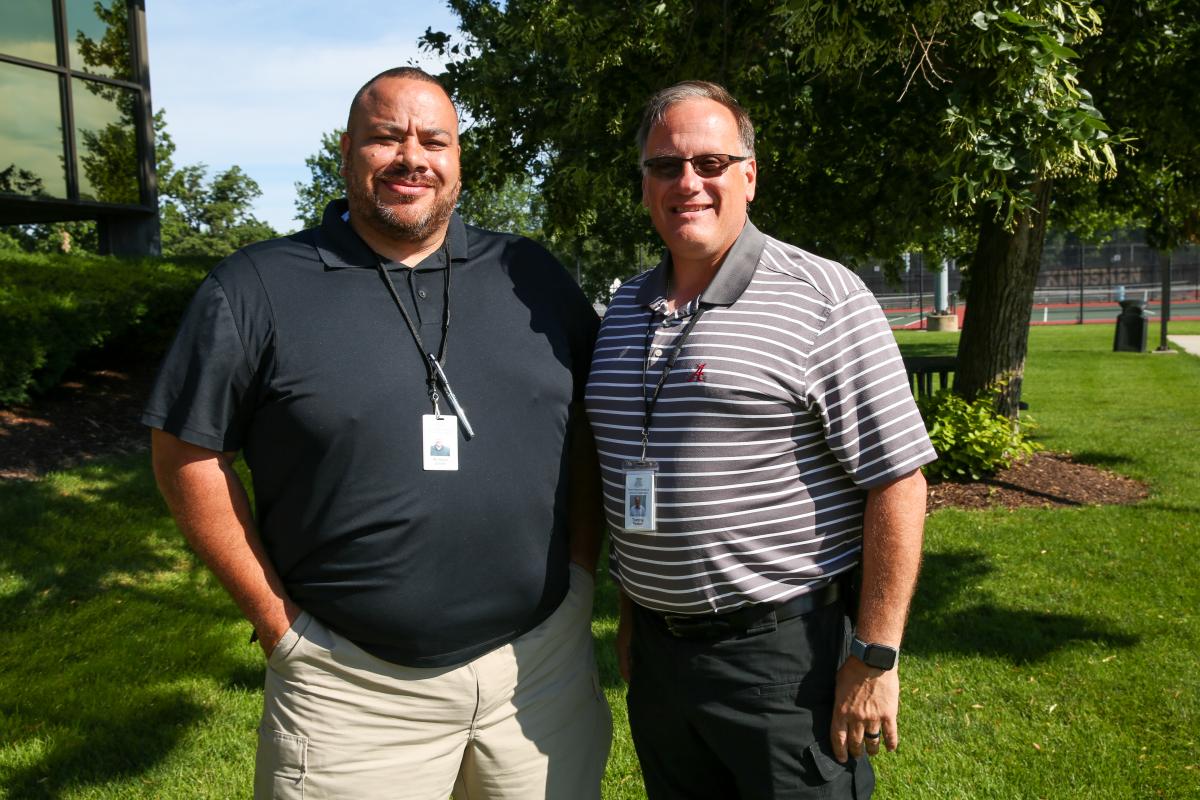 Director of Safety & Security Tommy Teeter
Director of Safety & Security Tommy Teeter is a 30-year-veteran with St. Joseph County Police Department, seven of those years working in P-H-M Schools as a D.A.R.E. Officer and School Resource Officer (SRO). Director Teeter retired as a Sergeant from SJCPD in June 2022 to join P-H-M full time as the new Director of Safety & Security training under retiring Director Mike Seger. Director Teeter brings a wealth of law enforcement expertise and experiences that will greatly benefit P-H-M students, teachers, staff, families and patrons. Director Teeter started his law enforcement career in Corrections. He spent 18 years as a Patrol Officer. During this time, Teeter also trained and earned certifications that also qualified him to be a Field Training Officer, Traffic Investigator, Hostage/Crisis Negoatiator  with Metro SWAT Team and the Federal Bureau of Alcohol, Tobacco, Firearms Task Force. In 2015, Teeter transferred from the ATF Task Force to the SJCPD Training Division. From 2015-2019, Teeter trained to become and also trained other officers to be D.A.R.E. mentors. He began working in P-H-M schools with students during this time. In 2019, he was promoted to Sergeant and began working as a SRO for Penn-Harris-Madison. Director Teeter is also a certified as a Basic and Advanced SRO from NASRO, the leading company for training SROs. He has also been a part of the District Threat Assessment Team. During his time with P-H-M, Director Teeter has been a friendly and reassuring face connecting with students, teachers, staff, administrators and families. He worked very closely with retiring Director Mike Seger and cross trained with Mr. Seger for two months before his retirement. 
Lead Safety Agent Antwon Jones
Lead Safety Agent Antwon Jones joined the P-H-M Safety and Security Department in July 2022 as a 22-year veteran police officer and SRO from South Bend Police Department. Jones also worked as South Bend John Adam's High School Head Varsity Football and Unified Track Coach. As a SRO, Jones has experience in everything from developing optimal traffic patterns to investigating bullying incidents. He has experience in acting swiftly and effectively in urgent crisis situations. As a coach, Jones is skilled in working with students not only connecting with them bringing out the best of their abilities, but also serving as a motivator, mentor, supporter and when he needs to be, a disciplinarian. Jones, a former University of Notre Dame Defensive Lineman (1995-2000), earned his Bachelor of Arts degree in Graphic Design. On the field, he earned four Varsity Letters playing in four Bowl games including the Orange and Gator Bowls. Jones was also briefly with the Columbus Destroyer AFL Team before pursuing a career in law enforcement and coaching. Besides Adams High School, Jones has also coached at St. Joseph High School, South Bend Washington, and Niles High School (MI). In 2020, Jones also became the Unified Track Coach at Adams. Unified Track and Field pairs students with and without intellectual disabilities who have the opportunity to compete for a varsity sport. As a police officer he has received the Medal of Valor, Chief of Police Medal, Specialized Unit Medial recipient, COP Special Partnership Award, and the Unit Meritorious Performance Award. We are very fortunate to have Jones join P-H-M with his background and expertise in law enforcement and student relationships.
If you have questions about school safety contact Director of Safety & Security Tommy Teeter at (574) 258-9551 or click to email Director Teeter.
---
P-H-M's Retired Director of Safety and Security Mike Seger

During his 19 years with P-H-M, Mike Seger became recognized as a national expert in the field of school safety and security and was named as one of the Most Influential People in Security 2018 by SecurityMagazine.com.  He worked closely with the entire community—district administration, staff, families and students, emergency responders and community partners—to put in place the practices, technology, and building design that help to make P-H-M schools among the safest in the nation. Mr. Seger will continue to consult P-H-M on major safety initiatives.
 SAFETY AWARDS AND PUBLICATIONS
This is a sampling of school safety initiatives that Mr. Seger led which garnered local, regional, and national attention for P-H-M as a leader in school safety and security: 
The Most Influential People in Security 2018
Educational Interiors Showcase: Three Layer Security Design
GOV 30 Award
Security Today Cover Story
IASBO Leadership academy
IASBO Facilities Certification
Security Webinars, Blogs and articles
 
Click for a full list of P-H-M's School Safety Awards.
---
Additional Safety Resources
 
Bus Transportation Safety
School Bus Safety We invite our families to watch the video above with their children to remind them of school bus safety rules. We want to keep all our students safe throughout the school year!

Bus Transportation Safety This brochure published by P-H-M includes specific guidelines all our bus riders should know about
Internet Safety and Social Media 
Student Behavior and Bullying Prevention
Vaping
​Drug Use & Addiction
Links to Other Safety Sites
---
SAFETY TRAINING FOR EDUCATORS AND OTHER PROFESSIONALS
P-H-M partners with private, commercial, and governmental agencies to bring training opportunities to its staff and others in the region. 
Penn High School also conducts training exercises in partnership with with local first responders and area hospitals to organize and hold active shooter training exercises. The most recent was in July 2018. Click to read more about the July 2 training drill. Click for more information on Rescue Task Force Training.