Our students' safety is our number one priority. During the winter months, cold temperatures, along with snow and icy road conditions, become deciding factors.
The Superintendent makes the decision to close school by 5:30 a.m. based on the best information available. The Superintendent considers early morning temperatures, the day's forecasted temperatures, wind chill and other factors.
Penn-Harris-Madison subscribes to AccuWeather as well as monitoring National Weather Service alerts.
The National Weather Service's three stages of alerts are listed below in hierarchical order:
Level 1 – Advisory: Be Aware: NWS issues a wind chill advisory when seasonably cold wind chill values but not extremely cold values are expected or occurring. Be sure you and your loved ones dress appropriately and cover exposed skin when venturing outdoors.
Level 2 – Watch: Be Prepared: NWS issues a wind chill watch when dangerously cold wind chill values are possible. As with a warning, adjust your plans to avoid being outside during the coldest parts of the day.
Level 3 – Warning: Take Action! NWS issues a wind chill warning when dangerously cold wind chill values are expected or occurring. If you are in an area with a wind chill warning, avoid going outside during the coldest parts of the day. If you do go outside, dress in layers, cover exposed skin, and make sure at least one other person knows your whereabouts. Update them when you arrive safely at your destination.
Items that the school district takes into account when making a decision about school delays or cancellations:
Health & Safety of Students
Road conditions
Bus Operations
School building temperatures
School sidewalks​
Accuweather forecast
Department of Homeland Security - Indiana (travel conditions)
Local school districts and governmental entities
While monitoring local current and projected morning temperatures, P-H-M Administration uses the safety levels outlined in the NOAA Wind Chill Chart below in its decision making.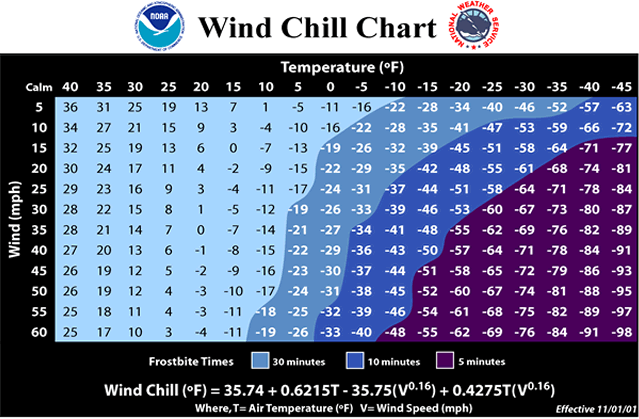 Parents should also monitor the weather and proactively plan following these steps:
Dress your child(ren) in appropriate winter clothing:

Dress in layers of loose-fitting, lightweight, warm clothing. Trapped air between the layers will insulate you. Outer garments should be tightly woven, water repellent and hooded.
Wear a hat! Forty percent of body heat can be lost from the head.
Wear mittens. Mittens, snug at the wrist, are better than gloves to keep your hands warm.
Take extra precautions if your child has a respiratory condition such as asthma, covering their mouth with a scarf to help guard from extreme cold.

Know your child(ren)'s bus pickup and drop-off times:

Bus routing information is shared with parents at the start of the school year. You can check it by checking the infoFinderi website or contacting P-H-M Transportation at (574) 258-9565.
Download and use the "Here Comes the Bus" app to monitor your child's bus on your cell phone or computer in real time through GPS tracking. Click here for details on how to download and use the app.
To ensure that our students are kept warm, P-H-M also follows these steps:
School Buses are started early and warmed for students prior to the routes beginning.
School bus drivers allow extra time for students to make it to and from bus stops on inclement weather days.
School Buildings are brought up to temperature hours prior to the arrival of students to ensure equipment is working properly and the buildings are warm when students arrive for the instructional day.
Parents who choose to send their child(ren) to school have the option of driving to the bus stop and keeping the child(ren) in the car out of the elements until the bus arrives at the bus stop. Parents can also choose to transport their child(ren) to school utilizing the school's designated parent drop-off lanes and procedures.
Ultimately the responsibility of deciding whether to send their student(s) to school or keep them home rests with parents. If parents feel conditions are not safe for their child(ren) and choose to keep them at home, they should contact the school attendance line; it will be counted as an excused absence only if the school is contacted that day.