Families are part of the P-H-M Triangle of Success!
P-H-M Forum is a volunteer-based group which meets monthly with District Superintendent Dr. Jerry Thacker and various administrators to learn more about district initiatives. Click here to read Forum Bylaws.
Each month a new topic is discussed. We hold meetings over the lunch hour to allow for both working and non-working Forum members to attend. The topics are voted on by Forum members the year prior. School and District Administrators most familiar are invited as Guest Speakers to present information on the chosen topics. Past sessions have included The Healthy Foods Initiative, student assessment, gifted and talented programs, P-H-M summer programs, and Penn High School Academies. See the meeting dates for 2022-2023 school year below.
Qualification of Forum Members:
Forum members must have a student enrolled in P-H-M.
Representatives from each school are designated by their PTOs.
2 per elementary school
3 per intermediate school
4 representing Penn High School
Plus 3-4 board members
To become a Forum member:
Please begin with your PTO. Each PTO should have at least one Forum representative.
If you are unable to reach your PTO, feel free to contact us directly at PHMForum@gmail.com.
Forum Meetings:
Who:
Forum Representatives (At least one per school)
Parent/guardian guests (Anyone with a student enrolled in P-H-M can also attend the presentation portion of the meetings as a guest)
The P-H-M Superintendent and various P-H-M administrators, teachers or staff members invited to present as Guest Speakers
When:
During the school year
Starting at 12:00 p.m. on the first Wednesday of each month
Where:
The Educational Services Center boardroom at 55900 Bittersweet Rd, Mishawaka, next to Penn High School
We also typically take one field trip per school year
What:
Superintendent's Update

Dr. Thacker is a guest at most meetings and shares current happenings in the district. Subjects include budgets, political impact on education, security issues, sports and academic team updates, district accolades, and more.

Presentation

District administrators, teachers or staff members serve as Guest Speakers and make approximately a 30-minute presentation to Forum members
Presentation topics are determined by Forum vote prior to the start of the school year. In the past, Forum has explored issues such as The Healthy Foods Initiative, student assessment and Common Core, Gifted and Talented Programs, P-H-M summer programs, College Prep & Career Readiness, Safety, New Technologies, and Penn High School Academies.
Typically there is time for question and answer by Forum members--usually about 10-15 minutes; but the total time of the meeting, including the business portion, should be wrapped up by 1:15.

Forum Business Meeting

After the presentation, Forum members hold a brief business meeting.
This meeting is for Forum representatives only, and guests are asked to leave.
During this portion, we will share and discuss Forum-related and district-wide needs as they arise, consider approval of minutes and other actions. This is also an opportunity to connect with others to form committees as the needs arise.
Forum Member Responsibilities and Time Commitment
You can expect to commit approximately 25-30 minutes per month, outside of the 45/50 minute Forum meeting, followed by a 15-30 minute business meeting.
Prior to the meeting, you will receive a consent agenda which shares presentation information and any necessary communication from the executive board. 
At least one Forum representative per school is asked to attend the monthly meetings.
Within a week of the meeting, meeting minutes will be emailed to members. You're asked to review them so that any necessary corrections can be noted before their adoption during the next general meeting. 
From those, as well as your meeting notes, you'll build a report to share with your PTO. Each PTO incorporates the Forum report differently: You may be asked to share at the PTO meeting, provide the report for a newsletter, or post on your PTOs social media. Please click here for a guide to follow.
*Since there are 2-4 representatives per school, and only 1 report is needed, you can coordinate between your school reps who will report each month, thus lowering your overall time commitment.
Near the end of each school year, Forum representatives suggest potential presentation topics for the following year. The topics are then voted on and the president works with district administration to create a feasible presentation schedule.
Additionally, it's a nice service to your school/PTO to stay abreast of the P-H-M district calendar & P-H-M Facebook feed so that you can occasionally share posts updating school families of upcoming special events, district fundraisers, and special learning opportunities. 
Please Note:
Forum representatives serve as school ambassadors, but for the sake of privacy are not empowered to advocate for individual students. If you or another parent/guardian has an issue which requires attention, please set a private appointment with the student's teacher, principal, and/or the appropriate district administrator (please click here for a list of District Administrators and their areas).
Forum meetings are focused on a broad-scale, and individual cases cannot be discussed. That said, if there is a broad issue which affects students across several schools and warrants both focus and inquiry, please discuss with a Forum board member the possibility of addressing it at a meeting or joining a Forum subcommittee geared toward exploring the issue.
---
FORUM OFFICERS SERVING IN 2023-2024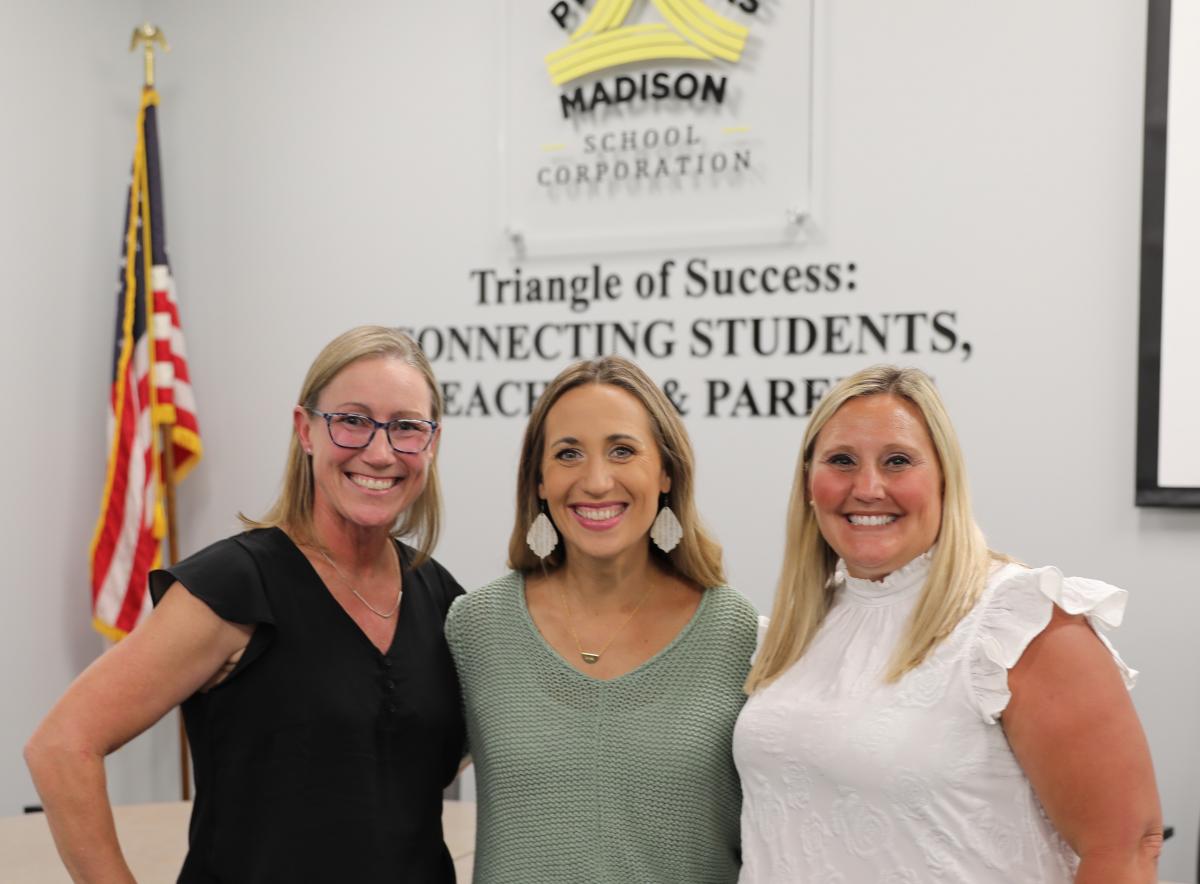 President: Angela Burtsfield, Mary Frank Elementary 
Vice President: Allison Laidig, Grissom Middle School & Penn High School
Secretary: Raenelle Hamilton, Discovery Middle School
---
2023-2024 Meetings and Scheduled Topics
Forum meetings take place from 12:00 to approximately 1:00 p.m. (a brief Business portion follows) on the first Wednesday of the month (except when that falls on a time when P-H-M is on a break). Unless noted, meetings are hosted at the Educational Services Center (55900 Bittersweet Road, Mishawaka, IN 46545). 
Forum meeting dates for the 2023-2024 school year:
 
September 6:  STATE OF THE SCHOOLS ADDRESS

Guest Speakers: Dr. Jerry Thacker, Superintendent of Schools
Dr. Aaron Leniski, Chief Operating Officer

October 4: Intentional, Instructional Structures of Support for Learners in need

​Guest Speakers: Dr. Heather Short, Asst. Superintendent for Instruction

Dr. Lavon Dean-Null, Director of Professional Development & Student Learning
Ryan Towner, Director of Literacy and Title 1 Schools

November 1: School Safety

Guest Speaker: Tommy Teeter, Director of Safety & Student Services

December 6: Title I Schools

​​Guest Speaker: Ryan Towner, Director of Literacy & Title I

January 10, 2023: Tour of Elkhart Career Center
(note this meeting is the 2nd Wednesday of the month due to Winter Recess)
 
February 7: Teacher Professional Development & Teacher Support

​Guest Speakers: Dr. Lavon Dean-Null, Director of Professional Development & Student Learning
Lisa Langfeldt, PHMTA President
 

March 6: Tour of Early College Academy

Guest Speakers: Dr. Sean Galiher, Principal of Penn High School
Danielle Black, Penn Early College Academy Leader
 

April 10: Classroom Technology & Integration at Different Grade Levels
(note this meeting is the 2nd Wednesday of the month due to Winter Recess)

​Guest Speakers: Dr. Lavon Dean-Null, Director of Professional Development & Student Learning
Jessie Kinney, Technology/Curriculum Integration Coach
 

May 1: Healthy School Meals 

​Guest Speaker: Jill Riggs, Director of Food Services