Posted: Wednesday, June 7, 2017 - 1:52am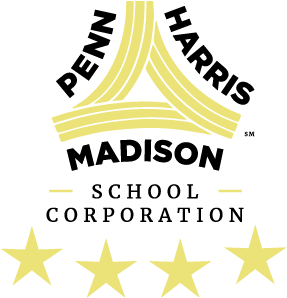 The Indiana Department of Education released the list of Four Star Schools and nine P-H-M schools have earned that distinction--the most the District has ever had! P-H-M has the third highest number of Four Star Schools in the state, out of approximately 300 public school districts.
P-H-M's Four Star Schools are Discovery Middle, Horizon Elementary, Madison Elementary, Mary Frank Elementary, Meadow's Edge Elementary, Northpoint Elementary, Penn High School, Prairie Vista Elementary and Schmucker Middle School. And a special congratulations to our colleagues at Meadow's Edge for making the list for the first time! Meadow's Edge is one of  P-H-M's five Title 1 schools.
The  IDOE announced the listing on Friday, May 26.  In order for a school to earn the Four Star School designation from the state, the school must have received an "A" rating from the IDOE for the 2015-16 school year, tested at least 95% of students on ISTEP English/Language Arts and Math, and be in the top 25th percentile on ISTEP and ECA participation and passing rates. This list is based on 2015-16 school data. Click here to see the full list of criteria.