Posted: Tuesday, October 10, 2023 - 7:33am
By Joseph Fratena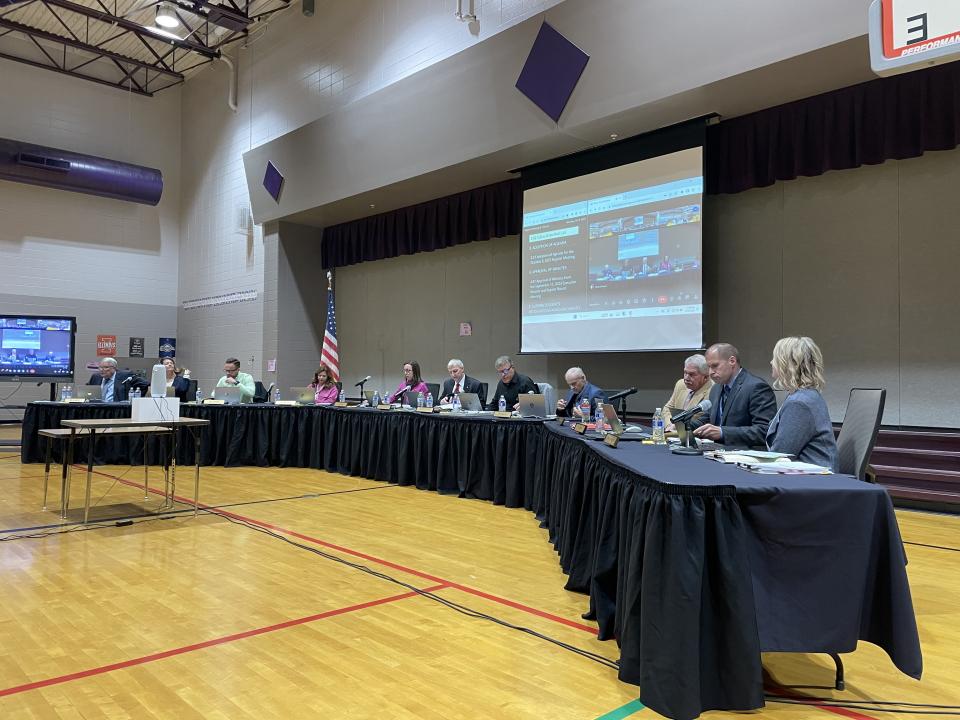 The Penn-Harris-Madison Board of School Trustees unanimously voted on Monday, Oct. 9, 2023 to approve the P-H-M teachers' contract for two years, the 2023-2024 and 2024-2025 school years, and increase teachers' overall base salaries by approximately 5% and 3% respectively.
P-H-M Administration and the P-H-M Teachers Association effectively negotiated contracts that not only give salary increases to both new and existing teachers, but also provide a $650 retention bonus incentive (new teachers will get one in July 2024 and existing teachers will get one this December and again in July 2024). The new teacher's starting salary is now $47,007 (up from $44,940 last year). The salary range now goes to $81,360 (last year's high end of the range was $77,412). The new salary range will be retroactive to the start of the fiscal year July 1, 2023 running through June 30,2024. The breakdown of percentage increase is below.
"Negotiating a contract for two years instead of one is more efficient and shows P-H-M's support and commitment to our teachers," said Superintendent Dr. Jerry Thacker. "The salary increases and retention bonuses support P-H-M's talent acquisition and retention strategies to recruit and retain the best teachers for our students. Combined with our total compensation package, P-H-M offers a premier package for teachers in our area."
 
Salary Proposal (Year 1)
Year
Salary Increase
Retention Bonus
0 Years
4.60%

RB#2 – $650 (July 2024)

1 Year-Top
5.10%
RB#1 – $650 (Dec 2023)
RB#2 – $650 (July 2024)
New Range $47,007 – $81,360
For year two of the contract (July 1, 2024 - June 30, 2025), new teachers will get a 2.9% increase and existing teachers will get 3.1%, making the salary range $48,370 - $84,204. Existing teachers will receive a $650 retention bonus in December 2024. See the chart below.
Salary Proposal (Year 2)
2024 - 2025
Year
Salary Increase
Retention Bonus
0 Years
2.90%

$0

1 Year-Top
3.10%

RB $650 (Dec. 2024)

New Range $48,370 – $84,204
Additionally, a yearly stipend of $250 will be paid to eligible teachers who have earned 36 credit hours beyond their Bachelor's degree or Master's degree after 2012. For the two-year period of this contract, there will also be an annual 2% stipend increase for all teachers who also serve as athletic and extracurricular academic coaches. Employee contributions for health insurance premiums will also increase a marginal 5% during the first year of this agreement.
A tentative agreement was reached on September 19 and PHMTA members ratified the agreement by an overwhelming majority on Tuesday, September 26.
"Penn-Harris-Madison Teachers Association appreciates the collaboration with P-H-M administration to reach this two year agreement. With this agreement, P-H-M continues to stand out in this area as a leading district in wages and benefits. It is an agreement that will truly benefit our outstanding teachers and allows P-HM to continue to attract and retain the very best" said PHMTA President Lisa Langfeldt.
The teachers' contract is negotiated first followed by the rest of P-H-M employee groups. Annually the process takes place after the school year has begun, approximately September thru November. Announcements about other P-H-M employee groups will be forthcoming.