Posted: Wednesday, March 18, 2020 - 6:40pm
Wednesday, March 18, 2020
 
Dear P-H-M Families,
As we all adapt to our new normal, we hope your students had a good eLearning day today and that things are running smoothly. Remember that teachers and principals are working and are available for questions during what would be your child's normal school day. Please contact them with questions and concerns; they want to help you! Your principals will be communicating important updates with you via their school newsletters.
It is our number one focus right now to provide the best customer service possible under these extenuating circumstances. We are trying to find solutions to things as quickly as possible as they pop-up. To that end, we are extending and expanding our Food Service program to reach as many P-H-M families as possible. We recognize that many parents are still going to work and the unexpected, sudden school closure put many families in the situation of not having enough food at home for the extra meals during the day for students.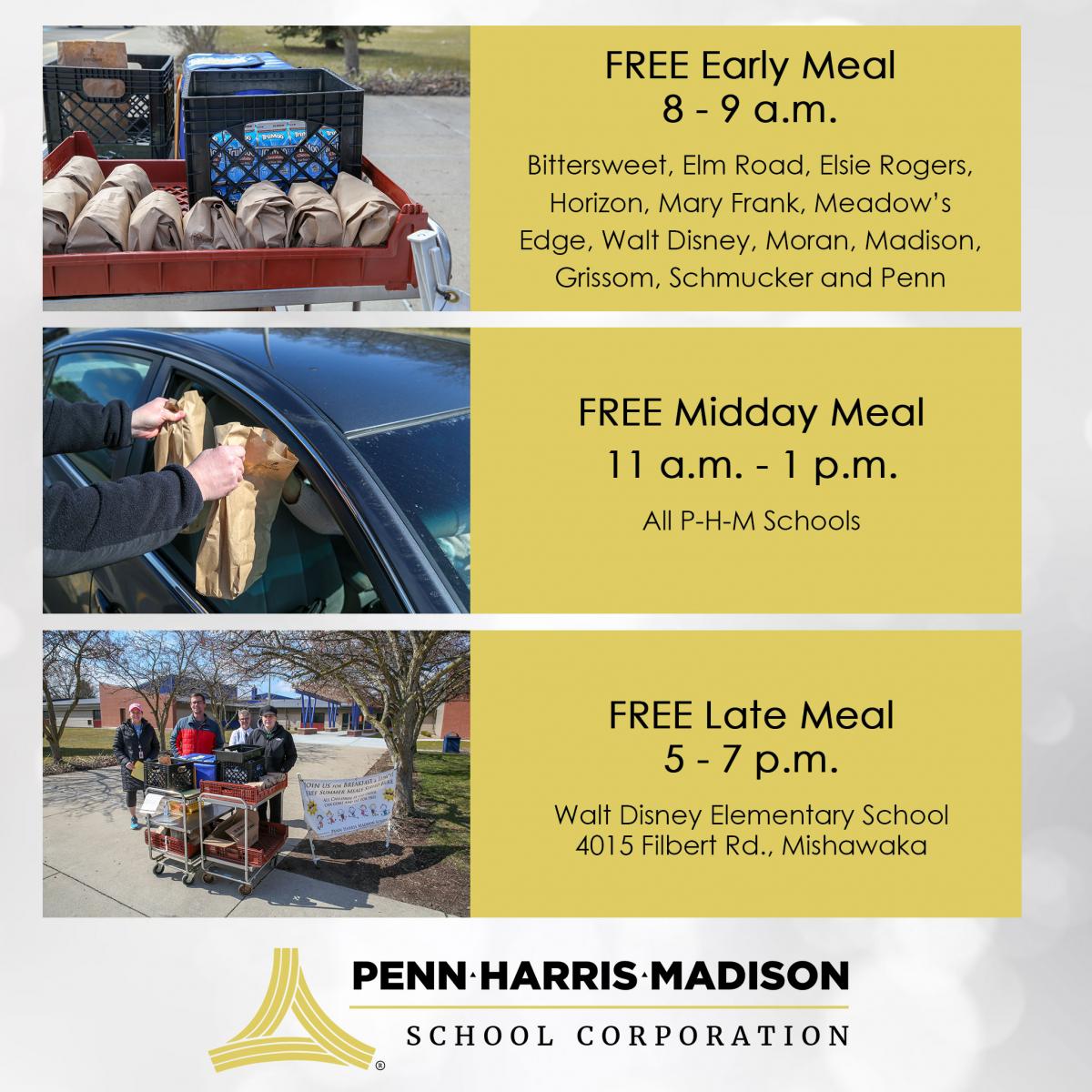 NEW: Staring tomorrow Thursday, March 19, a Late Meal will now be offered at Walt Disney from 5 - 7 p.m. This is available to ANY and ALL P-H-M students. 
NEW: The  student does not have to be with the parent/adult when they pick up the meals. The adult just has to be able to show proof that they have at least one P-H-M student that they are picking up a meal for. They can show an ID card, a piece of paper with the student ID number, a report card, etc.
NEW: Early sack meals for the following day can be picked up at the Midday and the Late Meal pick up times. 
For working parents this means you can now stop by during a lunch break or on your way home and pick up meals for your children for the following day.
We are doing our best to try and relieve as much stress as possible for our families. Even though our students are not in our buildings and classrooms, they are at the top of our minds. All of us at P-H-M are working to make things as stable as we can for you.
 
Stay well & healthy,
Dr. Jerry Thacker
Superintendent of Schools