Posted: Tuesday, April 14, 2020 - 12:36pm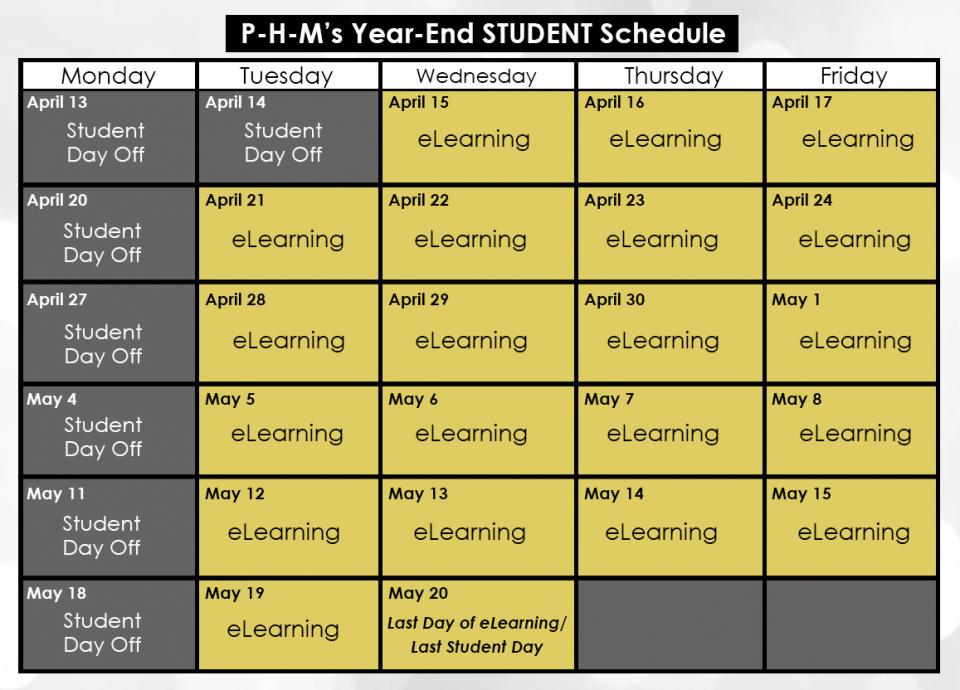 Tuesday, April 14, 2020
Dear P-H-M Families,
On April 2, Indiana State Superintendent Dr. Jennifer McCormick and Governor Eric Holcomb announced that all Indiana schools will remain closed for the rest of their academic year. School districts were given 20 waiver days to use to adjust their school calendars.
We've been working with the P-H-M Teachers Association to develop a schedule for the remainder of this school year. We are pleased to share with our families that the new last day of school for students will be Wednesday, May 20 (prior to the COVID-19 crisis the last day for students was Thursday, June 4). Teachers will use the days between May 21 and June 4 (for K-8 teachers) and June 5 (for high school teachers) to finalize grades. During this time period teachers may also be reaching out and following up with students/families.
We will return to eLearning starting tomorrow Wednesday, April 15 and will continue through Friday, April 17. Starting next week through May 20, we will follow the previously established eLearning weekly schedule of students being off on Mondays (teachers using Mondays as planning days) and eLearning being conducted Tuesdays - Fridays.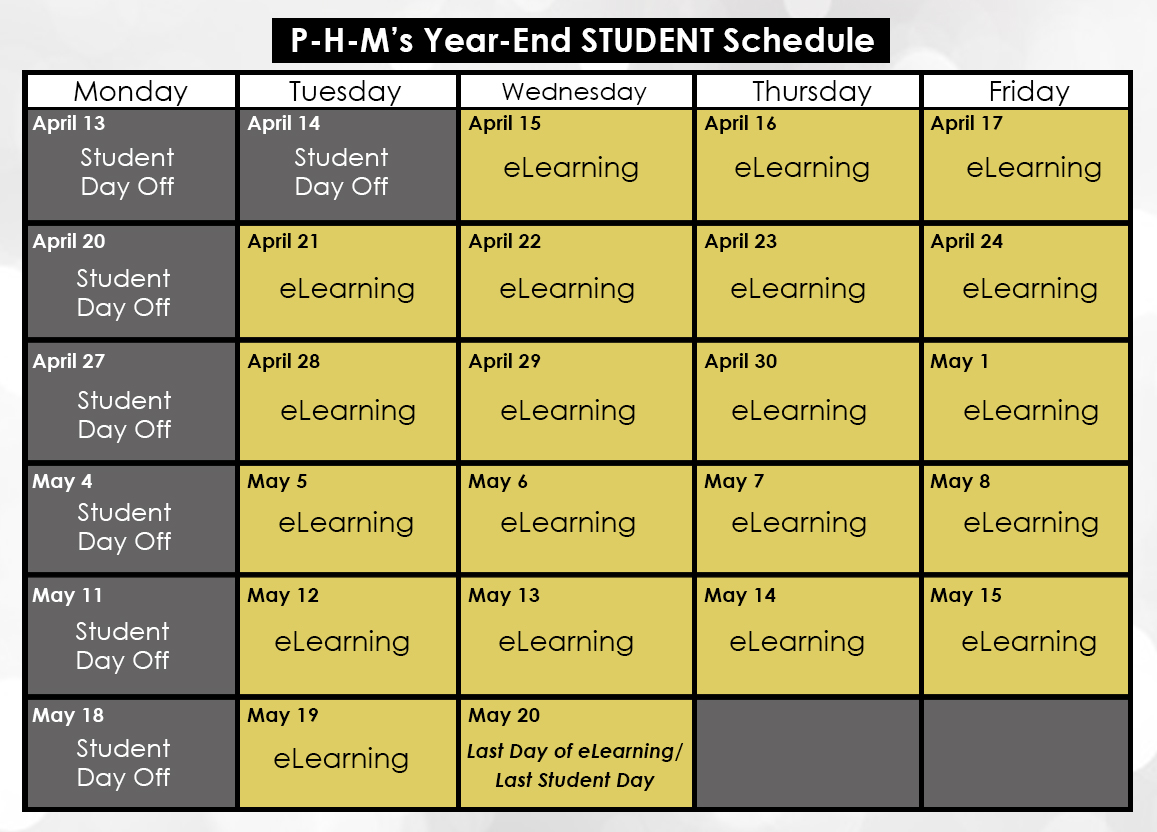 We recognize this extended period of eLearning has been trying for students and families. If you are experiencing challenges, please reach out to your child(ren)'s teacher and principal so that they can help you work out solutions for your situation. Communication with your child's teachers is key right now!
Unfortunately, with schools now remaining closed there are a number of spring activities that are effectively canceled. Details concerning activity and trip refunds, along with details on trip rescheduling will be forthcoming from your building principal and/or teacher trip coordinator. Details concerning Penn High School Prom and Commencement will come from Penn Principal Sean Galiher.
This year in-person summer school will not be possible. We are working with elementary and middle school principals on a plan for summer school remediation; that information will be shared very soon by principals. At the high school, online remediation courses will be offered. Those students who previously registered to take summer P.E. and Health at Penn will now be taking the classes online. Principal Galiher will be sending communication to families with more details. 
As you are aware, it is too early yet to say when gathering size restrictions will be lifted. Many of these activities were scheduled to begin the week of June 8. With the uncertainty that the pandemic has created in not knowing when and how things will go back to normal operations, we unfortunately will not offer summer enrichment camps, athletics camps, Summer Kids Club and other summer activities. We know that working families rely on the Kids Club summer program as a vital resource; however, we can not safely run this program under the crowd restrictions laid out by the state and federal governments.
We have made a commitment to continue to provide free meals to our students during these times. We will continue to offer free meals available for pickup Monday - Friday at three locations. Early Meals will be offered at Prairie Vista & Grissom from 8 – 9 a.m., Midday Meals will be offered at Prairie Vista, Grissom & Penn High School from 11 a.m. – ​1 p.m. and Late Meals will be offered at Penn from 5 - 7 p.m. Families can pick up meals from any location and are available to ANY and ALL P-H-M students. Details on the summer meal distribution program will be shared later.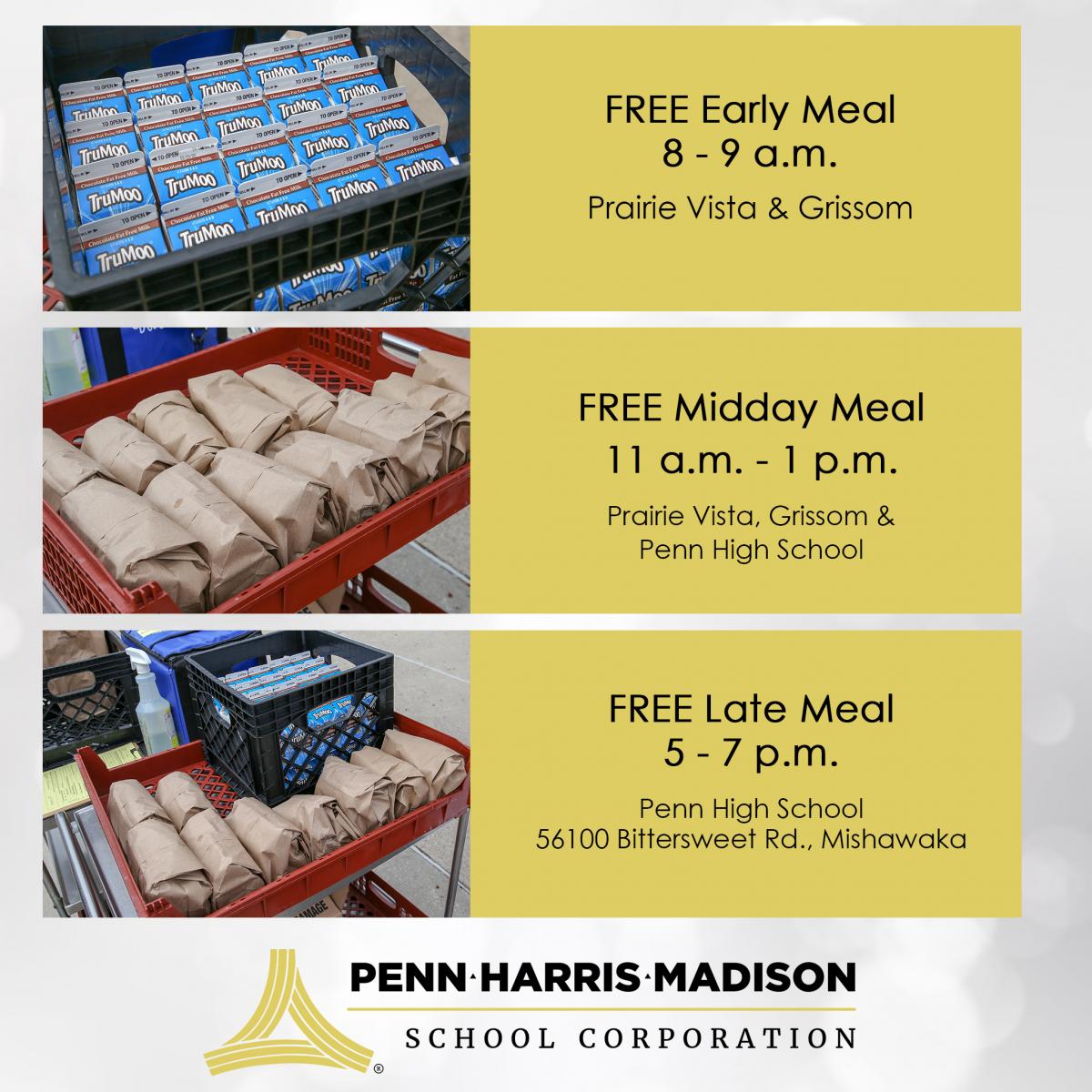 We appreciate your ongoing patience and support as P-H-M staff at every level are working to alleviate as much stress as possible to our families. You can expect detailed follow-up communications to specific areas from your building principal.
Stay well and healthy,
Dr. Jerry Thacker
Superintendent of Schools​