Posted: Thursday, May 12, 2016 - 9:54am
By Jill Spencer
Last night, P-H-M's Teacher of the Year and Classified Employee of the Year were honored as part of the district's 25th Annual Employee Recognition Dinner. Service Awards were also given to those employees who have dedicated 10, 15, 20, 25, 30, 35 and 40 years of service to the district. Two who have marked 40 years of service are administrative assistant Donna Humes and middle school teacher David Misener. Also applauded at the May 11 event were a number of retirees, who received special recognition from Dr. Jerry Thacker and board member Randy Leliaert. 
John Gensic, Penn High School Biology Teacher, P-H-M Teacher of the Year
After accepting his Teacher of the Year award from Superintendent Dr. Jerry Thacker (pictured, left), and a $1,000 classroom grant from Executive Director of the P-H-M Education Foundation Mari Linn Wise (pictured, right), John Gensic gave an emotional speech thanking his first teachers … his parents! John also thanked his wife and in-laws for all their support and helping him be a better teacher to his students.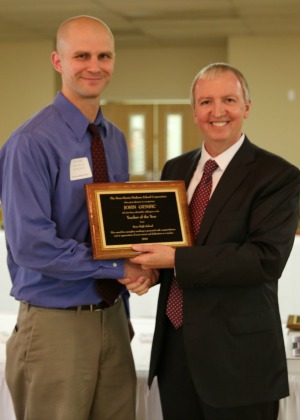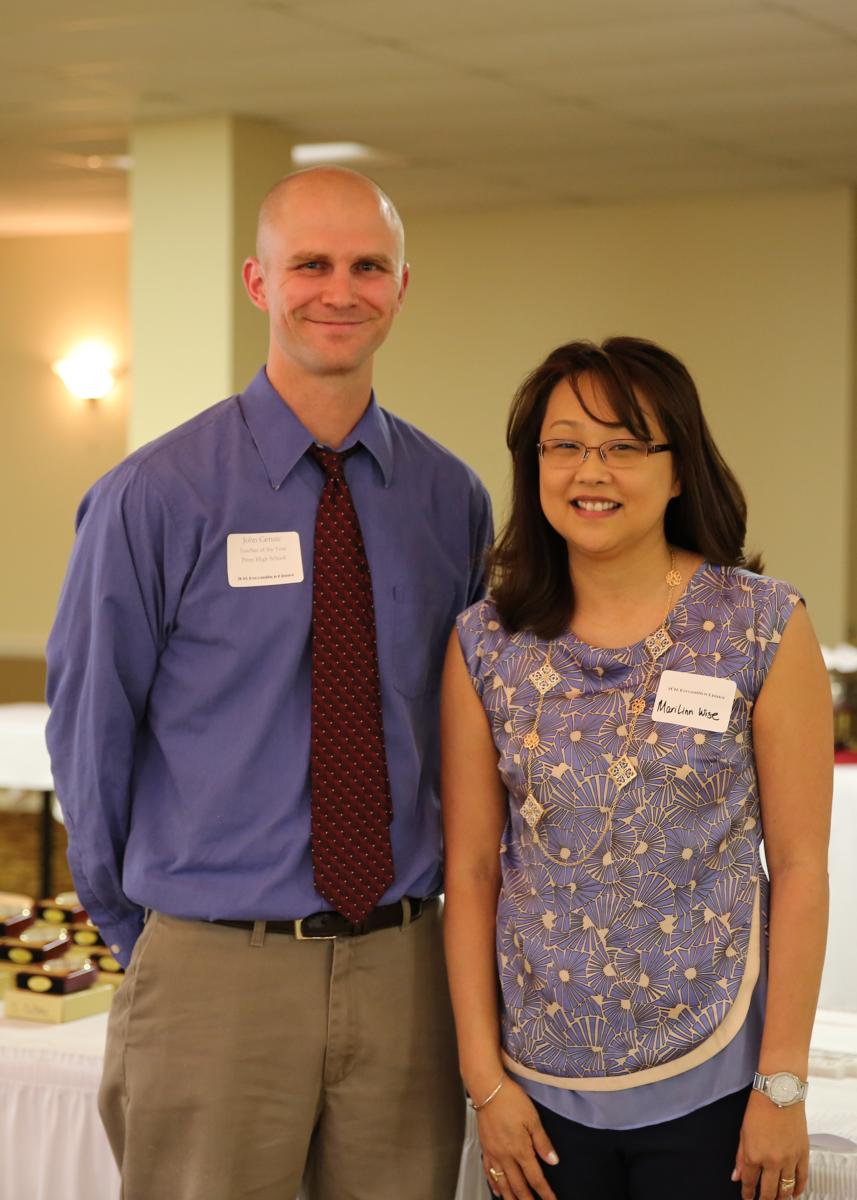 Project-based learning, growth mindset and student-centered instruction are at the center of John Gensic's teaching philosophy. As a lifelong learner himself, John believes strongly that teachers lead by example, "In doing this, we help create experiences for students that they wouldn't otherwise experience and give students the inner motivation to pursue tasks that will improve our humanity and earth."
John has been teaching for 11 years, coming to Penn High School in 2013. He is a leader in his field presenting at the National Science Teachers Association on the topics of socio-scientific inquiry, biology modeling and free technology. He has also presented at TED, the University of Notre Dame, Purdue University as well as many other state and national conferences.
John spent summer of 2015 working with the Environmental Protection Agency on the "Lake Michigan Shipboard Science Workshop." John was one of just 15 educators to work alongside the EPA scientists evaluating the presence of microplastics and assessing the impact of aquatic invasive species—particularly zebra and quagga mussels—on Lake Michigan's ecosystem. The goal: To bring his experiences back to the classroom.
He's taken students to Indiana Dunes National Lakeshore to experience multiple ecosystems while witnessing human environment interactions. "John's passion for science in and out of the classroom has made him an exemplary teacher providing the best education possible to our students," said Penn Principal Steve Hope. 
John applies for at least one grant each year to obtain materials to improve student achievement … "These grants allow a broader connection between our school and its stakeholders. Exemplifying 21st Century skills, I need to be a model of critical thinking."
STEM Academy Leader Rachel Fry nominated John for P-H-M Teacher of the Year. She praises John for "going above and beyond to arrange authentic and eye-opening experiences for his students to interact with biology outside the school walls." His latest project-based learning activity is called "Giving Trees." Penn students will work with Horizon Elementary School students to plant 25-30 dwarf fruit trees in the elementary school's garden. The project is being made possible by a P-H-M Education Foundation grant that John applied for during the Spring 2016 grant cycle. (Click here to read the article about how John received the surprise news that he was chosen as P-H-M Teacher of the Year.)
In early April, John was selected as an Indiana science teaching finalist for the Presidential Award for Excellence in Math and Science Teaching (PAEMST). This is the nation's highest honor for math, science and computer science teachers! Later this summer, John will find out if he has been chosen as the science teacher winner representing Indiana. Each awardee receives a certificate signed by the President of the United States and a $10,000 award from the National Science Foundation.
As P-H-M's District Teacher of the year, John will participate in the Indiana Teacher of the Year. That decision from the state DOE comes in fall of 2016.
Classified Employee of the Year, Patricia "Tricia" Heidkamp, Media Aide at Bittersweet Elementary School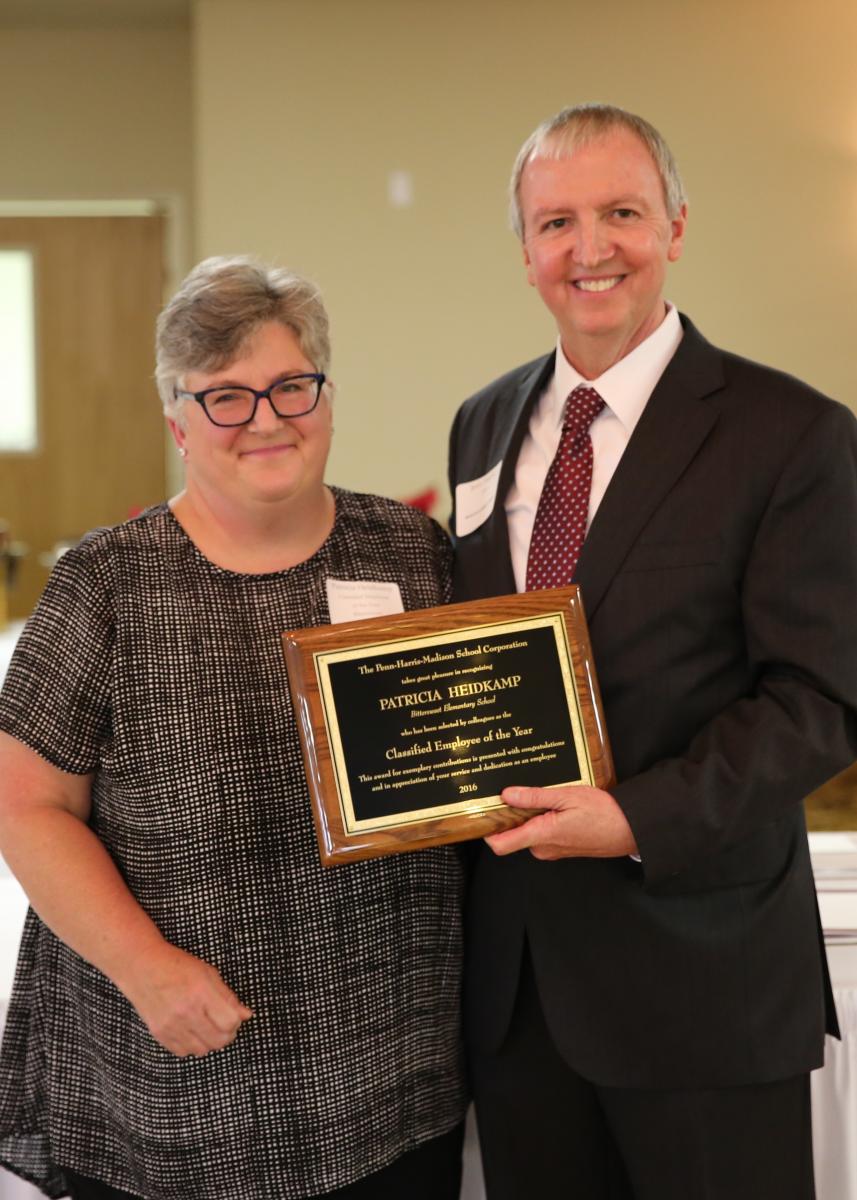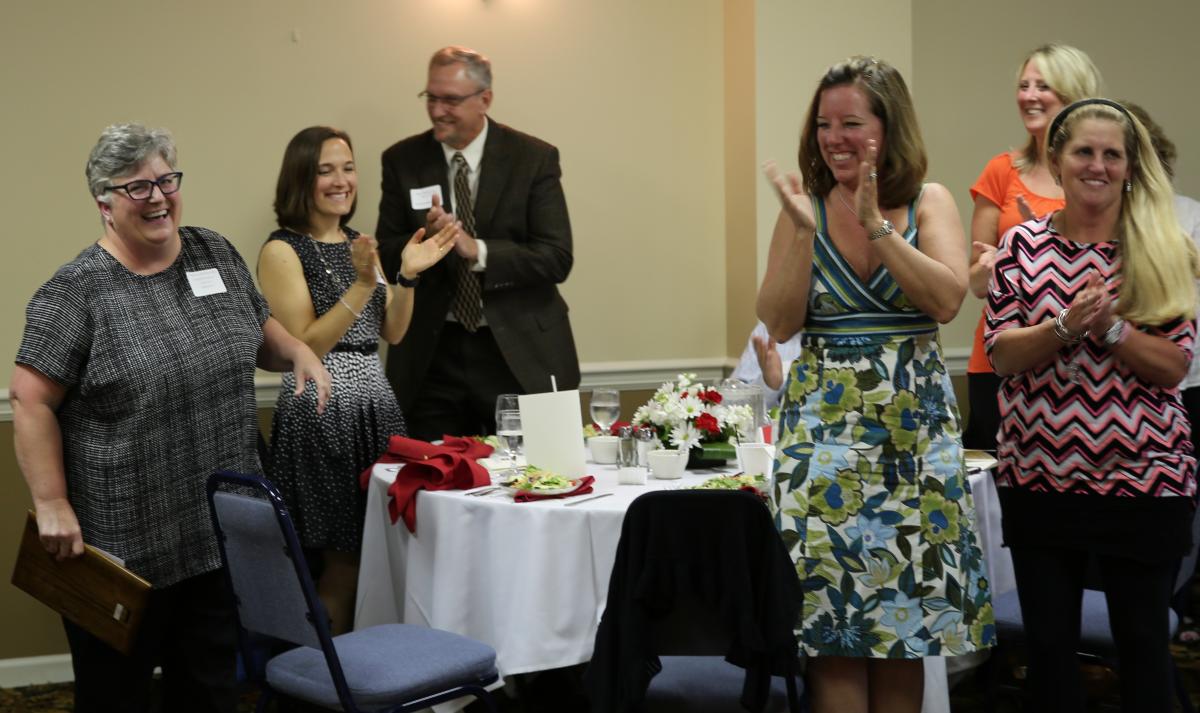 Patricia "Tricia" Heidkamp was also moved by the support and admiration of her fellow colleagues at Bittersweet, proving once again that P-H-M is a family!
As the Media Aide at Bittersweet, Tricia Heidkamp has been instrumental in reinvigorating and implementing schoolwide reading programs, such as Accelerated Reader (grades 3-5) and RAZ (K-5). For both programs, Tricia has created a reward system tracking how many books and quizzes they complete. Students can use their reading reward points to make purchases in the "AR Store"—which Tricia stocks and runs herself.
Describing Tricia, one of her nominating peers said of her … "She is always interested in the students and comes up with different ways to get them engaged."
After arriving at Bittersweet in 2013, Tricia focused on reorganizing the library according to Lexile band so that students can quickly find a book on their level. Her creation of the "Leap into Lexile" program rewards students who read at least one book in their Lexile band per grading period. Tricia applied for and was also awarded a P-H-M Education Foundation grant to purchase higher level Lexile books. As a result of all her efforts, Bittersweet was the only elementary school whose high ability students met their SRI growth for the 2014-2015 school year!
 "My favorite part of the day is helping students find just the right book," says Tricia. "I have concentrated on filling the library with popular series and finding books at the low and high end of the Lexile range. It is fun to watch a student's Lexile level grow and see how excited they get when they are able to check out books in a new color (books are color coded by Lexile)."
Tricia started her career with P-H-M in the fall of 2004 as a library volunteer at Madison Elementary. In 2006, she became a program assistant and teacher's aide, becoming the media aide in 2007. Tricia made many contributions in her seven years at Madison. It was with a heavy heart that she moved to Bittersweet as their media aide in 2013.
Tricia goes above and beyond helping students any way she can by starting a lunch group tutoring struggling readers as they eat lunch together. She also tutors after school with her "Crunch Bunch."
"I enjoy coming to work every day and am lucky to work with great students and the outstanding staff at Bittersweet Elementary," says Tricia.