Posted: Monday, May 2, 2016 - 4:17pm
By Jill Spencer
Since the Foundation's inception in 1996, more than $520,000 has been distributed in innovative teaching grants supporting P-H-M teachers, staff and students.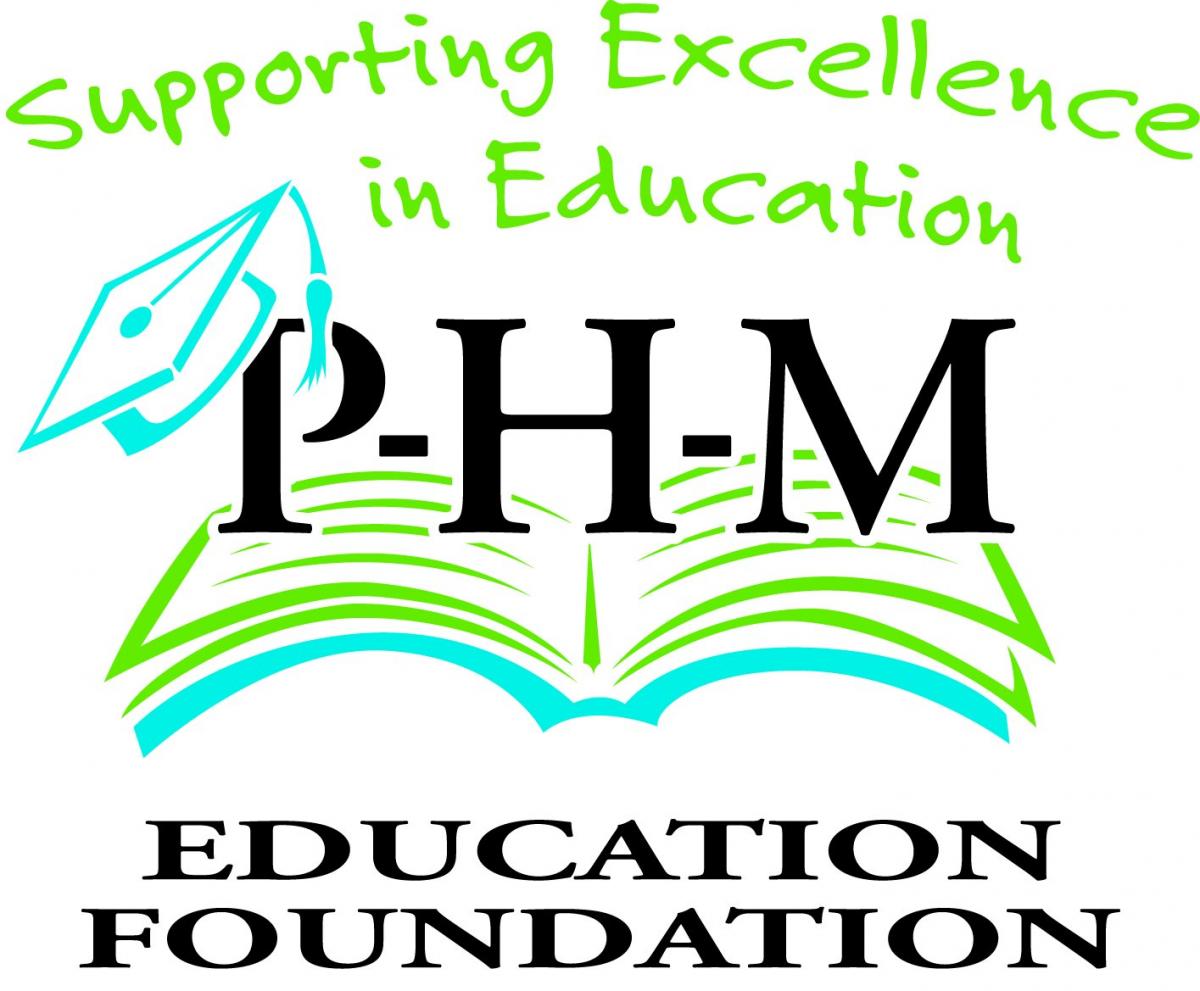 The Foundation offers both a Fall and a Spring grant cycle each school year. P-H-M staff are encouraged to submit proposals for value add projects, classroom enhancements and items that expand the learning opportunities for our students. Grant proposals are then reviewed by the Grants Committee, comprised of Foundation board members, community representatives and a P-H-M administrator.
Grant funding is supported by fundraisers such as the Superintendent's Luncheon, Annual Drive, AmazonSmile and the Silver Mile Run for Education & Health and Fitness Fair.  
The 2016 spring PHMEF Grants Committee reviewed 16 grant applications, voting to fully fund six and partially fund four other projects, committing $14,517 to excellence in education. It's estimated that 1,590 students stand to benefit from the proposals that will now be put in place!  
To see just how innovative the spring grants are, read about them below. To see what proposals were approved in the Fall 2015 grant cycle, click here. 
---
STANDING ABOVE THE REST
Horizon Elementary – Candace Cussen
Grade 3  —  27 students
Requested $1,040 — Fully funded at $1,040
AlphaBetter Stand-Up Desks will be introduced to the classroom setting to decrease distraction, sedentary positions, undesirable behaviors, and increase student attention. These desks will be used on a rotating basis for students who need to stand in order to focus and decrease fidgeting. Research supports standing up can increase a student's attention span. This grant will allow for four desks to be ordered.
OUR SCHOOL RULES WITH HOKKI STOOLS
Horizon Elementary – Candace Cussen
Grades 3  —  27 students
Requested $963 — Fully funded at $963
Hokki Stools is an active seating alternative for students who need to move. The stools allow students the opportunity to move, as well as aiding in their concentration. These stools are lightweight, allowing for portability and for students to work on core strength, which is central to all movement. This grant will allow for nine seats to be purchased.
STAND UP FOR KIDS
Horizon Elementary – Ann Lira
Grades 4  —  30 students
Fully funded at $1087.76
Stand-up desks will allow the teacher to transform the classroom into an active learning environment by providing students with adjustable desks that offer students an alternative to traditional seating. This grant would allow for three desks and three stools to be purchased.
MOVEMENT IS LEARNING
Walt Disney Elementary – Stephen Gouorko
Grades K-5 — 500 students
Fully funded at $1,079.72
This grant will allow for the enhancement of a current performance center/room at the school. The performance center is used to help students who may need additional help with fine motor skills, and the added equipment will expand on the teacher's current work. Students are screened and individual needs are assessed in the areas of balance and locomotor skills; hand-eye coordination; body and space awareness; and tracking and manipulative skills.
ELEVATING THE STUDIO EXPERIENCE
Madison Elementary – Erin Hozey
Grades 4-5 — 45 students
Fully funded at $734
This grant will enable Madison students to expand their current studio recording equipment, allowing them to create a fully HD compatible newscast. Morning announcements can be saved digitally and will be posted to a secure location on YouTube. Students will learn how to edit through digital recording and editing software with the VidiU device.
STEPPING UP: SUPPORTING STUDENTS IN THEIR TRANSITION TO GRISSOM
Grissom Middle – Mary Reynolds and Sheri Miller
Grade 6 —  210 students
Fully funded at $1,250
The Stepping Up program will help elementary students transition into middle school at Grissom. This program include a booklet that offers a developmentally appropriate information that describe why and how to contact counselors for help; how to manage stress; and address common peer-to-peer situations.  In addition, the program will educate students on how to track class assignments, help improve organizational skills, and demonstrate the benefits of extra-curricular activities.
INTRODUCTION TO COMPUTER SCIENCE
Schmucker Middle – Matt Reininga
Grades 7-8  —  100 students
Partially funded at $2,864
Samsung Galaxy tablets will allow students to create moible apps. The 16 tablets will enable the school to offer a course in computer science through the existing Project Lead the Way program. The class will be available to 7th and 8th grade students as part of the explorations rotation of classes. The tablets also will be available for use by students in Schmucker's Technology Club.
GAIAM KIDS BALANCE BALL CHAIR – WIGGLE ROOM
Northpoint Elementary – Jodi  Montel-McGann
Grades 1  —  100 students
Partially funded at $1,749.50
Balance ball chairs allow children to be active while at their desks. Children can be more active on balance ball chairs than in regular chairs and thus able to self-regulate personal needs to move. These chairs have backs to provide support, and the balls sit in a base that offers stability. This grant provides for 25 balance ball chairs.
PRAIRIE VISTA TENNIS COURTS RESURFACING
Prairie Vista – Keely Twibell
Grades K-5  —  500 students
Partially funded at $3,000
Prairie Vista Elementary has four prominently situated and easily accessible tennis courts in need of resurfacing and repair. Repairing and protecting these tennis courts is an affordable way to continue to introduce young students to the sport of tennis and cultivate a lifelong interest in physical fitness and activity.
Students will participate in real world tasks from planting trees to harvesting fruit that will result in an improved local environment that provides educational and edible plants for our community. In Phase One of the project, which this grant supports, 25-30 dwarf trees will be planted by elementary and Penn Early College biology students at Horizon Elementary. Initial trees will be planted May 2016, with the completion of the planting will be Spring 2017. The Penn students will also gain experience in creating a meaningful website to communicate the ongoing results of this project, click here to see the website.