Posted: Wednesday, April 27, 2016 - 2:02pm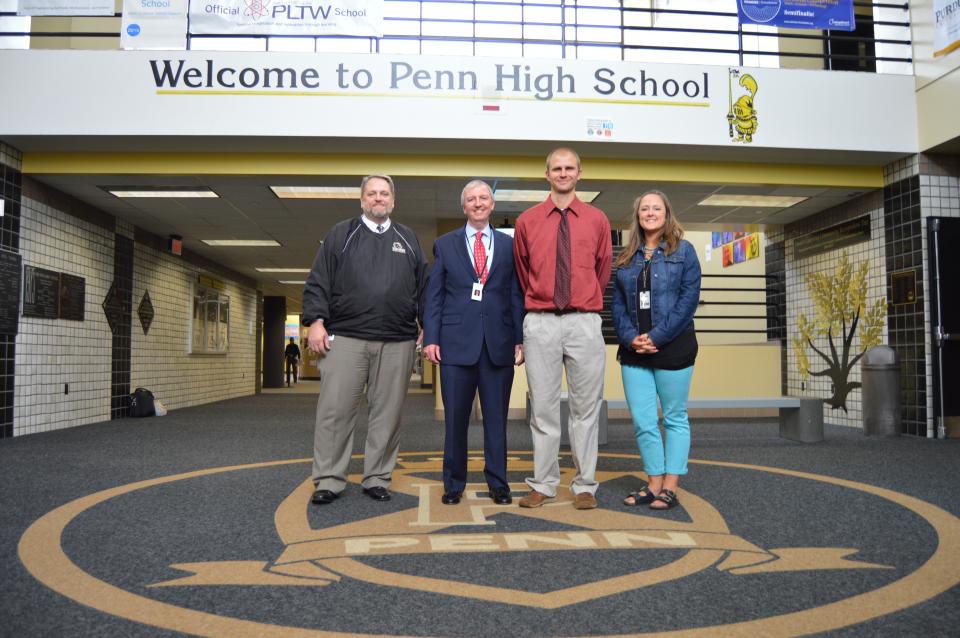 Penn-Harris-Madison School Superintendent Dr. Jerry Thacker announced that Penn Biology teacher John Gensic has won P-H-M Teacher of the Year.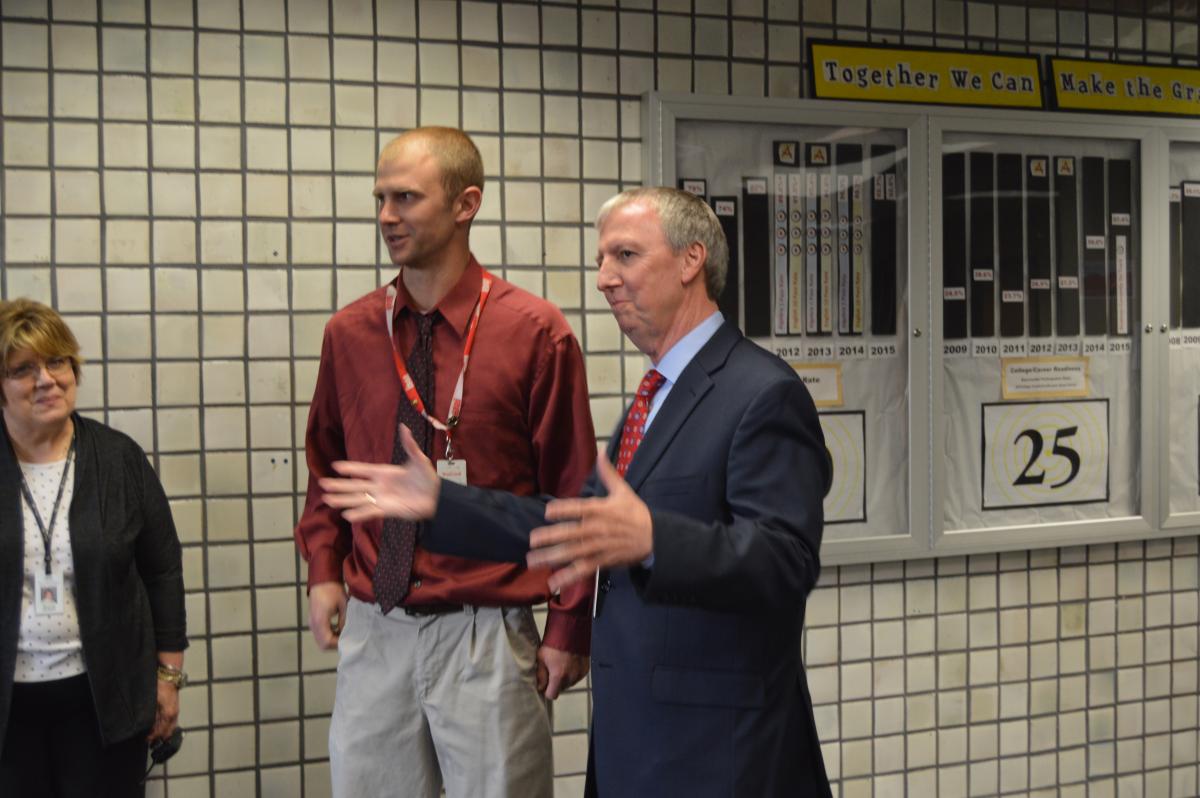 Mr. Gensic learned of the honor in a surprise announcement Tuesday (April 26, 2016) when he was called to a "meeting" in Principal Steve Hope's office. Instead, Mr. Gensic found a group of fellow Penn teachers, Penn-Harris-Madison District Administration and Penn staff waiting for him. Dr. Thacker broke the news telling Mr. Gensic, "What you don't know and everyone else here does … is that you are P-H-M's Teacher of the Year!" Click here to see the video of the surprise announcement.
Also on hand for the surprise announcement was the person who nominated him for the District honor, STEM Academy Leader Ms. Rachel Fry … "Mr. Gensic goes above and beyond to arrange authentic and eye-opening experiences for his students to interact with Biology outside the school walls." One example of how Mr. Gensic utilizes project-based learning is his latest program, "Giving Trees." Penn students will work with Horizon Elementary School students to plant 25-30 dwarf fruit trees in the elementary school's garden. "Giving Trees" just received a P-H-M Education Foundation Grant during the Spring 2016 grant cycle, which will help fund Phase I of the project.
In early April, John was selected as a finalist for the Presidential Award for Excellence in Math and Science Teaching (PAEMST), the nation's highest honor math, science and computer science teachers!  Later this summer, he will find out if he has been chosen as the science teacher winner representing Indiana. Each awardee receives a certificate signed by the President of the United States and a $10,000 award from NSF.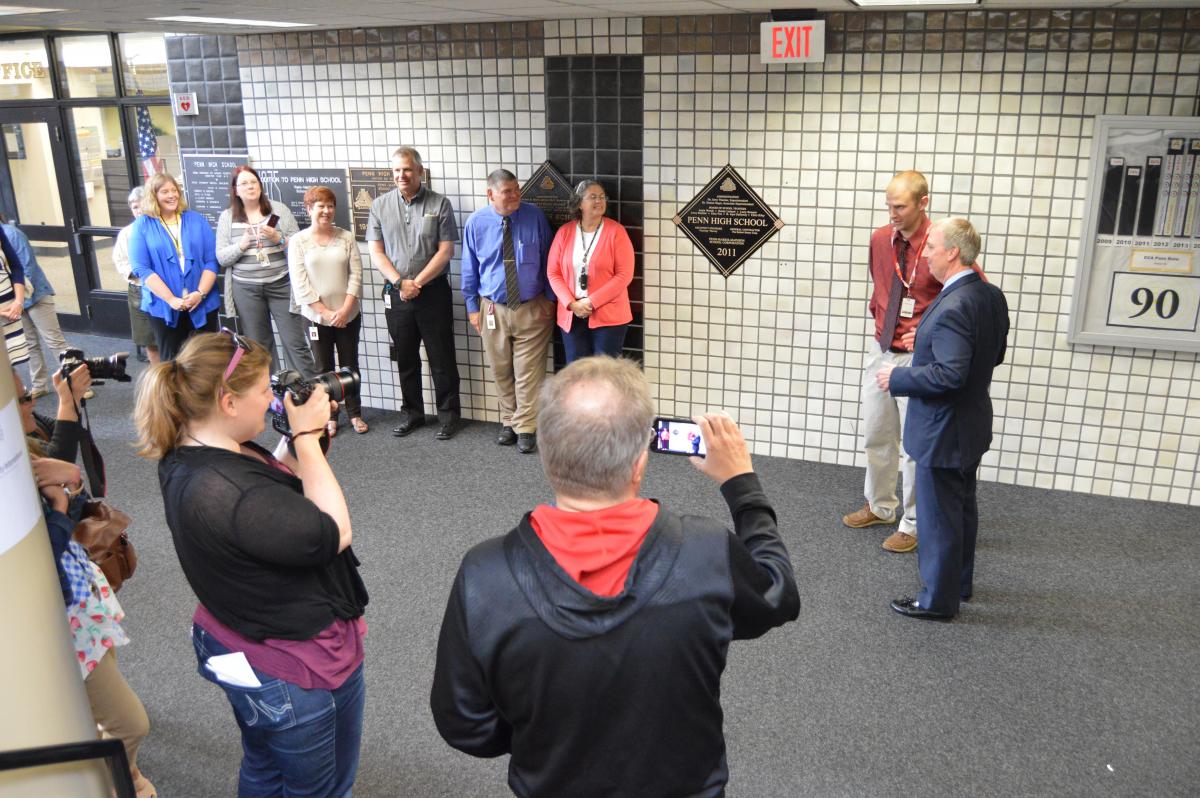 Mr. Gensic has been teaching for 11 years, coming to Penn High School in 2013. Mr. Gensic is a leader in his field presenting at the National Science Teachers Association on the topics of socio-scientific inquiry, biology modeling and free technology. He has also presented at TED, the University of Notre Dame, Purdue University as well as many other state and national conferences.
Last summer (2015), Mr. Gensic worked alongside EPA scientists on the "Lake Michigan Shipboard Science Workshop." John and other scientists evaluated the presence of microplastics and assessed the impact of aquatic invasive species—particularly zebra and quagga mussels—on Lake Michigan's ecosystem.
"John's passion for science in and out of the classroom has made him an exemplary teacher providing the best education possible to our students," said Penn Principal Steve Hope.
As P-H-M's District Teacher of the year, Mr. Gensic will participate in the Indiana Teacher of the Year. That decision from the state DOE comes in fall of 2016. "I know John will be Indiana's next Teacher of the Year come this fall," Dr. Thacker said confidently!
Mr. Gensic will receive his official award at the Penn-Harris-Madison Employee Recognition Dinner on May 11, along with P-H-M's Classified Employee of the Year, 2016 retirees, and the 10, 15, 20, 25, 30, 35 and 40-year service award winners.