Posted: Friday, May 4, 2018 - 1:16pm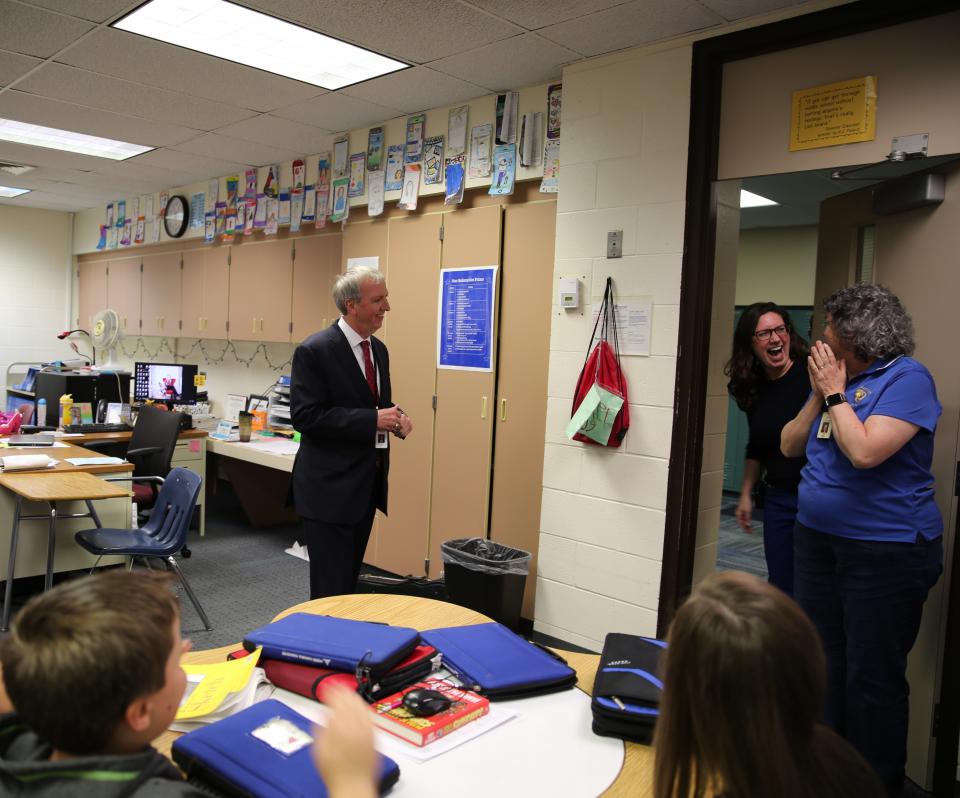 Schmucker Building Tech Lee Riley thought she was being called down to a classroom to fix a broken projector Friday morning (May 4) only to find Penn-Harris-Madison Superintendent Dr. Jerry Thacker, cameras and TV video cameras waiting for her. The sixth grade class students all happily yelled "SURPRISE" and Dr. Thacker let Mrs. Riley in on the secret that she had been named P-H-M's 2018 Classified Employee of the Year!
Click below to watch the video of the surprise ...
As an added bonus, Mrs. Riley's husband Dr. Robert Riley was also in the classroom waiting to give her a congratulatory hug.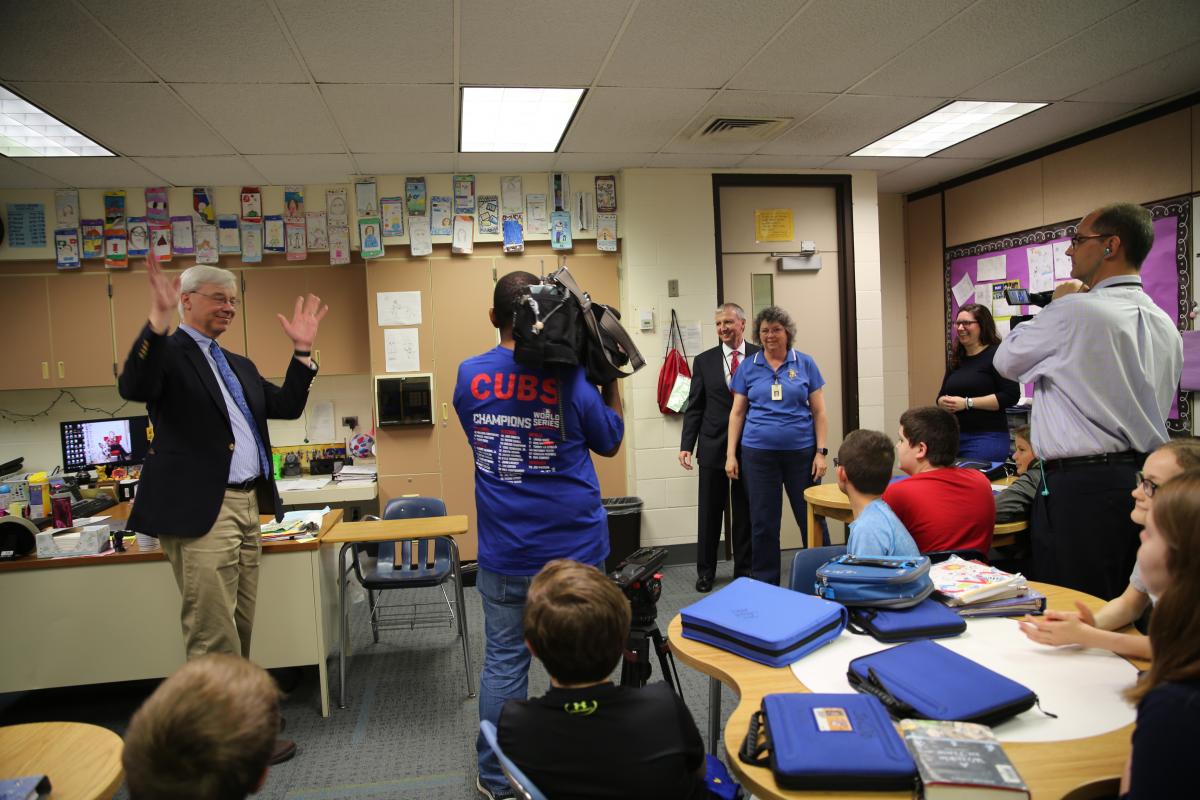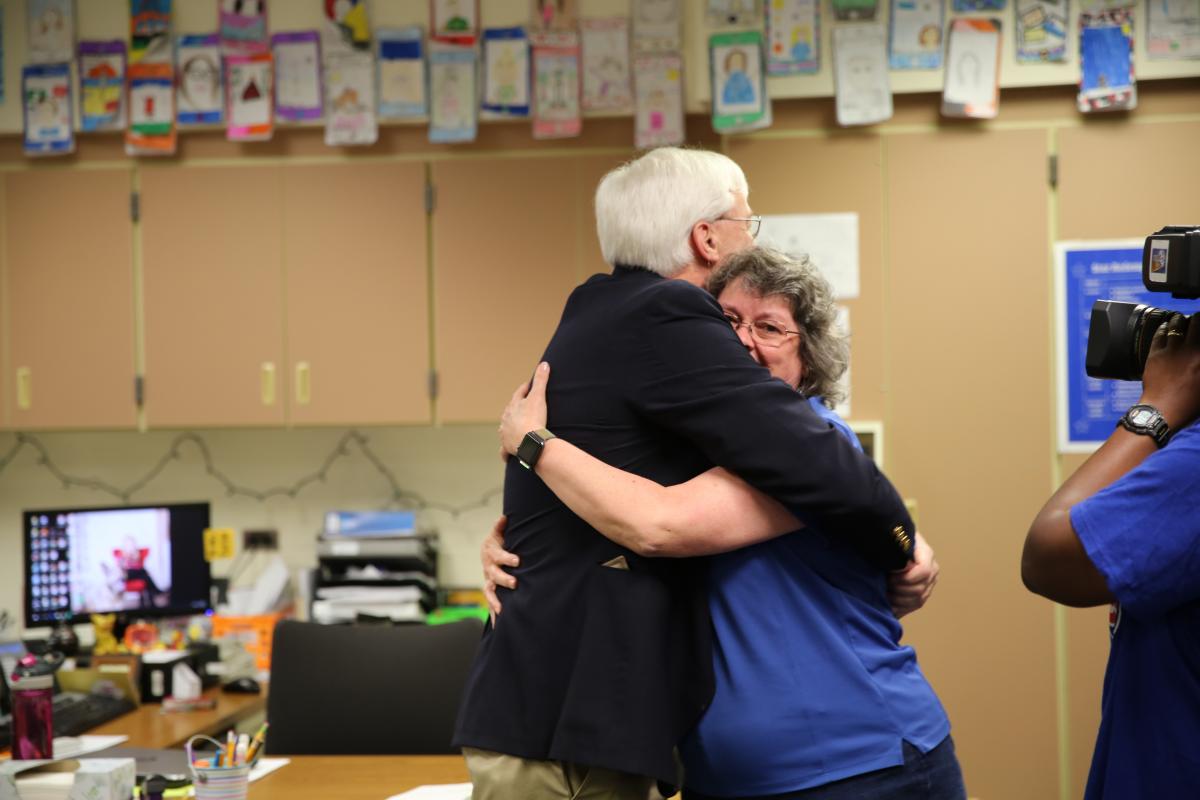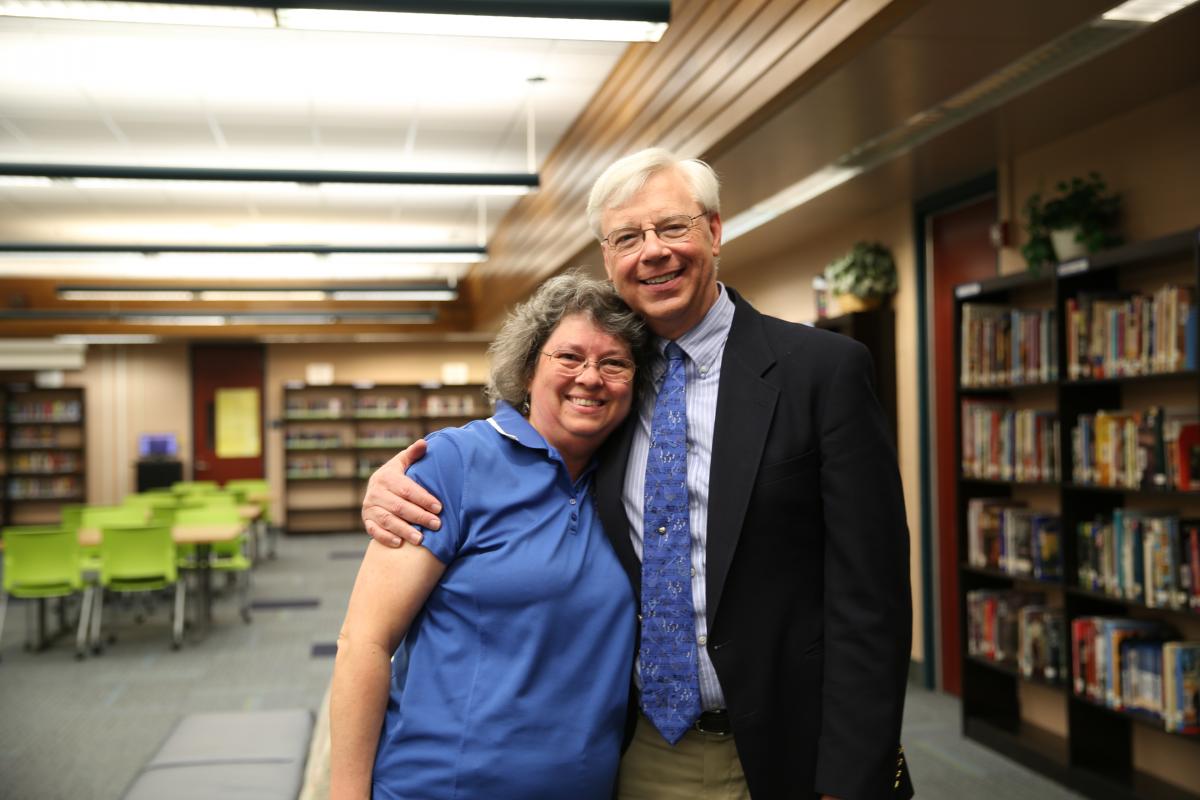 Lee Riley came to know P-H-M like many people do in the community … as a parent! When she moved to the South Bend area in 1992, she was a parent volunteer in Schmucker's library substituting for librarians when needed. She continued to volunteer in the SMS library for eight years before being hired as a Media Aide in 2000. She then became Learning Lab Coordinator and then Building Tech working for both Bittersweet and Schmucker. Today, 18 years later, she provides full time technology support for Schmucker's nearly 1,000 students and staff!
Ironically, Mrs. Riley prides herself on not being technical saying "that makes me uniquely qualified to explain technology to users of all abilities." It's a talent that does not go unnoticed and unappreciated by Schmucker staff and students.
Every spring, P-H-M employees nominate employees who exemplify P-H-M Excellence. Mrs. Riley was nominated by a fellow Schmucker staff member who commented, "Lee spends countless hours before, during and after school helping many different departments … She will not stop until the problem is solved or the question is answered. If she doesn't know the answer, she will find it!"
Mrs. Riley's special knack and talent … schedules! Her attention to detail is phenomenal. She creates and enters not only Schmucker's master schedule, but now lends help and expertise to Grissom and Discovery. She also maintains the course catalog for all three middle schools!
Her impact is felt across the District through her work on the Student Information Management (SIM) Team Committee. Mrs. Riley works with all the building secretaries and various other departments, such as Transportation and Food Service, to establish usage guidelines of the student information database.
When Chromebooks were introduced at the middle schools in 2015, Mrs. Riley tackled that with the same enthusiasm as each piece of new technology she's had to learn and manage. And this year, she came up with a way to handle all the repairs at SMS. Using select 8th graders, students, her "SMS Tech Team" helps other students with software fixes and repairs hardware as needed. She's now working with Grissom and Discovery to establish the same programs in their schools.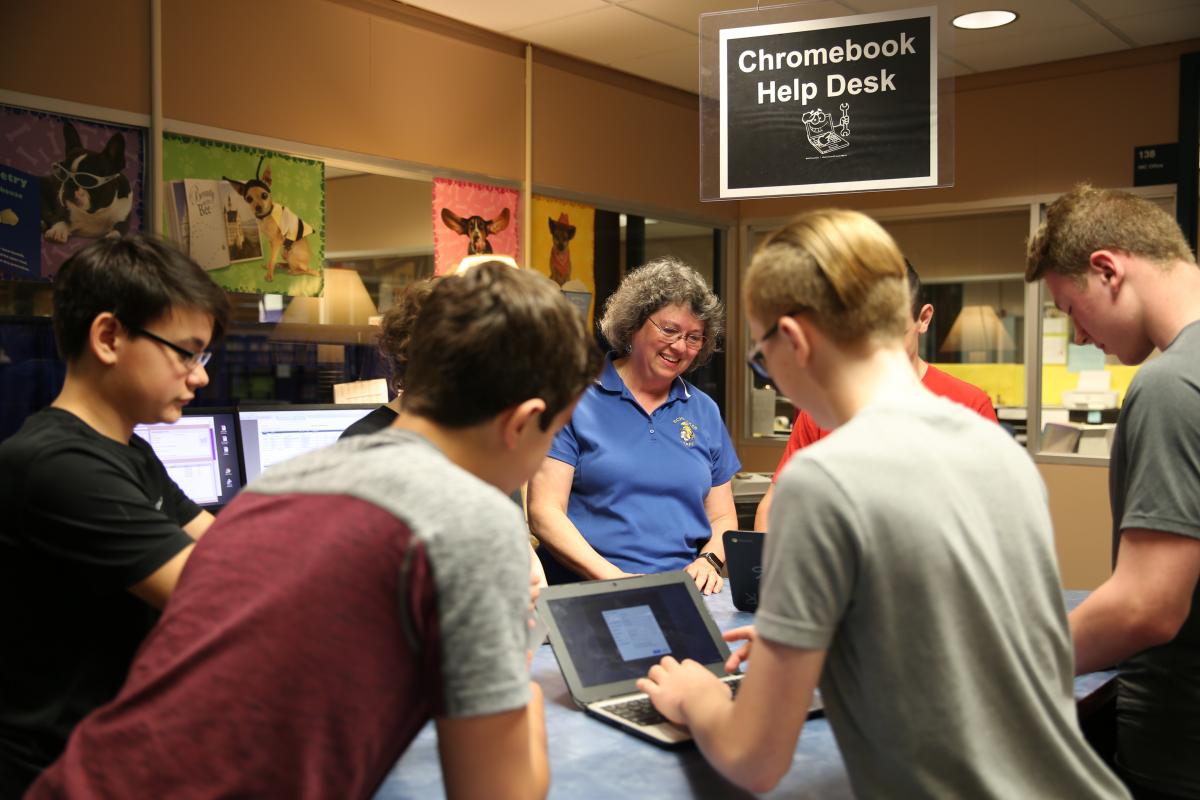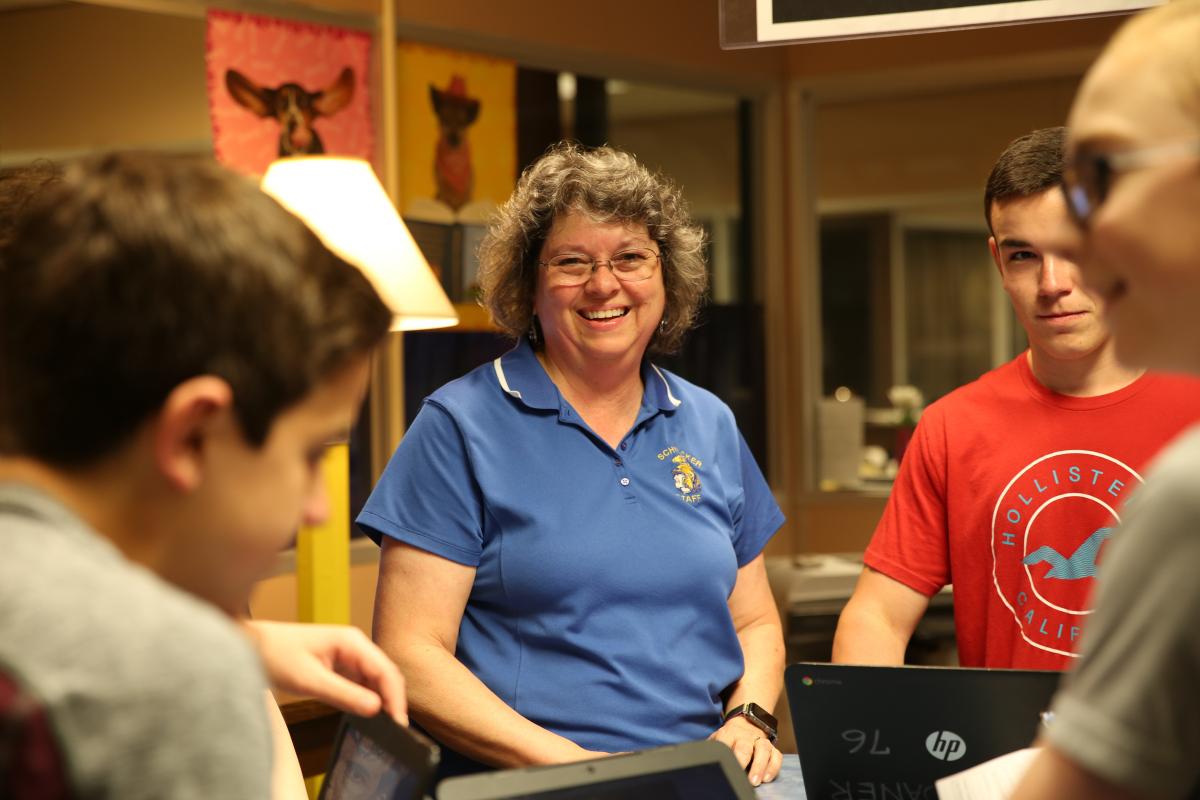 Thanks to Mrs. Riley's work ethic and dedication, she helps the District run more smoothly. "There is nothing better in my professional life than when a staff member tells me they were able to do what they wanted to do on their computer or tablet! I hope to continue to help our employees use and take advantage of the technology that P-H-M provides in the coming years."
Lee is married to Dr. Robert Riley and has two adult children, both Penn graduates.
Lee will officially be recognized at P-H-M's Employee Recognition & Retiree Dinner on Wed., May 16th, along with the 2018 Teacher of the Year. Penn High School English Teacher, Early College Academy Leader and Theater Director Danielle Black was also surprised Friday morning (May 4) by Dr. Thacker with the good news of her win.