Posted: Friday, May 4, 2018 - 1:16pm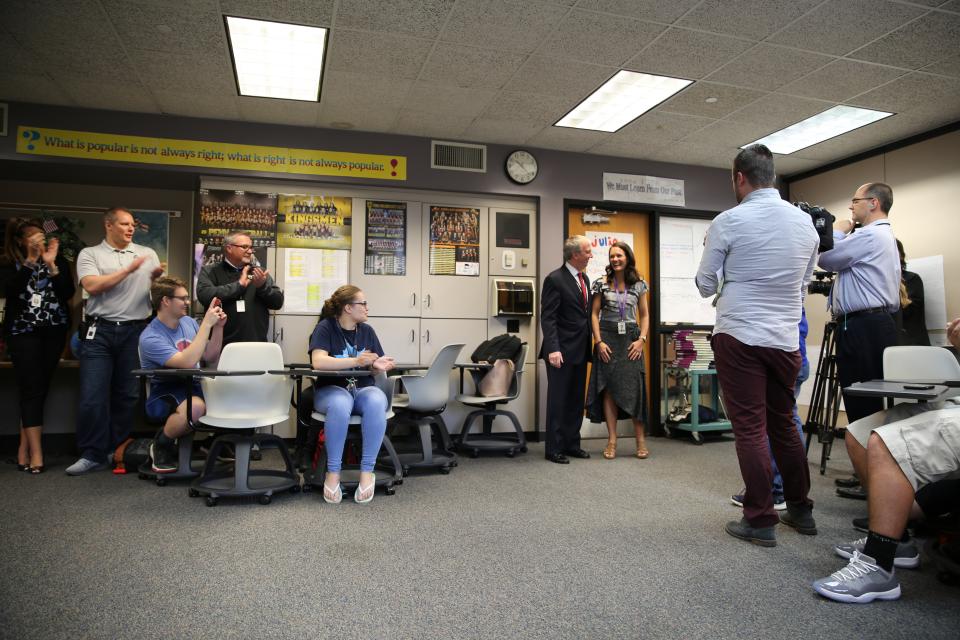 Penn High School teacher Danielle Black got quite a surprise upon returning to her classroom the morning of Friday, May 4. When she returned to teach her Early College Academy English class, she found not just her students, but also Penn-Harris-Madison Superintendent Dr. Jerry Thacker, members of the media, student reporters from the school's PNN network, P-H-M Cabinet members, her husband and two of her sons. That's when Dr. Thacker informed Mrs. Black that she had been named P-H-M's 2018 Teacher of the Year! 
Click to watch the video below of Mrs. Black's surprise ...
Mrs. Black had been "lured" to the Principal's Office with Penn Principal Sean Galiher and Assistant Principal/Softball Coach Beth Zachary. Danielle's husband Karl Black is a Math Teacher at Schmucker Middle School, which is across the street from Penn. He, two of the couple's four children and Danielle's parents Ed and Beth Lugbill were in on the surprise and were on hand for Friday morning's surprise announcement: Braden is a sophomore at Penn and Nikolas is in 8th grade at Schmucker Middle School.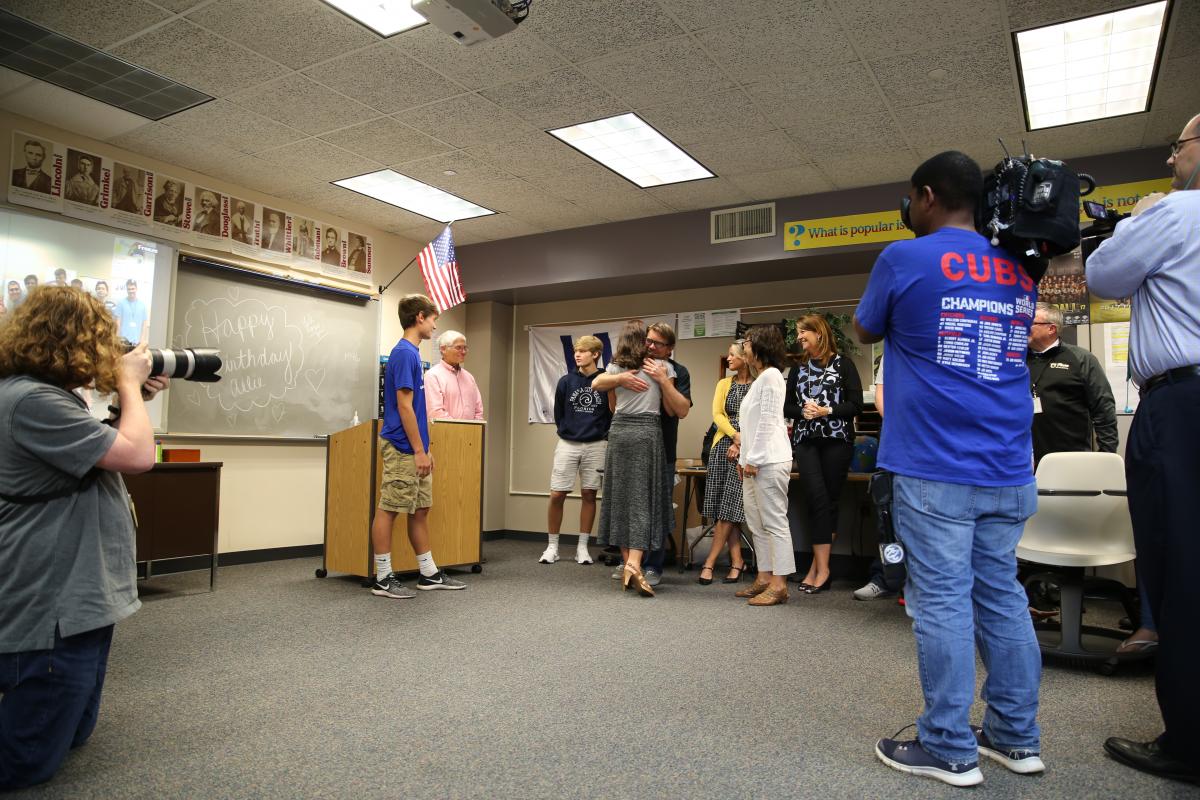 Mrs. Black was nominated for the award by fellow Academy faculty members who commend her for making sure her students have access to every opportunity possible to help them succeed, "Danielle does everything in her power to help students realize the potential that they don't even know they have inside them!" Mrs. Black has been with P-H-M for five years. She is admired and praised for her teaching methods finding ways to connect to her students and helping them find their own successes. Mrs. Black has a magnetic personality that inspires, empowers, teaches and reaches her students.
 
As the Early College Academy Leader, Mrs. Black has worked tirelessly shepherding and guiding the first cohort of ECA students these past four years. She is praised as a "true leader who is a servant to others," inspiring her students and fellow colleagues alike. And on May 25, like the proud parent she is, Mrs. Black will surely applaud her ECA graduates through tears of joy as she watches them walk across the stage at Commencement. It'll be quite an accomplishment for them, not only earning a Penn High School diploma, but also earning college credits … some graduating with a full Associate's Degree!
As Penn's Musical Director, Mrs. Black also devotes an immense amount of time every year to planning the spring musical. Her attention to detail is not lost. The costumes, scenery, casting and program design for this year's performance of Shrek The Musical were outstanding. Her goal was to put on more than an enjoyable show; it was to help deliver a message as she notes in this excerpt from the Director's Note: "We all need hope. We all need love. We all need to know we matter. I'm a believer that the more people embrace these truths, the better the world will be ... for all of us."
Mrs. Black practices what she preaches … doing her part to make the world a better place, even half way across the globe! She co-founded the charity Awake & Alive, Inc. and opened a school for the impoverished, orphaned children in the slums in Ethopia's capital city. The school also provides medical care and general health education for the widowed mothers of the children.
Danielle and Karl Black have three biological sons and a daughter they adopted from Ethiopia.
Mrs. Black teaches from her "heart and soul" working to make sure her students, not only feel, but also believe that they matter. Her mission whether it is with the Early College Academy, Penn Theater or her charity … is to make sure everyone feels connected and valued!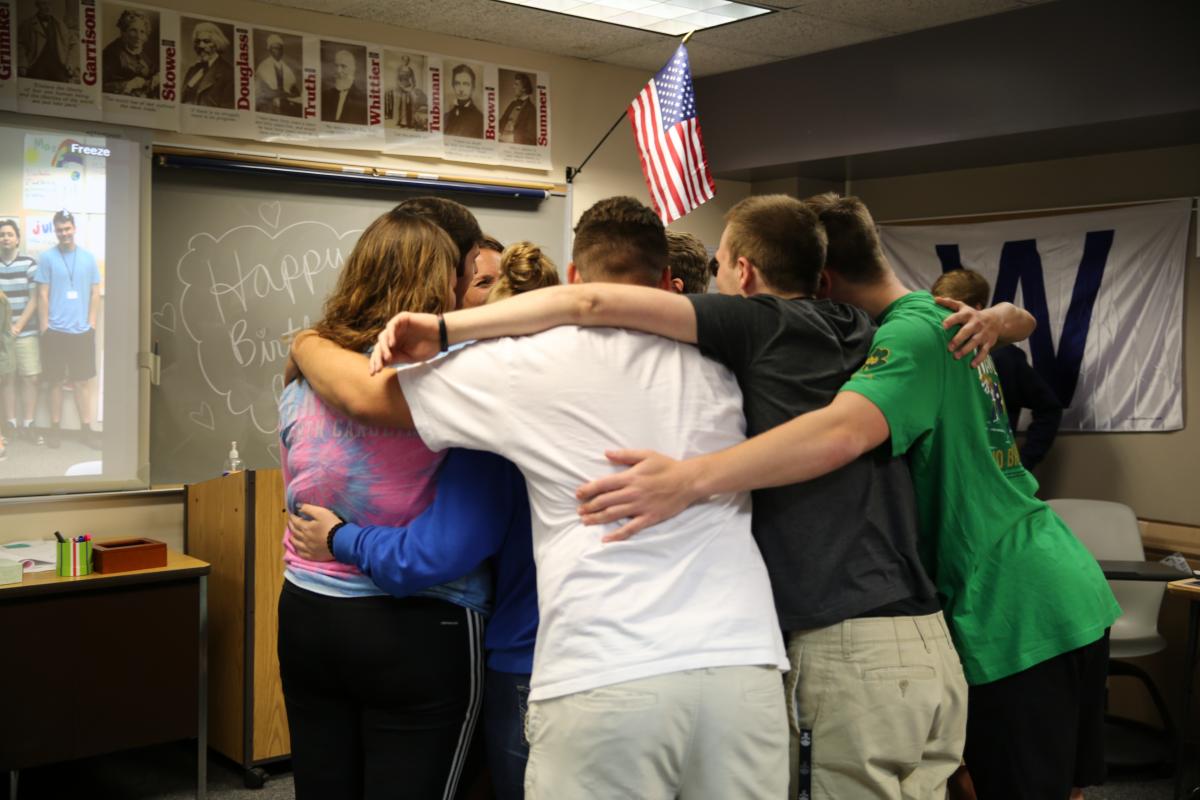 Danielle will officially be recognized at P-H-M's Employee Recognition & Retiree Dinner on Wed., May 16th, along with the 2018 Classified Employee of the Year (Schmucker Building Tech was also surprised the morning of Friday, May 4 by Dr. Thacker with the good news of her win). Both winners will receive a plaque. As Teacher of the Year, Mrs. Black will also receive a $1,000 classroom grant from the P-H-M Education Foundation! She will also be eligible for Indiana's Teacher of the Year award, which is announced by the IDOE in September/October 2018.