Posted: Wednesday, May 4, 2022 - 2:01pm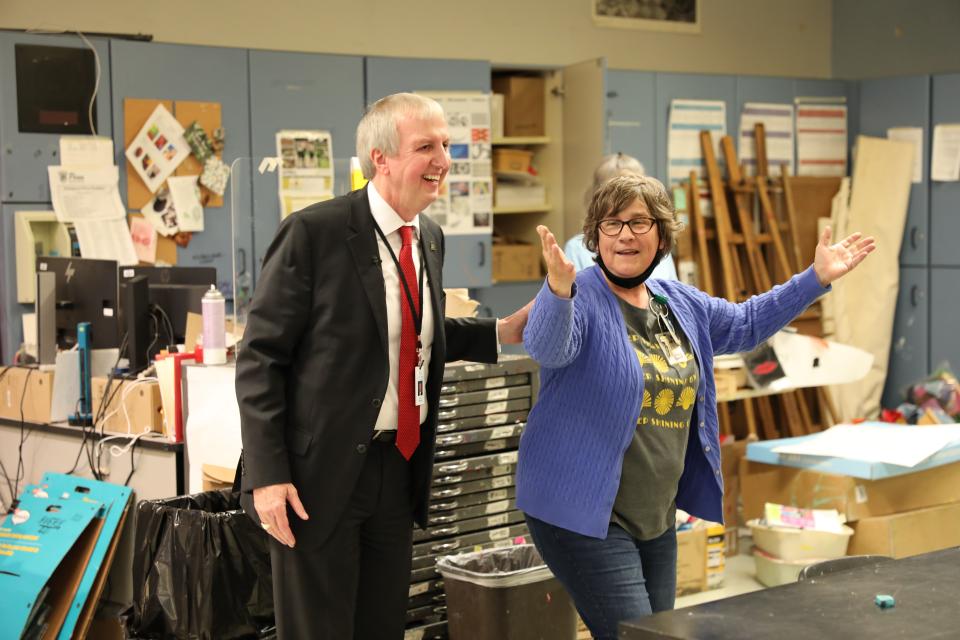 To help kick off National Appreciation Week, P-H-M Superintendent Dr. Jerry Thacker surprised two very special teachers on Monday, May 2 to notify them that they had been chosen as year's P-H-M 2022 Elementary and Secondary Teachers of the Year. 
Monday afternoon, Dr. Thacker stopped by Penn High School to surprise Art Teacher Mrs. Becky Hope to award her with the honor of PHM Secondary Teacher of the Year. Earlier in the morning, Dr. Thacker surprised Elsie Rogers Elementary School 4th grade teacher Mrs. Amanda Fox to inform her that she had been named Elementary Teacher of the Year. Click here to read that story.
Mrs. Hope knew something was up as soon as she opened the door to her classroom, then everyone yelled out "SURPRISE!" Mrs. Hope was so happy and touched to see her normal small quiet room full with ceramic students, fellow art teachers, Penn & PHM administrators, Superintendent Dr. Thacker and her husband, Dr. Steve Hope. In classic Mrs. Hope style–positive and funny–she quipped back "I'm guessing everyone's here to celebrate my 25th birthday!" Watch the video below to see more of the surprise and then click here to look through the photo gallery on Penn's website.
Her friendly and energetic personality is what Mrs. Hope is known for. People are drawn to her. She's an art teacher, comedian, colleague and mentor and loved by everyone she meets and teaches.
"She is one of the most positive, creative, and supportive people that I've ever worked with. She is loved by her students and coworkers alike. I can't think of anyone else more deserving of this honor," said fellow Penn Art teacher and nominator Ms. Barb Miller.
Mrs. Hope is the PLC Leader for Penn's Visual Arts Department, teaches AP Studio Art class, manages the Senior Showcase, sponsor's student Art Club. Mrs. Hope has also helped establish, run and expand P-H-M's elementary summer Visual Arts Academy. 
"I am proud of the Visual Arts Academy which provides an opportunity for our youngest artists and P-H-M students to be creators, listeners, questioners, and writers about art," said Mrs. Hope. "I feel fortunate every day to work with students who are willing to be challenged, to explore and investigate. … Also I am thankful for all of the fellow teachers who provide inspiration and support for all the young learners in our classrooms."
The Visual Arts Academy partners with the University of Notre Dame's Snite Art Museum to share museum art pieces that students can study and use as an inspiration for creating their own art pieces and writing projects. This year the Visual Arts Academy is being offered the second, third and fourth weeks of July (click if you'd like to sign your child up for this summer's sessions). 
The Academy has also made it possible for the high school students volunteers to participate in Notre Dame's Apprentice Program. Mrs. Hope encourages her students to get experience displaying and selling their artwork at such events as South Bend's Art Beat and the P-H-M Education Foundation's Penn Student Art show at Granger's Max Black Fine Arts Studio. She also lends her guidance and talents for numerous activities and charitable events, including making decorations and selfie stations for Exceptional Education's annual student dances.