Posted: Friday, September 23, 2022 - 6:57pm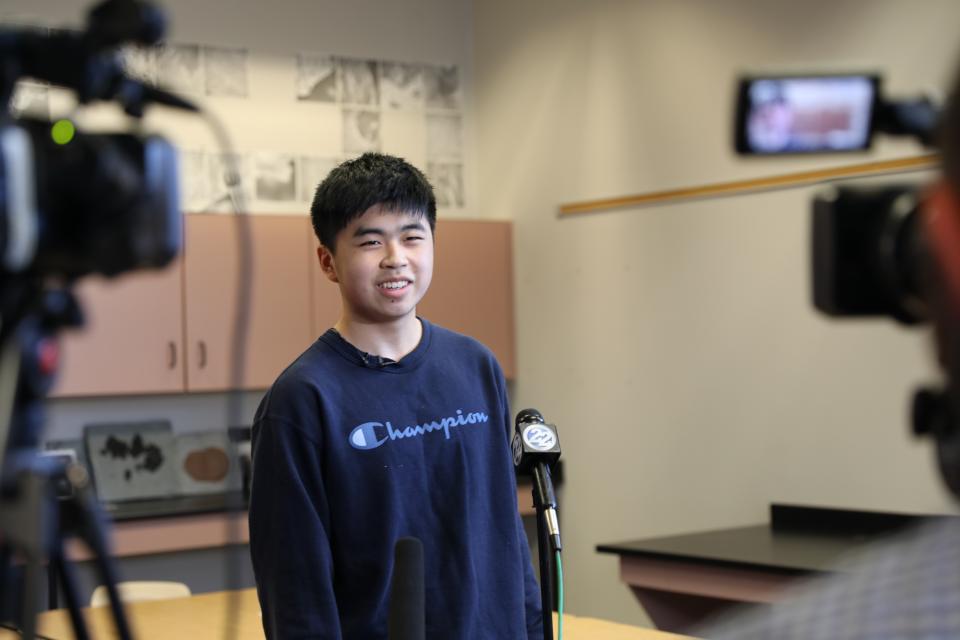 Penn High School junior Felix Zhang talked to South Bend local news media this afternoon about earning a perfect score, not missing a single question, on the college-level Advanced Placement® (AP®) Calculus AB Exam—the only student in the world to do so!
The media coverage of Felix Zhang's amazing accomplishment continues to roll in, including a shout-out by Trevor Noah on "The Daily Show" with more than a million views ...
Below is a sampling of local, state, national and international news coverage:
Click here to view the photo gallery on Penn's website.
The College Board, which administers the AP® exams, recently notified Penn Principal Sean Galiher that Zhang not only attained a perfect score of 5 (on a scale of 1 to 5), but Zhang was the only student in the world to earn every point possible on the AP® Calculus AB exam! This means Zhang accomplished the maximum score on each portion of the exam (108 out of 108). In 2017, a student from Carmel, Indiana, was 1 of 3 people in the world to get a perfect AP Calculus score (click to read a story in Indy Star). In 2016, a student from California was 1 of 12 in the world  to get a perfect AP Calculus score (click to read the story in LA Times).
In an email sent to Principal Galiher notifying him of Zhang's phenomenal achievement, Head of the Advanced Placement Program Trevor Packer said, "This outstanding accomplishment is likely a direct reflection of the top-quality education being offered at Penn High School. We applaud Felix's hard work and the AP teacher responsible for engaging students and enabling them to excel in a college-level course."
"The teachers in Penn-Harris-Madison School Corporation are some of the best in the state of Indiana," said Superintendent Dr. Jerry Thacker. "Their incredible dedication and commitment to academic excellence and making sure every single student reaches their highest potential is nothing short of extraordinary; and they do this every day across our district, in all 15 schools. Felix Zhang and teacher Mrs. Denise White are just one of the many examples of great student/teacher relationships that result in phenomenal achievements for our students. It exemplifies our 'Triangle of Success'—connecting students, teachers and parents!"
When asked by reporters if he was surprised with his score, Zhang replied "I felt pretty confident knowing that I knew what to do on the test, but there was always a chance I would make a small error or something. So I wasn't really expecting to see a perfect score. And that was pretty surprising to me because I felt like, there's a lot of other people out there who probably perform very well on this test, and I'm pretty surprised that no one else got a perfect score."
Zhang took the AP® Calculus AB exam last spring 2022 when he was a sophomore along with approximately 270,000 students worldwide. Approximately 20% of students who took the test in May 2022 earned a 5—the largest percentage of 5s since 2016 (click here for more data related to the 2022 AP® Calculus AB exam).
Zhang's AP® Calculus AB teacher at Penn High School last school year was Mrs. Denise White and this year she's teaching Zhang again in the next level AP® Calculus CB class. Mrs. White has been a teacher for 30 years and is in her fourth year of teaching AP® Calculus at Penn.
"I love the students. I think that's why I do it. I call them my kids because now I have a daughter that just graduated and she's away at college. And so they have sort of fill that gap for me," said Mrs. White talking to reporters. "I love to like go to their sporting events. I sponsor two clubs; and I used to coach here at Penn. So just getting involved in the students' lives is very enjoyable for me. It's not a profession that you probably can do without loving it. I don't know what I would do if I didn't teach."
Mrs. White also told reporters that not only is she extremely proud of Zhang, but she's also overjoyed with last year's class overall performance sharing that 50% of her students last spring scored 5s (click here for more information about the percentage breakdown of the 2022 AP® Calculus AB scores).
"There's a lot of strategies that teachers can put in place to help students learn. But when you have kids scoring at a five, you know that the curriculum is intentional, it's focused, the kids are engaged and there is a collaborative environment," said Penn Principal Sean Galiher. "When you take an AP Calculus course in high school, you're essentially taking the first year of Calculus as a college student; and that's the whole reason why we we push dual credit and AP type courses here at Penn High School. We want students to feel prepared so they can succeed in college and finish college, in four years at least. So if we can expose them at the high school level and help them experience the rigor and the challenge and be successful, we know they're going to be successful when they leave our our walls."
Information supplied by the Advanced Placement® Program states that students who succeed in AP® are not only more likely to succeed in college, but have the chance to save a significant amount of time and money by earning college credit or placement. Colleges and universities around the world receive AP® scores for college.
Penn High School is the only high school within Penn-Harris-Madison School Corporation, which is located in suburban South Bend, Indiana (home to the University of Notre Dame). P-H-M Corporation serves nearly 11,000 (K-12) students in 11 elementary schools and three middle schools which all feed into Penn High School. Penn has approximately 3,500 students. Zhang attended Northpoint Elementary and Discovery Middle School. With the release of the Spring 2022 ILEARN results and out of all 299 Indiana public schools that passed both ELA and Math, Northpoint Elementary is #1 is the number one public elementary school and Discovery Middle is #2 public middle school in the state. P-H-M is among Indiana's top performing public school corporations. It in the Top 3.67%, #11 out of Indiana's public school districts. The School Corporation has consistently received an "A" rating from the Indiana Department of Education since 2011.
P-H-M's "Triangle of Success" connects students, teachers and parents for excellence in education. To learn more about academic excellence Penn-Harris-Madison School Corporation, please click here. To learn about the achievements of Penn students and faculty, please click here.