Posted: Tuesday, September 6, 2016 - 2:28pm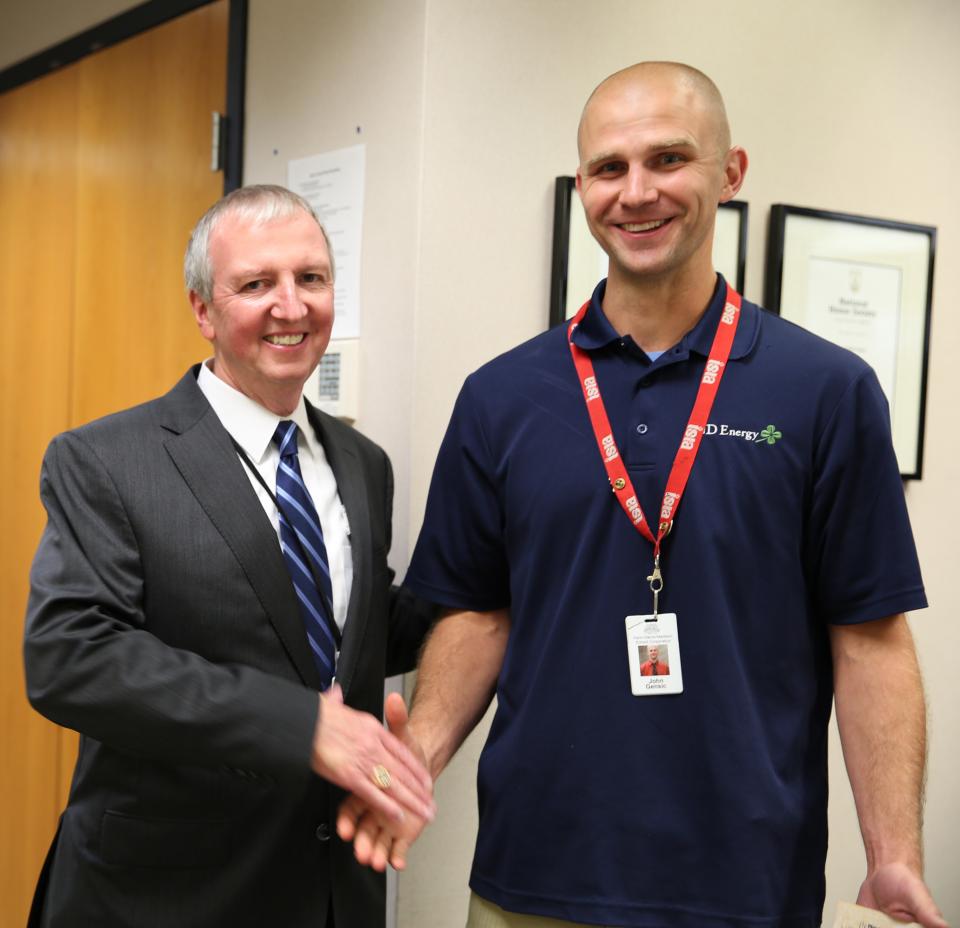 The Indiana State Department of Education just announced that Penn Biology teacher John Gensic has been chosen as one of top 10 finalists for the 2017 Indiana Teacher of the Year. 
Mr. Gensic an 11-year teaching veteran began at Penn High School in 2013. He was chosen as P-H-M's Teacher of the Year back in April because of his interactive, engaging teaching style. Project-based learning, growth mindset and student-centered instruction are at the center of Mr. Gensic's teaching philosophy.
"John's passion for science in and out of the classroom has made him an exemplary teacher providing the best education possible to our students," said Dr. Thacker. "John's passion for teaching exemplifies not only the best of P-H-M teachers, but also makes him a top choice for Indiana Teacher of the year."
Last spring, Mr. Gensic began his latest project-based learning activity, called "Giving Trees."  Penn students are working with Horizon Elementary School students to plant 25-30 dwarf fruit trees in the elementary school's garden. The project will continue over multiple school years, ultimately involving hundreds of P-H-M students in grades K-5 and 9-12.
"John always goes above and beyond to arrange authentic and eye-opening experiences for his students to interact with biology outside the school walls," said Penn Principal Steve Hope. 
As a lifelong learner himself, Mr. Gensic believes strongly that teachers lead by example, "In doing this, we help create experiences for students that they wouldn't otherwise experience and give students the inner motivation to pursue tasks that will improve our humanity and earth," said Mr. Gensic.
Summer is not a time of vacationing for Mr. Gensic … it's a time for continuing education! Mr. Gensic spent the first half of his summer participating in Purdue University's Research Experience for Teachers in Sustainable Electronics. There, he researched alternative, more eco-friendly flame retardants, especially as they relate to use in electronics. Along with conducting research, he also wrote lesson plans integrating these scientific concepts into the high school science curriculum.   
In mid-July (and continuing through the 2016-2017 school year), Mr. Gensic began working as an Instructional coach for Trustey Family STEM Fellows. He will work as an instructional coach for STEM teachers in Washington, Texas, California, New Jersey and Arizona through the Center for STEM Education at the University of Notre Dame. 
The summer of 2015, Mr. Gensic worked with the Environmental Protection Agency on the "Lake Michigan Shipboard Science Workshop." He was one of just 15 educators to work alongside the EPA scientists evaluating the presence of microplastics and assessing the impact of aquatic invasive species—particularly zebra and quagga mussels—on Lake Michigan's ecosystem. The goal … to bring his experiences back to the classroom.
A leader in his field, Mr. Gensic has presented at a number of state and national education conferences. He presented at the National Science Teachers Association on the topics of socio-scientific inquiry, biology modeling and free technology; TED, the University of Notre Dame, and Purdue University just to name a few.
 In April 2016, Mr. Gensic was also selected as an Indiana science teaching finalist for the Presidential Award for Excellence in Math and Science Teaching (PAEMST). This is the state and nation's highest honor for math, science and computer science teachers.
The final announcement on Indiana Teacher of the Year is expected later this month or in October. The 2017 winner will represent Indiana teachers at the national level in accordance with National Teacher of the Year guidelines, with that selection process taking place in January-April 2017.