Posted: Tuesday, January 30, 2018 - 4:00pm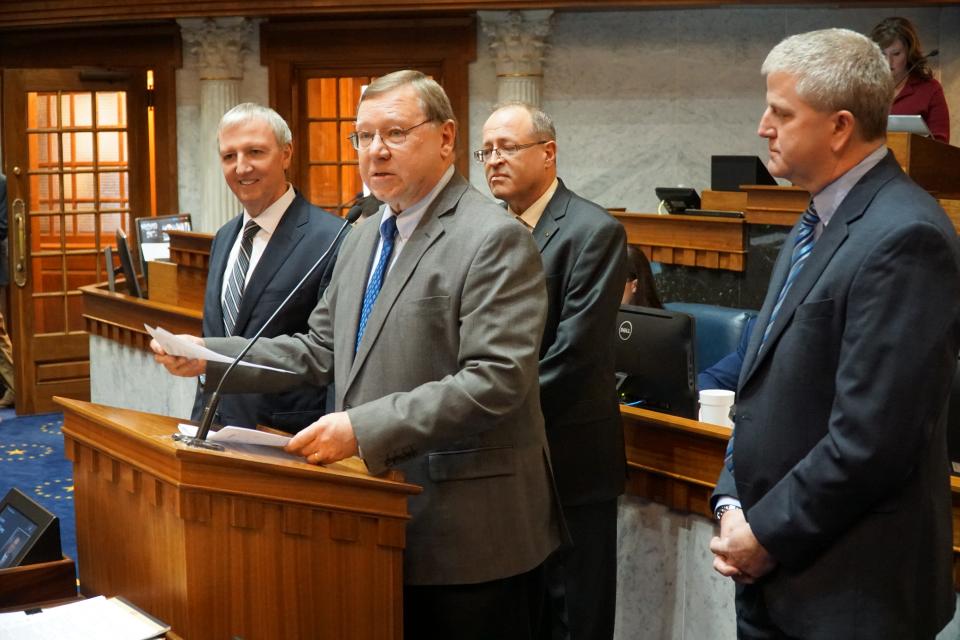 The Indiana General Assembly honored the outstanding achievements from the Penn-Harris-Madison School Corporation on Monday, January 29. Three resolutions authored by State Sen. Joe Zakas (R-Granger) recognized P-H-M Superintendent Dr. Jerry Thacker, Penn High School Girls Soccer Coach Jeff Hart and Penn Band Director Glenn Northern for their recent accomplishments.
Senate Concurrent Resolution 21 honored Dr. Thacker for being named 2017 Outstanding Educator by the Indiana Association of Public School Superintendents. Dr. Thacker also received this award in 2013. He has received a number of other awards, as well, including Indiana Superintendent of the Year in 2012. The award honors Dr. Thacker for his successful oversight of 15 schools with an enrollment of nearly 11,200 students. P-H-M has consistently been named an "A" rated school district and ranks among the state's Top 4% of Hoosier public school districts.
Senate Concurrent Resolution 22 congratulated the Penn's Girls Soccer team for winning their second straight Class 3A state championship. They defeated the Guerin Catholic High School girls team 2-0 for the title. The remarkable Penn team completed the 2017 season ranked first in the nation, as well. Coach Jeff Hart was present at the Statehouse to receive the recognition on behalf of the team's student-athletes.
Senate Concurrent Resolution 23 honored Kingsmen Band Director & Fine Arts Academy Leader Glenn Northern on receiving the 2018 Outstanding Music Educator of the Year from the Indiana Music Educator Association. Northern arrived at P-H-M in 2001 and he directs more than 450 students in four concert bands, three jazz ensembles, two percussion classes, pit orchestra, pep band, marching band and five winter guards! P-H-M has been recognized as one of the "Best Communities for Music Education" by the National Association of Music Merchants due in great part to Northern's work.
"It is fitting for the General Assembly to honor these tremendous achievements and to recognize them on a statewide basis," Senator Zakas said.
State Sen. Ryan Mishler (R-Bremen) and State Sen. David Niezgodski (D-South Bend) also served as sponsors of the resolutions. Rep. Dale DeVon (R-Granger) served as the principal sponsor in the Indiana House of Representatives.