Posted: Tuesday, February 2, 2021 - 8:11am
By Joseph Fratena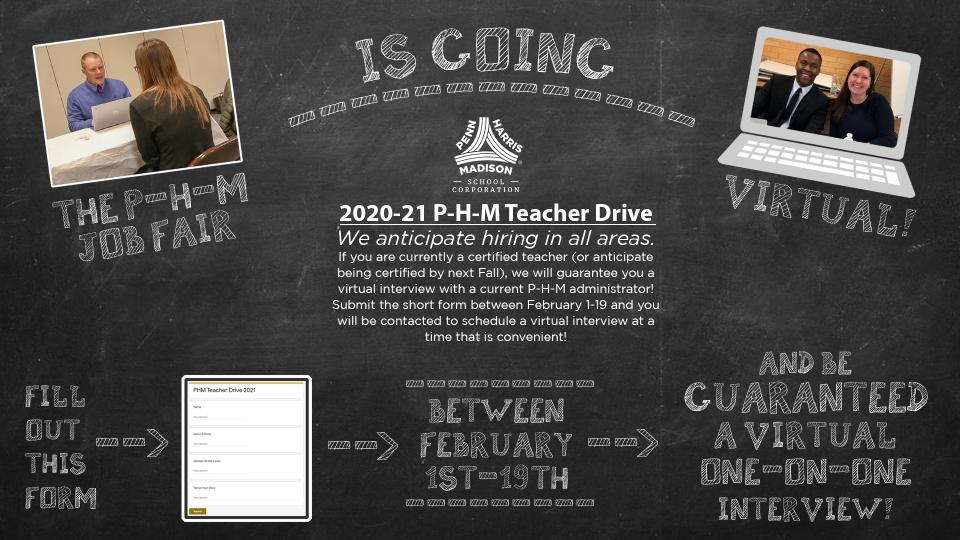 Interested in joining the P-H-M family and inspiring #PHMExcellence?
WHAT:
The 2021 Job Fair is going virtual! All applicants will be contacted by a P-H-M administrator to set up  a time for a virtual interview.
WHEN:
You MUST submit this form by February 19th, 2021
TIPS:
Since your virtual interview will occur in a place of your choice, here are some considerations that will allow you to make a good first impression!
Dress for success. Even though you may be in your house, dress as if you were walking into an in-person interview.
Have your resume in front of you and be ready to talk about your specific experiences & qualifications.
Test your technology (internet connection, camera & microphone)  ahead of time...we will be using Google Meets.
Prepare the scene by considering the following:

Find a place that is quiet
Make sure you have quality lighting 
Remove all distractions from your area
Be logged in and ready 10 minutes before your interview begins
Consider what is in your background, you want the focus to be on you, not what is on the wall behind you
Steady Camera (don't hold your phone / laptop in your hand)

Be authentic and answer questions honestly!