Posted: Thursday, December 7, 2017 - 2:05pm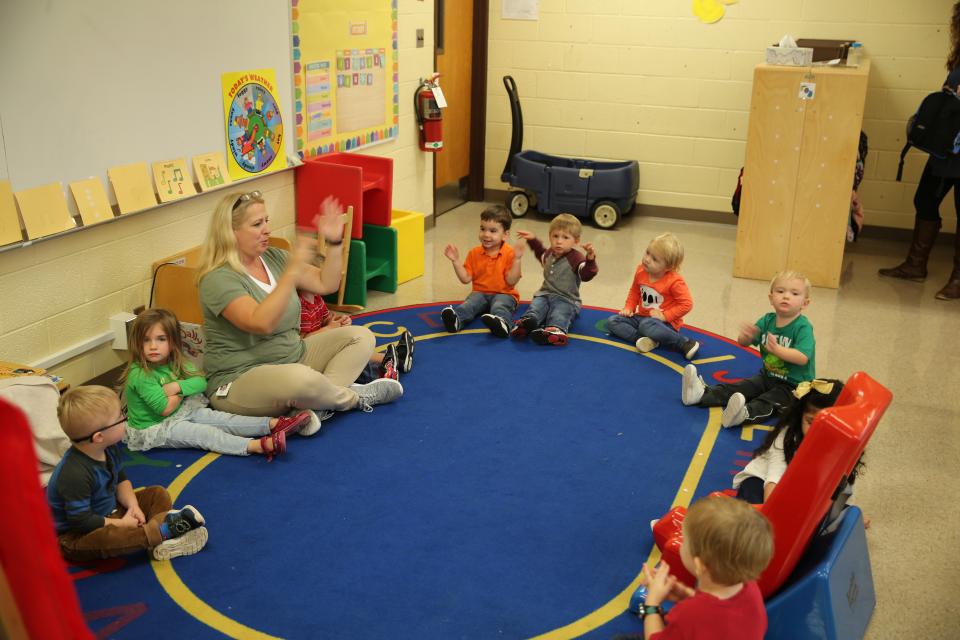 Penn-Harris-Madison is fortunate enough to have an Education Foundation that develops alternative sources of income to support educational programs that fall outside of the District's funding sources.
Since the Foundation's inception in 1996, more than $520,000 have been distributed in innovative teaching grants supporting P-H-M teachers, staff, and students.
Twice a year, fall and spring, the PHMEF accepts grant applications from any District employee or parent who has a project in need of financial support.  The Grants Committee is comprised of Foundation board members, community representatives, and a P-H-M administrator who evaluate each grant application.
The Foundation is pleased to announce its Fall Grant Cycle recipients. A total of $16,750.17 will be disbursed to P-H-M staff in 13 of the 15 P-H-M schools. A complete list is below …
EZ Form grants approved for $250 or less:
Increasing Expressive Language in Speech/Language Therapy:
Northpoint & Mary Frank Elementary Schools  – Shannon Harrington/Abbey Kaiser
Awarded: $250 – Funding for Expanding Expression Tool program

Steam Erosion and Deposition and Mineral Crystals:
Horizon Elementary – Anna Lira
Awarded: $237.83 – Hands-on kits offer detailed learning on erosion and minerals

Learning Toys for Students with Multiple Disabilities:
Mary Frank PennPALS Preschool program – Tess Weaver
Awarded: $241.90 – Learning toys geared toward students with more severe disabilities.

Flocabulary: Grammar/Vocab Made Fun:
Penn High School – Francesca Varga
Awarded: $250 – Program that utilizes hip hop to create standards in math, science, social studies, current events.

Clean Shop:
Penn High School – Les Crooks
Awarded: $99.98 – Shop vacs to replace non-working vacuums to maintain a clean shop.

'Lead-ers' in Public Health:
Penn High School – Courtney Porters and John Gensic
Awarded: $248.33 – Seniors to test lead levels in the P-H-M community with Lead Check Instant Test Swabs.

 Happy Numbers for Happy Kinders:
Moran Elementary – Meg Csenar
Awarded: $249– Computer program that fosters individual growth in math

Loud and Clear:
Elm Road Elementary – Christy Cook
Awarded: $199.96 – Bluetooth portable microphones to be used by students when sharing presentations in class.

Children's Literature in the Music Classroom:
Meadow's Edge Elementary – Sarah Fish
Awarded $250 – Books that will incorporate musical concepts and enhance lessons in history, movement, and composition.

Student Service Lounge:
Schmucker Middle – Andrea Hoover
Awarded $250 – Provides additional seating in the front office for students waiting to meet with counselors.

Playing to Learn:
Moran Elementary – Stephanie Strasser
Awarded $175 – Subscription to Mathseeds, which is a comprehensive, blended math program created for early learners grades K-2.

Physical Health & Growth:
 Bittersweet PennPALS Preschool program – Sara Barhydt
 Awarded $220.26 – Funds will be used to purchase scooters and storage rack that will be used to enhance balance and coordination.

Adventures in Computer Science:
Prairie Vista Elementary – Amanda Fox
Awarded $224.95 – Let's Go Code will introduce computer science to lower elementary students

Bearings:
Penn High School – Evan White
Awarded $150 – Bearings will be used to make axles spin freely, without friction in the Principles of Engineering class.

Physics Guitar Unit Project:
Penn High School – Jonathan Lockwood
Awarded $250 – Materials to build an electric guitar to teach physics, including acoustics concepts such as tension and resonance. Materials are reusable.

Get Your Neon Read On:
Elm Road Elementary – Ashley Kocsis
Awarded $223.20 – Supports close reading by using highlighters that will illuminate key  reading details.

Fish Are Friends:
Northpoint Elementary – Katie Zielinski
Awarded $126 – Classroom pet fish will enhance class community, teach responsibility. 

High Interest Novels for Reluctant and Below Grade Level Readers:
Discovery Middle – Jennifer McMillen
Awarded $248.75 – Books designed to encourage middle school students who are reluctant to read due to below grade level abilities.
Traditional Form grants approved for $250 or more (Full Funding)
Writing Mentor Texts:
Meadow's Edge Elementary – Leah Gerbeth
Requested $377.74 — Received $377.74
A collection of mentor texts books will be used in literature to provide concrete, quality examples traits of writing, ideas, organization, voice, word choice, sentence fluency, conventions and presentation. Students will utilize these mentor texts as concrete examples as they build upon their own writing skills.

Smart Music:
Grissom Middle – Vickie Marshall
Requested $3,549 — Received $3,549
Band, choir, and orchestra students will benefit from the SmartMusic program that provides an
integration of technology, differentiated instruction, one-on-one tutuoring for those who need extra support. It allows students to perform music, watch and listen on their Chromebooks, and provides automatic feedback on their performance with correct notes highlighted.

Sit and Read a Bit:
Bittersweet Elementary – Patricia Heidkamp
Requested $1,249.67 — Received $1,249.67
Back Jack chairs will be used in the school's library for students to use while reading. These chairs provide comfortable seating with a floor cushion and back rest. They can be used upright or in a reclined position and students will be able to easily maneuver the lightweight chairs around the library.

Blast Off With Rocketbooks for STEM Success:
Penn High School – Rebecca Tagliaferri and Jonathon Lockwood
Requested $2,400 — Received $2,400
A Rocketbook is a notebook with waterproof synthetic poly blend pages. These pages can be written on with a Pilot pen, highlighter, or markers. Students will be able to save assignments and can be sent to multiple locations such as the Cloud, electronically to email addresses or Google drives files or Dropbox, etc. Once the assignment is complete, these pages can be cleaned with water and ready to be used again. These Rocketbooks will be utilized in Math and Physics classes.

Exploring Science through a Literary Lens:
Discovery Middle – Shonda Masterson
Requested $1,265.95 — Received $1,265.95
This project will immerse science students into non-fiction literature in their quest to gain knowledge and understanding in science and the scientific process. Students will be able to read scientific stories and extract evidence to make claims and conduct research.
Partial Funding
Bakers Gonna Bake
Penn High School – Cara Watt
Requested $3,950.65 — Received $2,410.65
Culinary materials will provide updated equipment for the Penn's Nutrition and Wellness classes and Culinary Arts & Hospitality Management class. These new materials will allow teachers to put a stronger emphasis on organization and inventory, as most equipment will be purchased according to a color-coded system. Updated cooking equipment also will allow students to better plan and prepare healthy meals.

iPads for Inclusive Preschool Classrooms:
Elsie Rogers Preschool – Pam Walters
Requested $2,884.99 — Received $1,602
iPads have many ways to accommodate multiple learning styles and varying physical and mental abilities. Visual learners can easily see text and moving texts. Auditory learners can experience the lesson through sound provided by headphones or speakers. Kinesthetic learners can physically manipulate text, images and other stimuli directly on the screen with the touch of a finger.
 
This year's fall grant application window was September 18 – October 26. The spring grant cycle application window has not yet been announced.