Posted: Friday, April 30, 2021 - 3:30pm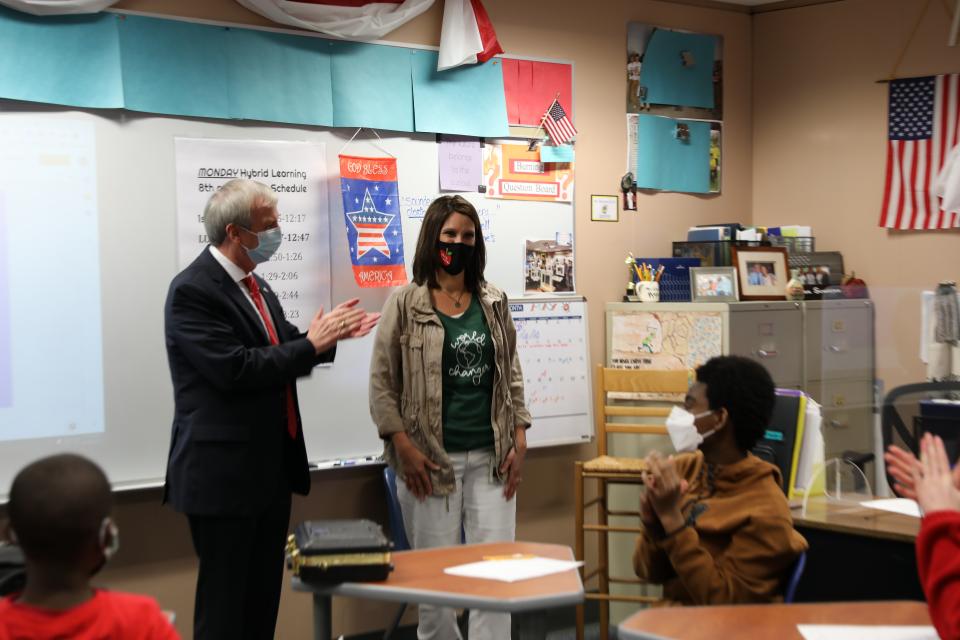 This afternoon P-H-M Superintendent Dr. Jerry Thacker surprised Schmucker Middle School 8th grade teacher Mrs. Wendy Schuster with the news that she is the district's 2021 Secondary Teacher of the Year. Dr. Thacker was joined by Schmucker Principal Dr. Lavon Dean-Null, Schmucker Assistant Principals, and other members of P-H-M Administration; they all walked into the classroom shortly after her Social Studies class had begun surprising her with the news. Mrs. Schuster's students gave her a thunderous round of applause when Dr. Thacker announced the news. Click to watch the video below
Schmucker Assistant Principal Lucas Fry and Chief Operations Officer Aaron Leniski were especially pleased with the news because Mrs. Schuster taught them both when she was a teacher at Grissom. Click to see the full photo gallery below.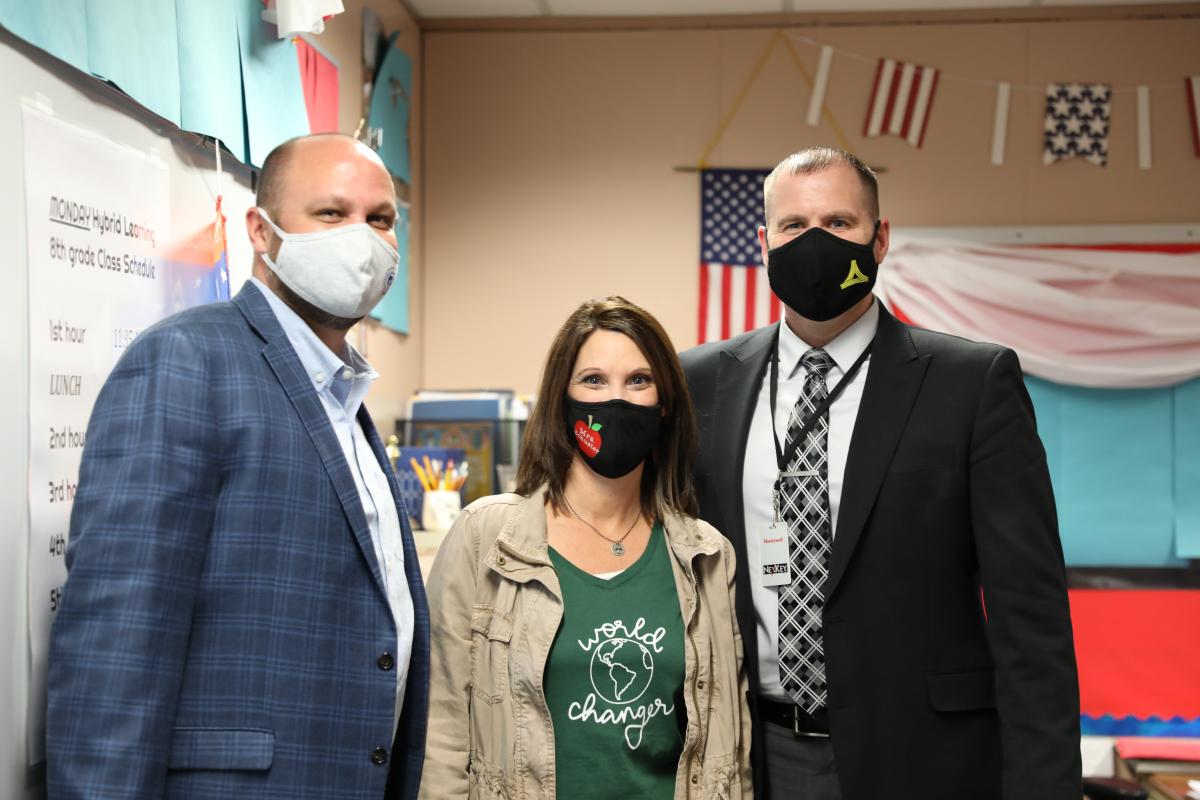 Mrs. Schuster joined P-H-M in 1990 as a teacher at Grissom Middle School and worked there through the 2011-2012 school year teaching both Language Arts and Math. She then moved to Schmucker where she's taught both Math and Social Studies. This is her 31st year of teaching in Penn-Harris-Madison School Corporation. She received her bachelor's in education from Indiana University-Bloomington, and a Master's of Science degree in Elementary Education from IUSB.
Mrs. Schuster is known as a teacher who strives to build "community" among her students (in every class) and among her co-workers in Schmucker Middle School. "Wendy takes the time to celebrate even the smallest moments in her room," said one teacher who nominated her for the award. "She consistently pushes her students to embrace one another and share successes within our community."
During a challenging school year of many changes impacting what a normal school day looks like due to COVID-19, Mrs. Schuster leads the "Sunshine Committee" for the school staff. She is in charge of organizing special recognition and celebration days for everything from marriages to birthdays, while also heading up supports for staff members who were sick or who had lost a loved one. Mrs. Schuster had to get creative at creating and maintaining the sense of community among her fellow staff members while also keeping social distancing.
"One of the hardest things about dealing with COVID," said Superintendent Dr. Thacker, "is that we haven't been allowed to gather like we used to do. For safety reasons, we have had to wear masks hiding our faces and smiles. So it's especially important now more than ever, to reach out to each other and let people know how much we care. Wendy Schuster's kind and cheerful attitude has been just what her students and colleagues have needed."
Mrs. Schuster also works on a committee of teachers that decide the Advisory topics for students. Advisory period is held for the first 30 minutes of every school day, like a homeroom. It gives middle school students a core group of classmates and a teacher to start their day with, again helping to build that sense of community. "At Schmucker, Mrs. Schuster helps set the greatest example for what community building and positive culture building could and should look like within a classroom," said a teacher who nominated her for Secondary Teacher of the Year. "Not only is she innovative with her own ideas, we also know that she can support counselors and administration in our new ideas. Whenever we want to try something new or pilot a new program, we turn to Wendy for her expertise and willingness to go the extra mile."
Other programs Mrs. Schuster is involved in include Schmucker's annual Veterans Day program and a mentor to the school's "Shine Girls Group."
On the topic of teaching, Mrs. Schuster says her teaching philosophy is the following … "It is important for teachers to know that being a good teacher is really very simple. It all revolves around respect and rapport. When you invest time into your students and they know that you care about them, it takes care of many discipline issues in the classroom and most students will naturally be motivated, engaged, and willing to challenge themselves in learning."
Mrs. Schuster along with P-H-M's 2021 Elementary Teacher of the Year Mrs. Kathy Shreiner (announced yesterday, Thursday, April 29) will submit applications to be considered for Indiana Teacher of the Year. Both 2021 P-H-M Teachers of the Year will receive a $1,000 classroom grant from P-H-M's Education Foundation! The 2020 Teachers of the Year will also submit their applications for Indiana's TOY. Last year during the pandemic, Elementary Title I Technology Integration Coach Jessie Kinney was named P-H-M Elementary Teacher of the Year and Penn High School's Applied Biology/Life Skills Science teacher Amy Zimmer was named P-H-M Secondary Teacher of the Year. 
A photo album of high resolution JPG files are posted below. To view the images from the photo gallery below, just simply click the "DOWNLOAD" button on the bottom right-hand corner of the photo while viewing it in the Photo Gallery function. We are happy to provide this service to you, free of charge! If you are a member of the media and you are using these photos for news purposes, please credit Penn-Harris-Madison School Corporation.