Posted: Thursday, April 29, 2021 - 1:01pm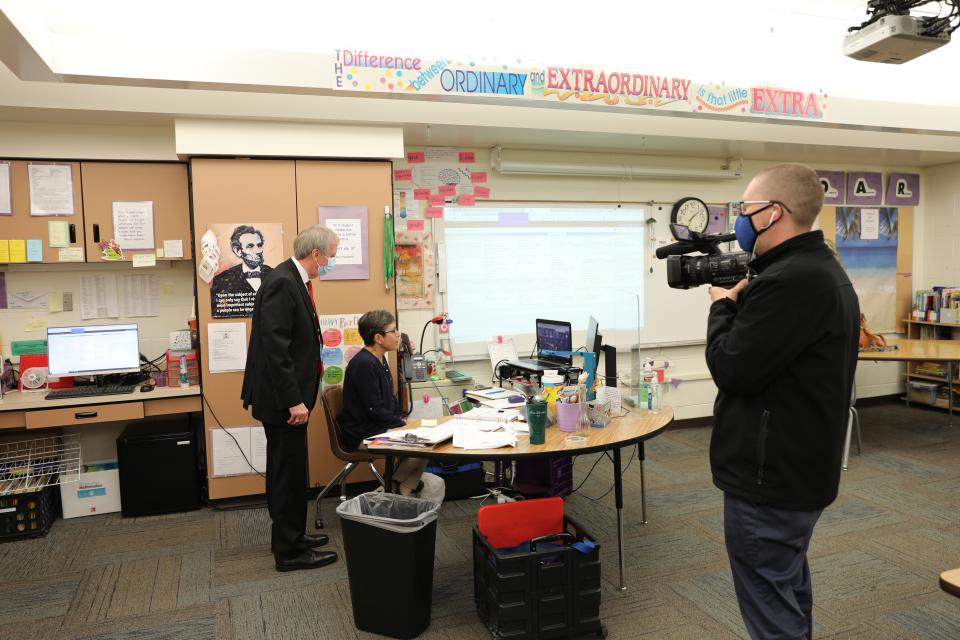 The first week of May is national Teacher Appreciation Week. Leading up to this special week every year Penn-Harris-Madison Superintendent surprises the district's Elementary Teacher of the Year and Secondary Teacher of the Year with the news that they have been chosen. This afternoon Dr. Jerry Thacker walked into the Elm Road Elementary classroom of 5th grade virtual teacher Mrs. Kathy Shreiner to let her know she had been chosen as the district's 2021 Elementary Teacher of the Year.
Mrs. Shreiner was in the middle of conducting class with her 5th grade virtual learners. She was just as surprised as her students were when Dr. Thacker, Elm Road Principal Dr. Lisa Soto Kile, P-H-M Administrators, and some of her colleagues walked into the room to give her the good news.
One of the Administrators on hand for the surprise announcement was P-H-M Chief Operating Officer Mr. Aaron Leniski, who was in Mrs. Shreiner's first class when she became a teacher in P-H-M 32 years ago! Click to see the photo album below.
Mrs. Shreiner joined P-H-M in 1989, teaching at Elm Road Elementary School; she has been teaching at Elm for her entire tenure! She received her BA in Education from Goshen College and a Master's degree in Elementary Education from IUSB.
Four of her colleagues nominated Mrs. Shreiner for the P-H-M Elementary Teacher of the Year award. As a veteran experienced teacher, her co-workers have praised Mrs. Shreiner on what a great resource she's been to the other virtual teaching team members … "She has such a positive outlook and is always looking for solutions to the problems we face in a digital world. She has worked tirelessly to learn all the new platforms and continually contributes to the group to help us find ways to meet the needs of all of our learners." Her excitement for teaching has not waned in 32 years, co-workers say she's just as energetic today as when she first started teaching, even during these challenging times. One of the creative ways Kathy has worked to keep her students engaged is using her dog in some of her recorded lessons. She maintains a personal connection with her virtual students by sending them surprise prizes and notes via "snail mail!" Mrs. Shreiner also works extremely hard at keeping the parents of her virtual teachers informed so they are a part of their students' educational experience.
"All of our teachers have work extraordinarily hard during the pandemic, going above and beyond to engage their students and maintain relationships," said Superintendent Dr. Thacker. "Kathy Shreiner, and many of teachers like her, are dedicated to helping our students close the learning gaps and help them continue to achieve academic success."  
Mrs. Shreiner is well respected by her peers, whether she's worked with them for 26 or five years. One of the teachers who nominated Mrs. Shreiner stated … "She is always willing to help and really thinks deeply about each situation prior to giving advice or helping in any way. She is a person that I know I can always go to for guidance in any situation." The IDOE named Elm Road a STEM certified school in May of 2020; and Mrs. Shreiner was an integral part of the application process.
Mrs. Shreiner along with P-H-M's soon-to-be announced Secondary Teacher of the Year will submit applications to be considered for Indiana Teacher of the Year. Both P-H-M Teachers of the Year will receive a $1,000 classroom grant from P-H-M's Education Foundation. The 2020 Teachers of the Year will also submit their applications for Indiana's TOY. Last year during the pandemic, Elementary Title I Technology Integration Coach Jessie Kinney was named P-H-M Elementary Teacher of the Year and Penn High School's Applied Biology/Life Skills Science teacher Amy Zimmer was named P-H-M Secondary Teacher of the Year. 
A photo album of high resolution JPG files are posted below. To view the images from the photo gallery below, just simply click the "DOWNLOAD" button on the bottom right-hand corner of the photo while viewing it in the Photo Gallery function. We are happy to provide this service to you, free of charge! If you are a member of the media and you are using these photos for news purposes, please credit Penn-Harris-Madison School Corporation.