Posted: Tuesday, April 23, 2019 - 8:32am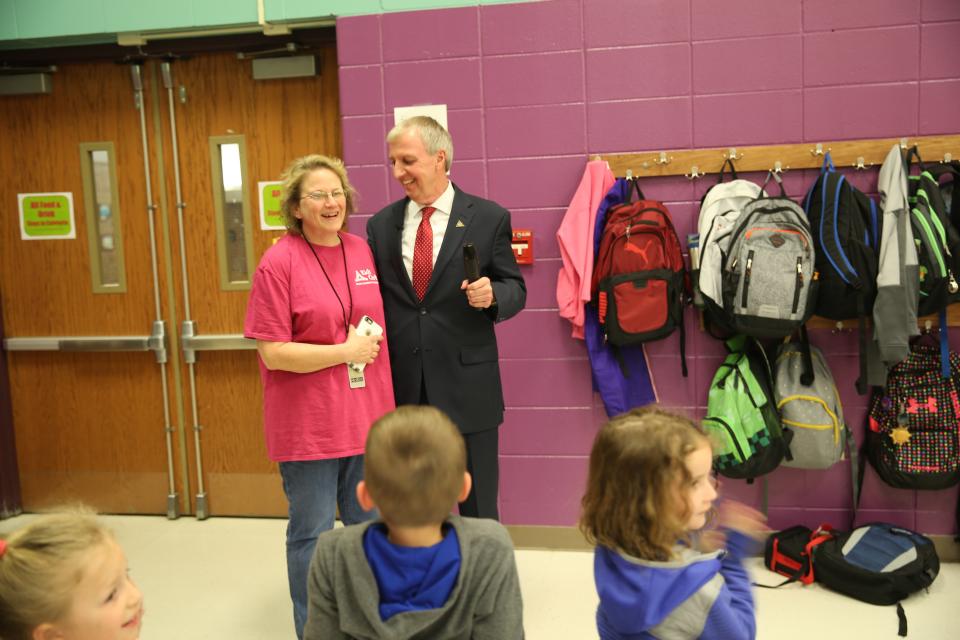 In a surprise announcement Tuesday (April 23) afternoon at Horizon Elementary, Penn-Harris-Madison Superintendent Dr. Jerry Thacker honored the District's 2019 Classified Employee of the Year … Kids Club Assistant Program Coordinator Diane Dyer (click to view the entire photo gallery below).
The surprise announcement was held at Horizon because Diane was Kids Club Site Coordinator there for four years before she was recently promoted to Kids Club Assistant Program Coordinator. Everyone at Horizon was happy to have her back and get in on the surprise.
Watch the video below to see her reaction when she walks into Horizon's cafeteria to find Dr. Thacker, cameras, her family, a couple hundred students, and staff waiting to surprise her …
Diane has worked for P-H-M for five years; she started at Prairie Vista Elementary School as a Kids Club Assistant in August 2014. In 2015, she was promoted to Site Coordinator at Horizon; and in February 2019, she was named Kids Club Assistant Program Coordinator, based at Elsie Rogers Elementary School. In her new role, she's helping to train the other Kids Club Site Coordinators and is working with the rest of the Kids Club staff to put into place the best practices at all other nine P-H-M Kids Club locations.
During her time as a Site Coordinator for Horizon, Diane implemented "After Homework Clubs" like LEGO League, Cooking Club, Helping Hands, Art Club, Tai Chi, Comic Book Club, Reading Club, Board Games Club and Knitting Club among several others. Her goal was to enhance the experience for the students by extending the academic experiences. In doing so, Diane brought about a cultural change helping Kids Club to be seen as an extension of the school. Her work at Horizon Kids Club now serves as a benchmark for the other locations.
Horizon's Kids Club has the largest Kids Club enrollment. Students absolutely coming to the program, even over their other evening extracurricular activities like sports!
"Great collaborator, positive, kind." "She goes above and beyond; she's committed and gives her all every day!" These are just some of the many ways Diane's co-workers describe her. As a true leader and role model they say she strives to make Kids Club better than the day before.
Diane and her husband, Sam, are raising their four grandchildren and have been foster parents to 10 children. She volunteers at a food pantry and is very involved with her church.
To download high resolution jpg files from the photo gallery below, just simply click the "DOWNLOAD" button on the bottom right-hand corner of the photo while viewing it in the Photo Gallery function. We are happy to provide this service to you free of charge.