Posted: Thursday, July 2, 2015 - 10:58am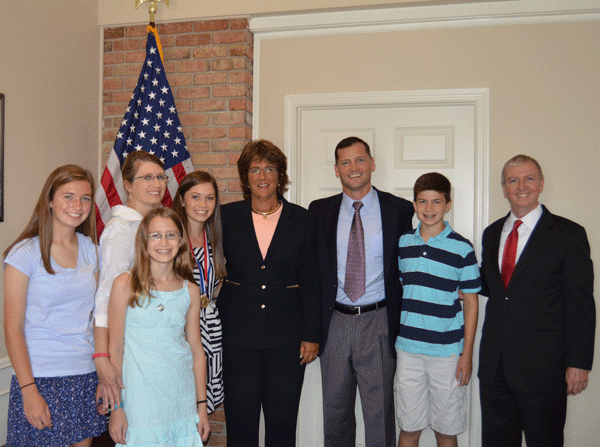 Two Penn High School rising seniors, Morgan Ludwig and Emma Moon, have earned Congressional Award Gold Medals. Morgan and Emma were the only students from Indiana's 2nd District to win the awards, and two of six Gold Medalists for the entire state.
The United States Congress established the Congressional Awards program to recognize young men and women who set and meet ambitious goals in four program areas: Volunteer Public Service, Personal Development, Physical Fitness and Expedition/Exploration. As registered participants, Morgan and Emma had to challenge themselves to complete their projects within a given time frame and meet other program requirements.
To meet the public service goal, Morgan started a club at Penn called "Handwritten Hearts." Students volunteered each month to write handwritten 'get well' cards and hand deliver them at local hospitals. Through "Handwritten Hearts," more than 100 uplifting cards were delivered to hospital patients.
Morgan is a member of the tennis team and Penn's Science, Technology, Engineering and Mathematics Academy. To meet her program goals, Morgan mastered and performed Beethoven's Sonatina in F Major (Anh. 5, No. 2) and Mozart's Sonata K545 in C Major, as well as planned a historical trip to Boston and a wilderness exploration trip along the rugged coast of Maine.
Morgan accepted her award in the Mishawaka office of Congresswoman Jackie Walorski (R-IN, 2nd District) on Thursday, July 2. She was accompanied by her parents, Jennifer and David and her two younger sisters and brother (also P-H-M students). Superintendent Jerry Thacker was also on hand for the presentation.
Penn's other Congressional award winner, Emma Moon, received her Gold Medal at the national awards ceremony at the U.S. Capitol on June 17. She was later congratulated by Rep. Walorski at her Congressional office.
Emma, a member of the Penn's varsity tennis team, earned her Gold Medal by completing more than 400 hours of volunteer service participating in "Handwritten Hearts." She not only helped write and deliver cards to area hospital patients, she also visited with patients. Emma taught herself to play the guitar and ukulele. For her expedition goal, she planned an adventure excursion to Huntsville, Alabama, where she did outdoor activities such as cliff jumping, rock climbing, boating and bat cave tours.
Posted July 2, 2015 12:15 p.m.