Posted: Friday, May 15, 2015 - 11:33am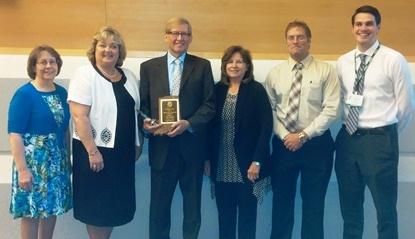 P-H-M's Director of Facilities, Tom Hartman, was honored by the Indiana Association of School Business Officials (IASBO) at the organization's annual conference and awards banquet held May 14 in Fort Wayne. Mr. Hartman received three awards in recognition of his long-term service and outstanding contributions. 
Most prestigious of his honors was being named the School Support Professional of the Year, reserved for one person whose work rises to an exceptional level, setting a standard for other support professionals around the state.  In addition he received the District 2 School Support Professional of the Year designation, and a 30-Year Service Award. 
Tom has served Penn-Harris-Madison School Corporation for 30 years. During his tenure a number of new buildings were constructed, major renovations undertaken, and safety enhancement and energy improvements put in place. 
Tom is surrounded in the photo above by some colleagues from the PHM Business Department, (left) Sue Oakley, Accounting Coordinator and Dr. Denise Seger, Associate Superintendent and Director of Business Services; (right) John Corban, Assistant Director of Facilities and Alex Newman, Business Manager.  Tom's wife, Joyce Hartman, stands next to him. 
Posted May 15, 2015 / 11:33 a.m. EDT