Posted: Friday, May 22, 2015 - 12:27pm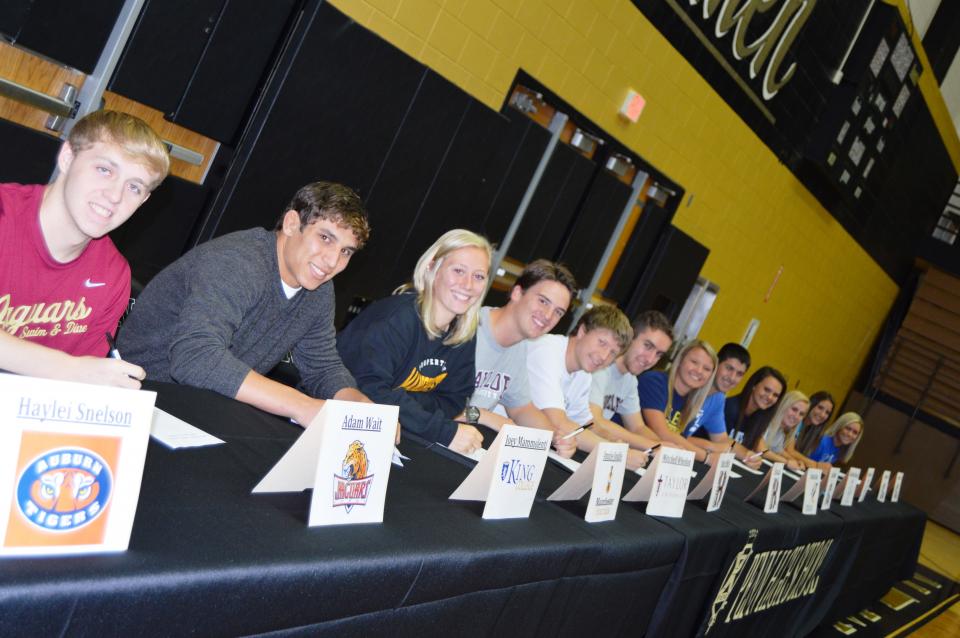 Penn has amazing student-athletes!  In the 2014-2015 school year, 39 student-athletes signed letters of intent to attend colleges and universities across the country.  Twelve of them are headed to Division 1 Schools.
The group represents fifteen different sports: swimming, lacrosse, basketball, baseball, softball, cross country, track, wrestling, golf, soccer, football, gymnastics, volleyball, cheerleading, and tennis.
Click here to view the "Signing Day" Photo Gallery.
Much credit goes to the outstanding staff of coaches, assistants, and trainers. Retiring Athletic Director Ben Karasiak, Assistant A.D. Bridget Williams, along with the department's administrative assistant Sandy Heston, have provided great leadership. They understand compliance, safety, and scheduling but never fail to keep their focus on the welfare and development of the whole student. 
Students who signed collegiate letters of intent:
Bowen Anderson – Swimming – University of Kentucky
Emma Barnes – Lacrosse – Ursuline University
Shayna Berg – Cheerleading – Bethel College
Cory Christman – Wrestling – The University of the Cumberlands
Billy Doslak – Basketball – University of St. Francis
Lauren Ellenberger – Basketball – Embry-Riddle University
Brianna Hart – Soccer – St. Mary's College
Justin Holt – Golf – IUPUI
Brenna Huff – Track – Bethel College
Andrew Ivaldi – Soccer – Seattle Pacific University
Annie Jondle – Track – Manchester University
Matyi Kovacs – Swimming – University of Louisville
Tim Lira – Baseball – University of Missouri Science & Technology
Ryan Lutz – Basketball – Holy Cross College
Jacob Macri – Tennis – Bethel College
Joey Mammolenti – Wrestling – King College
Rachel McCarthy – Soccer – St. Mary's College
Payne McCaskill – Football – Marian University
Emily Meckstroth – Swimming – Purdue University
Nate Miller – Basketball – Holy Cross College
Inoke Moala – Football – Indiana State University
Cassandra "Casey" Morton – Basketball – Huntington University
Nicole Niespodziany – Softball – St. Mary-Of -The-Woods College
Tim Pletcher – Football – Hope College
Nicole Polhamus – Lacrosse – United States Military Academy
Alyssa Quinlan – Gymnastics – Kent State University
Sarah Ross – Volleyball – University of Toledo
Brianna Sherman – Softball – Goshen College
Haylei Snelson – Tennis – Auburn University
Ridge Tarwacki - Football - Tiffin University
Andriana Tashijan – Softball – Purdue University Calumet
Kyle Treber – Football – University of Indianapolis
Adam Wait – Swimming – IUPUI
Mitchell Whedon – Football – Taylor University
Melissa Wilson --- Softball --- Anderson University
Alicia Wolff – Volleyball – Anderson University
Madison Woods --- Cross Country & Track --- Ohio State University
Brady York – Golf – University of St. Francis (Fort Wayne)
Casey Ziegert --- Swimming --- University of Toledo
Posted May 22, 2015 / 12:27 p.m. EDT