When a two-hour delay is announced, both bus transportation and school start times will be affected. Buses will follow the same routes, but will make all scheduled stops to pick up riders two hours later than normal.
Due to a surge in COVID-19 cases in St. Joseph County, the St. Joseph County Health Department recommended on Nov. 18 that middle and high schools (grades 6-12) return to virtual learning until after Winter Break. P-H-M schools, Discovery Middle, Grissom Middle, Schmucker Middle and Penn High Schools, will remain virtual through the end of the first semester Friday, Jan. 15. Those families who choose to have their secondary students return to the hybrid model will do so on Tuesday, Jan. 19, 2021.
During the 2020-2021 school year because there are students at all grade levels in some form of virtual learning, either 100% or through the hybrid model, P-H-M teachers, support staff and administrators are all still reporting to our school buildings during this time. This means that a 2-hour delay will STILL affect those students who are 100% virtual or virtual through the hybrid model, because road conditions may be unsafe for staff members. Therefore virtual students will have a 2-hour delay for the start of their classes, just like in-person students. If P-H-M Administration makes the decision to close schools because of weather, all students will have an eLearning Day—that means no classes will be taught live virtually. Click to watch a video that explains how, when and what factors into our decision makings for 2-hour delays and closings. 
Click to view the middle school 2-hour delay & regular day schedules.
Click to view the Penn Hybrid 2-hour delay schedule.
Please see the graphic below for the 2-hour delay times for P-H-M schools. Please click to download and print a pdf copy.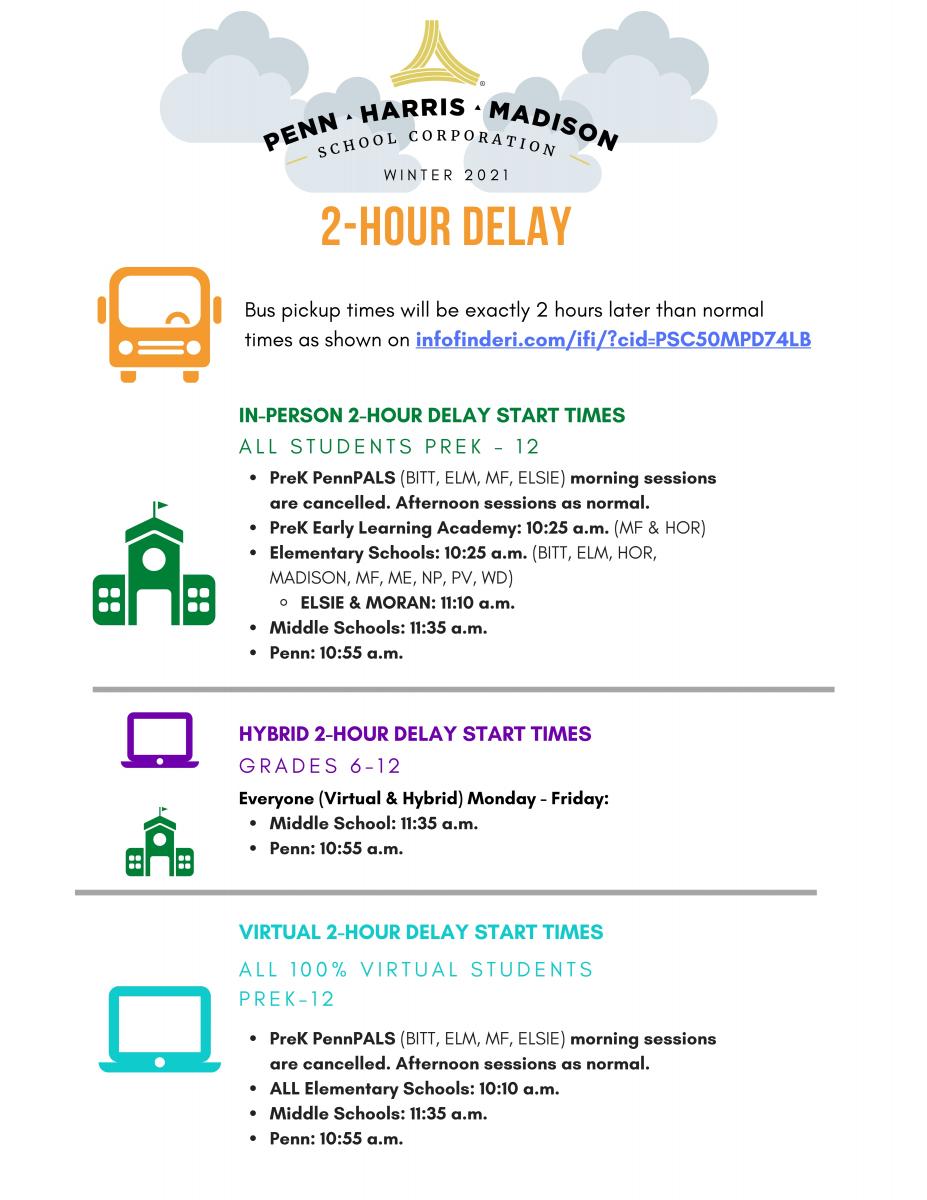 PLEASE KEEP IN MIND
Students dropped off too early cannot be supervised and may not be safe. Most schools allow for a 15-minute drop off period ahead of the opening bell.  
Breakfast is not served on two-hour delay days. Please make sure your child eats breakfast at home if there is a 2-hour delay. 

Lunch is served on these days, although it's possible the rotation of students through the school cafeteria may be altered. 

Medication will be given at the usual prescribed times unless a written note is sent in by the parent indicating a change.

Dismissal takes place at the normal hour. The school day is not extended. 

The Educational Services Center (ESC) opens/operates normally, without a 2-hour delay. Patrons who need help may call the district's switchboard operator at 574-259-7941 for assistance.  
​
/sites/phmschools.org/files/2-hr_delaysecondary_virtual_1.pdf