Posted: Sunday, November 15, 2015 - 9:11pm
By Lucha Ramey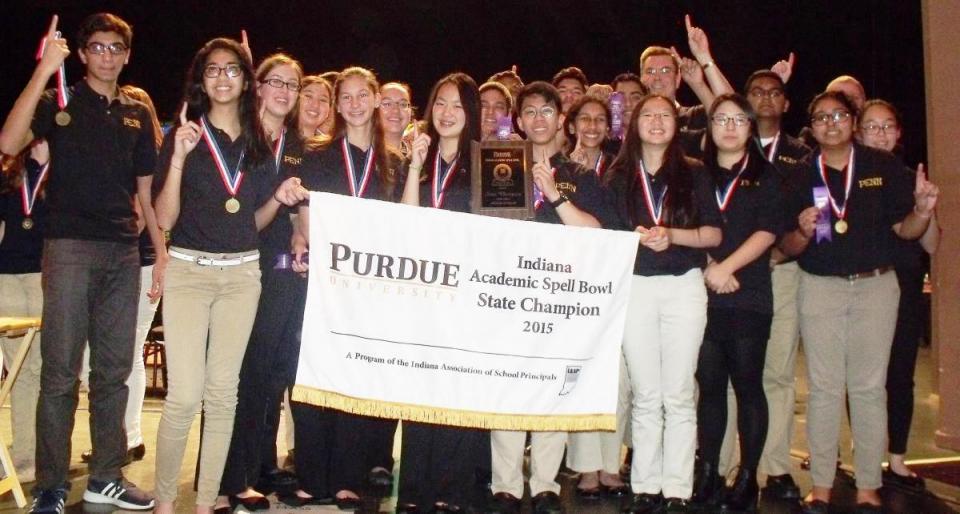 Indiana's Gold Standard for Spell Bowl, Penn High School coach Pete DeKever's Kingsmen, took their elite status to a higher level at the Spell Bowl state championship Saturday, Nov. 14, at Purdue University.
Penn earned the state championship with a perfect score of 90. Martinsville placed second with a score of 89.
In addition to winning the state title for the 15th time, Penn put the finishing touches on a remarkable season. The Kingsmen only missed three words out of 810 words spelled this season, setting a school record and what is believed to be a state record.
"This has been an historic season for Penn Spell Bowl," Penn High School principal Steve Hope said. "A 15th state championship crowns a hallmark season. This team has competed more than any previous Penn Spell Bowl team and has also had more perfect scores in regional competitions than any previous Penn Spell Bowl team. This is a testament to how well this team has worked to accomplish such lofty goals.
"On behalf of the entire Penn faculty and staff, we congratulate Coach DeKever and the entire Penn Spell Bowl team!"
DeKever said that the 2015 campaign was marked by an outstanding effort from the students.
"The state championship is really an endorsement of the hard work that the students put in, and the high expectations that we have," DeKever said. "We go into every season with the goal of being the state champion, and getting a 90 (perfect score) in the state finals. It's just really very rewarding and fulfilling when it's all able to work out according to plan."
 DeKever said that experience and depth played key roles in the state championship performance of 2015.
"We have a nice core of seniors who were with us for four years," DeKever said. "We have six seniors who were four-year team members. There's a lot of experience with them, and the other returning players are sophomores and juniors who have also spelled on the varsity or in the state finals last year.
"It also helped that we had a really big team this year. We had 21 students, and that's the largest team that we've had in five to 10 years. That's has created momentum within the team. There were times when our Junior Varsity scored a 90. We believe those are the first and second times in Indiana that a school took a varsity and junior varsity to a Spell Bowl competition and earned a perfect score in each competition. That creates an expectation among the students that our job is to get a nine (perfect) every time a player spells. It creates a team expectation of a 90 every time we compete. It was exciting to see that play out."
Presto George and Chris Yun are the Spell Bowl captains.
"I think it's a great accomplishment, that out of some 170 schools that participate in Spell Bowl, that we finished at the very top with a perfect score of 90," George said. "That's really impressive. It shows our commitment to spell bowl. To be a part of the most consistent and the best team at Penn is a great feeling."
George, who hopes to transition from Penn's Science, Technology, Engineering and Math Academy to Purdue University, said that the Spell Bowl experience has been invaluable.
"Spell Bowl has given me a really good work ethic," George said. "We have to put in a lot of effort, including outside of practice, in order to achieve our goals. That will translate into a strong work ethic for college."