Posted: Friday, May 29, 2015 - 11:54am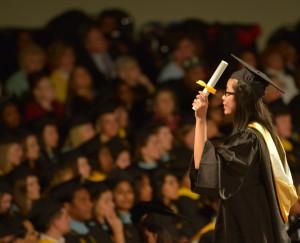 Friday, May 29. Thousands of people have the date circled in anticipation of the commencement ceremony for Penn High's Class of 2015.  Notre Dame's Purcell Pavilion will be filled with proud family members looking on as 848 students receive their diplomas.  
This graduating class boasts many accomplishments.
More than half of these seniors will receive Academic Honors diplomas - a first for Penn High School
Ninety-one of them will receive Technical Honors diplomas - a tribute to the strength of the district's STEM programs
A full third of the graduates have earned High Honors - a distinction reserved for those with a 3.5 GPA or higher
Twelve seniors have been named National Merit Finalists
Three seniors have earned coveted appointments to United States Military Academies
Seventeen valedictorians and two salutatorians will be recognized at the Friday evening ceremony and will take turns addressing their classmates from the dais. These young men and women have distinguished themselves in a highly competitive environment. Most of them have been involved in clubs and service activities even while taking Advanced Placement courses and maintaining stellar GPA's.
This year's valedictorians are Daniel Solomon Alber, Christine Marie Cunningham, Morgan Mitchell Hurst, Hudson Clay Huth, Andrew Davde Ivaldi, Paul Jihoon Kwak, Peter AudleyLoughran, Emily Anne Meckstroth, Faadil Mohammed Shariff, Julianne Hendrie Smith, Rachel G. Susler, Stephanie Aijing Tapp, Katherine Jane Tornquist, Erin Pamela Vaughan, Kevin LinWang, Madison Joan Woods, and Shelley Sizhen Zhang.  
The class salutatorians are Julianna Helen Stevenson and Conrad Mast Shreiner. 
The academic strength of this year's graduating class is remarkable. The combined value of their collegiate scholarships exceeds $8.5 million!
Superintendent Jerry Thacker often describes the "Triangle of Success" as the combined efforts of parents, teachers and students. High school commencement portrays wonderfully how that Triangle of Success produces excellent results.
Congratulations to the Penn High School Class of 2015!
Posted May 29, 2015 / 11:54 a.m. EDT