Posted: Wednesday, September 27, 2023 - 2:14pm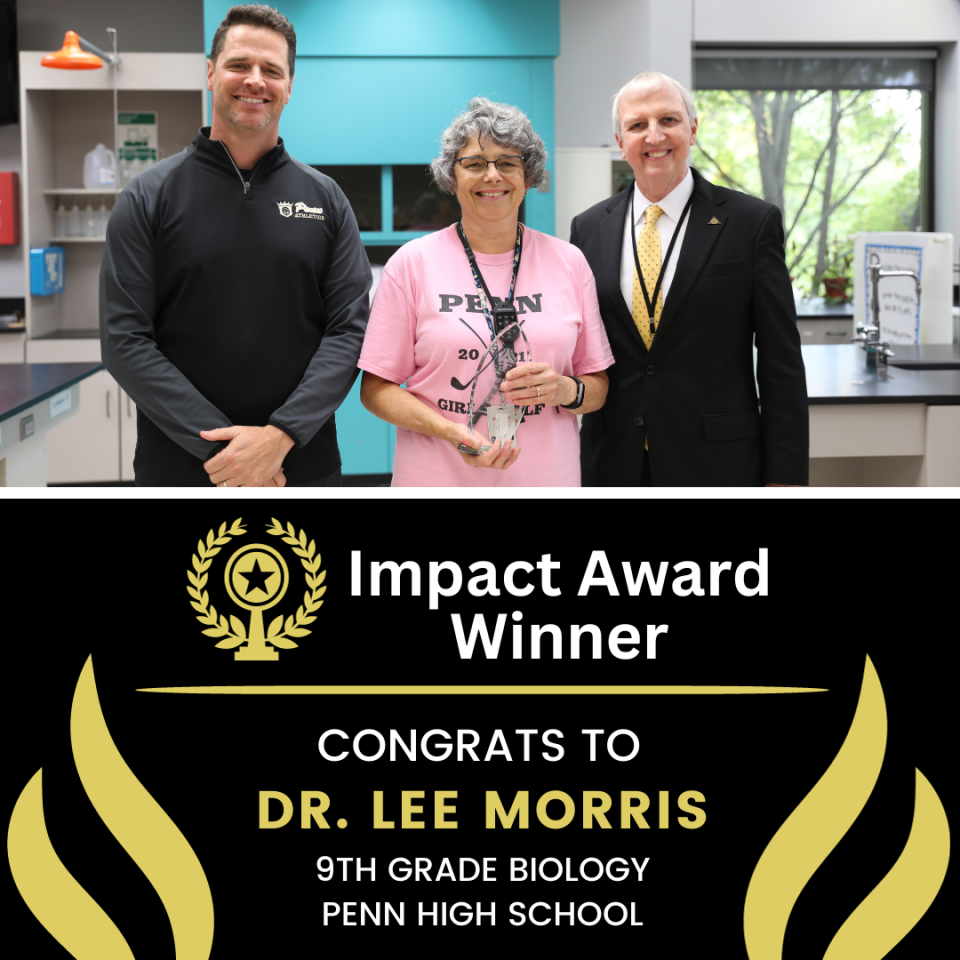 Today (Friday, September 29, 2023) Penn-Harris-Madison Superintendent Dr. Jerry Thacker awarded another P-H-M teacher with the Impact Award. Dr. Thacker visited Penn High School to surprise 9th grade Early College Biology teacher Dr. Lee Morris. Click here to see photos on Facebook.
The P-H-M Impact Award is being presented to educators who have helped their students achieve individual academic growth on their formative assessments over time. All P-H-M teachers across the district are dedicated to helping their students achieve personal academic success. The P-H-M Impact Award is shining the spotlight on those teachers who are showing the most significant overall student growth during the 2022-2023 school year. They are prime examples of how our teachers and students achieve P-H-M Excellence!
Dr. Morris had the highest percentage of growth year over year with passing percentage growth; in 2022, it was 61%, and 83.4% in 2023. Her students' growth was 28% higher than the overall Penn High School ILEARN Biology proficiency rate.
Dr. Thacker popped into Dr. Morris' class and surprised her in the middle of reviewing an experiment with her students. In on the surprise was Penn Principal Dr. Sean Galiher, Associate Principal Rachel Fry, Assistant Principal Josiah Parker, Early College Academy Leader Danielle Black, Assistant Superintendent Dr. Heather Short, and Director of Professional Development Dr. Lavon Dean-Null.
P-H-M is grateful to the Education Foundation for covering the cost of these beautiful awards. 
There are more P-H-M teachers to recognize in the days, weeks and months ahead!