Posted: Wednesday, October 16, 2019 - 3:17pm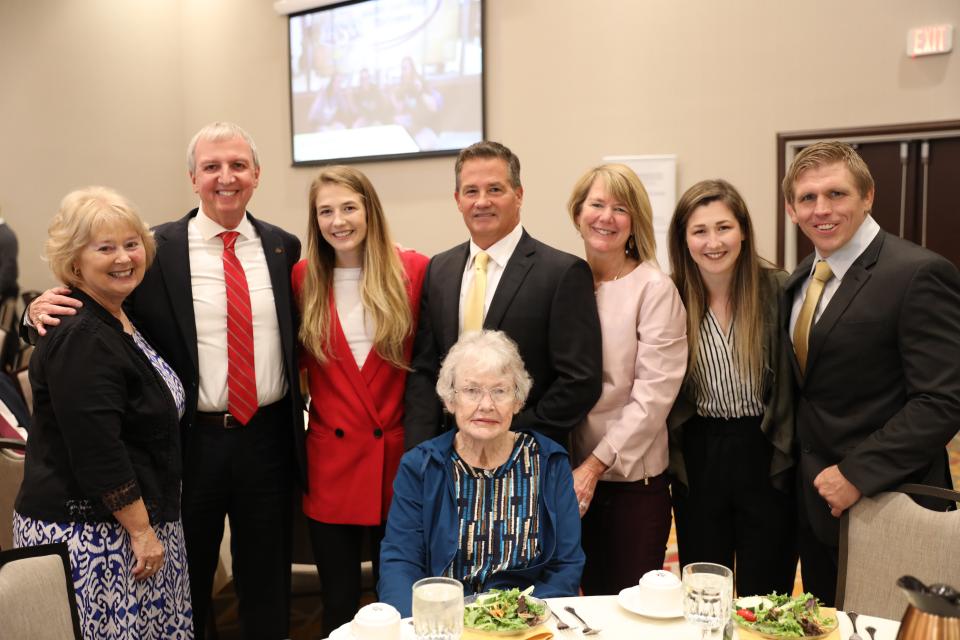 The P-H-M Education Foundation hosted Dr. Jerry Thacker's annual Superintendent's Luncheon on Tuesday, Oct. 15. More than 300 community leaders, business partners, P-H-M parents, and P-H-M staff attended (Click to see the full photo gallery below). Dr. Thacker is in his 14th year as superintendent of Penn-Harris-Madison. 
The highlight of the Luncheon was feature speaker 2011 Penn High School Alumna and World Championship Female Wrestler Sarah Hildebrandt. Sarah's lists of accomplishments are long since leaving Penn as Indiana's first female wrestler to qualify for IHSAA Wrestling Semi-state her junior year under Penn Wrestling Coach Brad Harper. She won her 4th gold medal at the Pan American Games this summer. 
Sarah got a very enthusiastic "Welcome Home" from the Luncheon crowd, thanks to Coach Harper who was thrilled to introduce her to the crowd. And Sarah did not disappoint with her heartfelt "Thank You" to all her teachers and coaches throughout her years as a P-H-M student. Sarah's Discovery Middle School teachers and coaches were also present.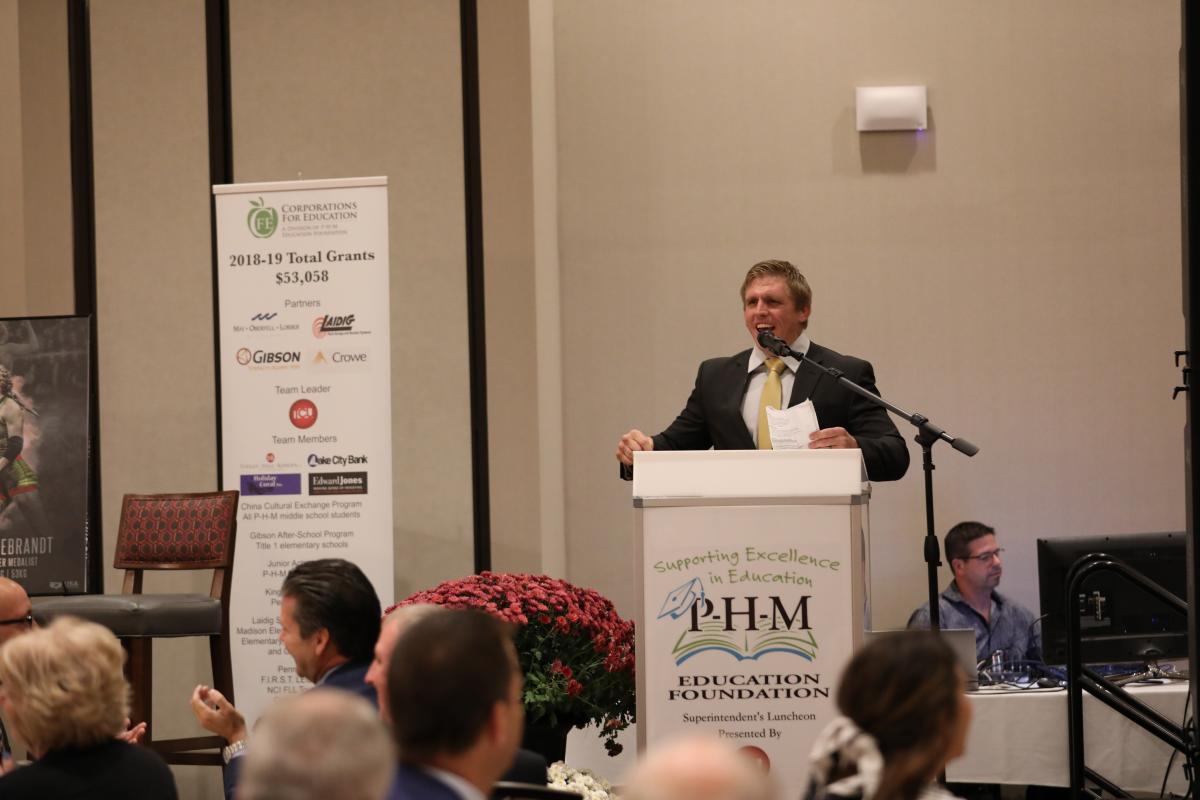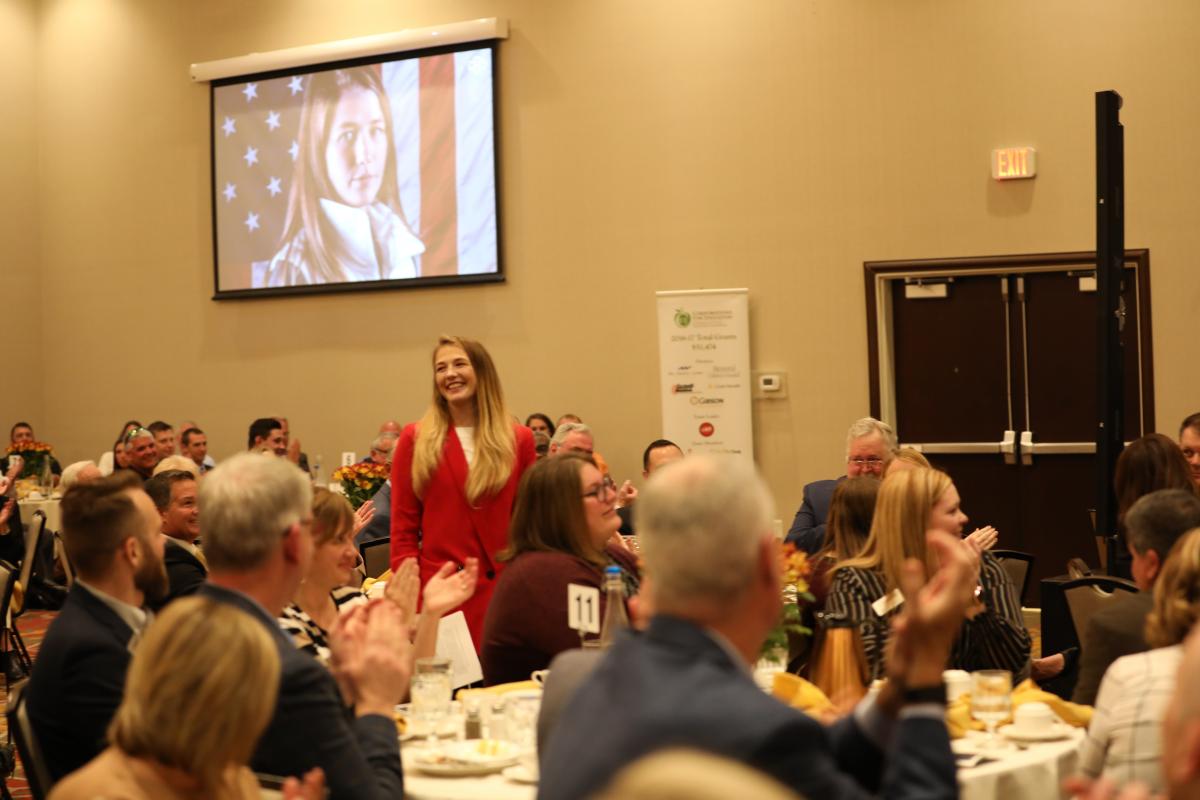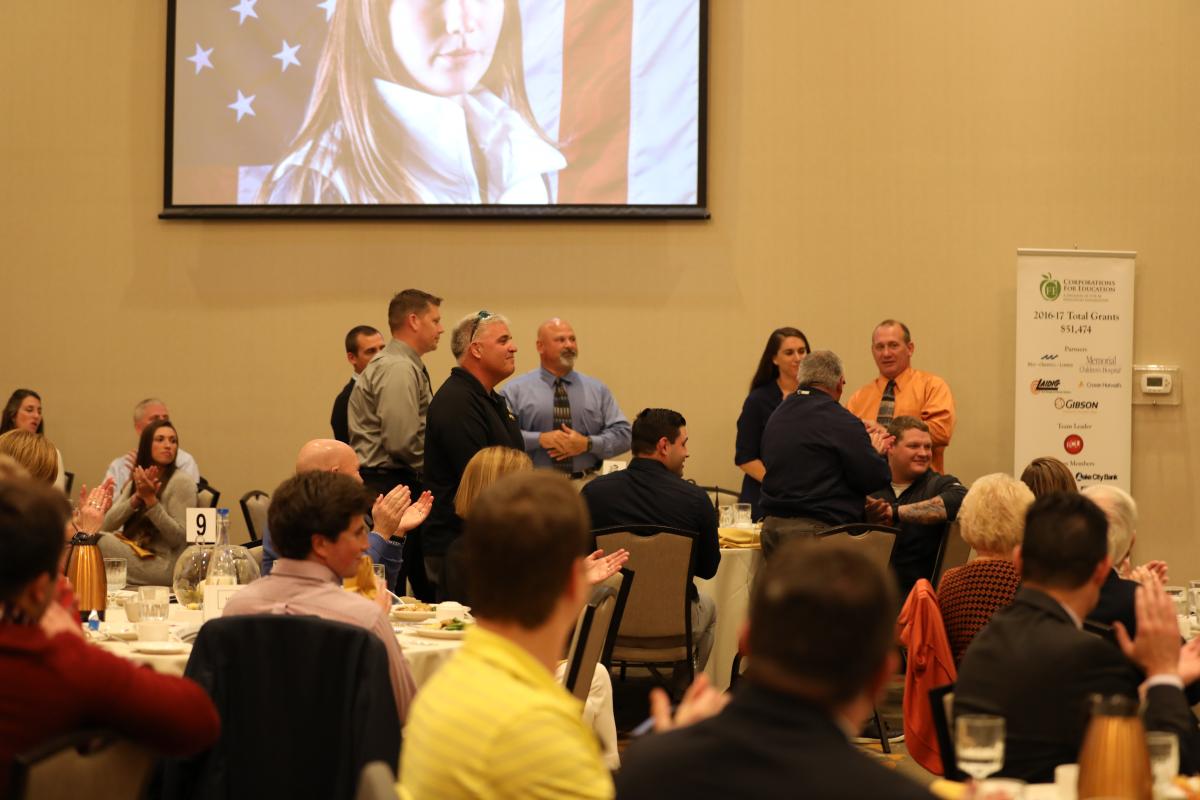 The audience included current members of Penn's Female Wrestling Team as Sarah and Coach Harper's special guests. The students had a chance to practice with her on Monday evening. And after the Luncheon, they got to enjoy some "one-on-one" time with Sarah where she answered their questions about juggling wrestling, academics in high school and college, as well as how hard it is to compete in a male dominated sport. Sarah did a great job of not only giving great advice, but inspiring the next generation of female wrestlers!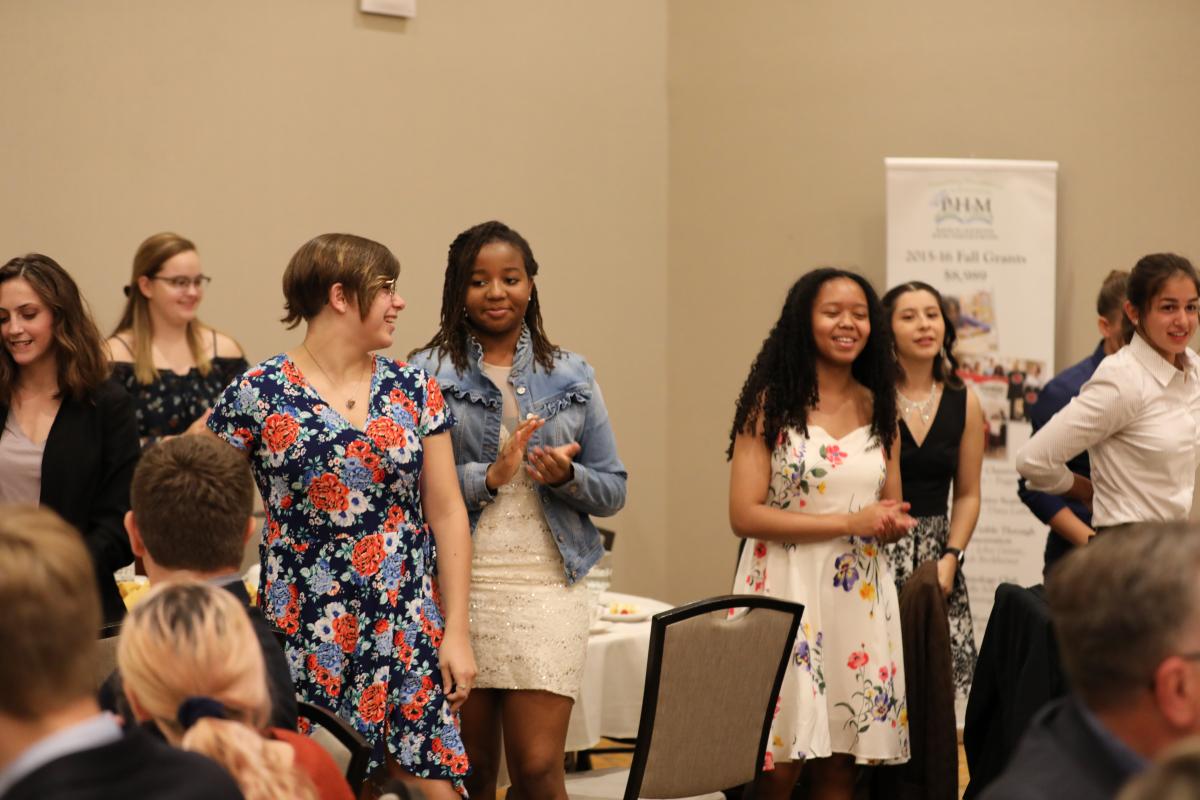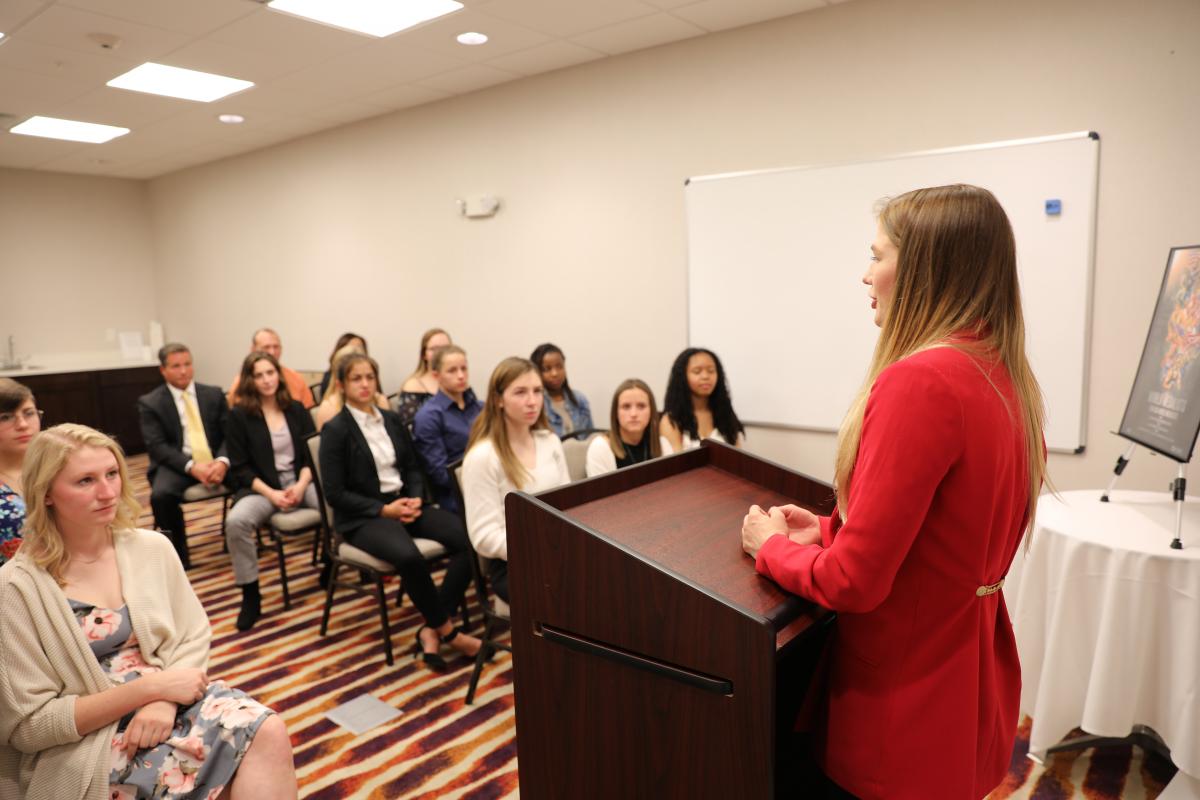 Take a look at the video below highlighting Sarah as a Kingsmen Making a Difference in the World …
Sarah was joined at the luncheon by her family Mom and Dad Chris and Nancy Hildebrandt, brothers Drew and Cory, sister Amy, and her grandmother. Their attendance made it very special for Sarah when PHMEF Executive Director Mari Linn Wise made the surprise announcement that Sarah's parents, Chris and Nancy Hildebrandt, had donated $15,000 to name the wrestling room at Penn High School "The Hildebrandt Family Wrestling Room!" (Click to see the full photo gallery below).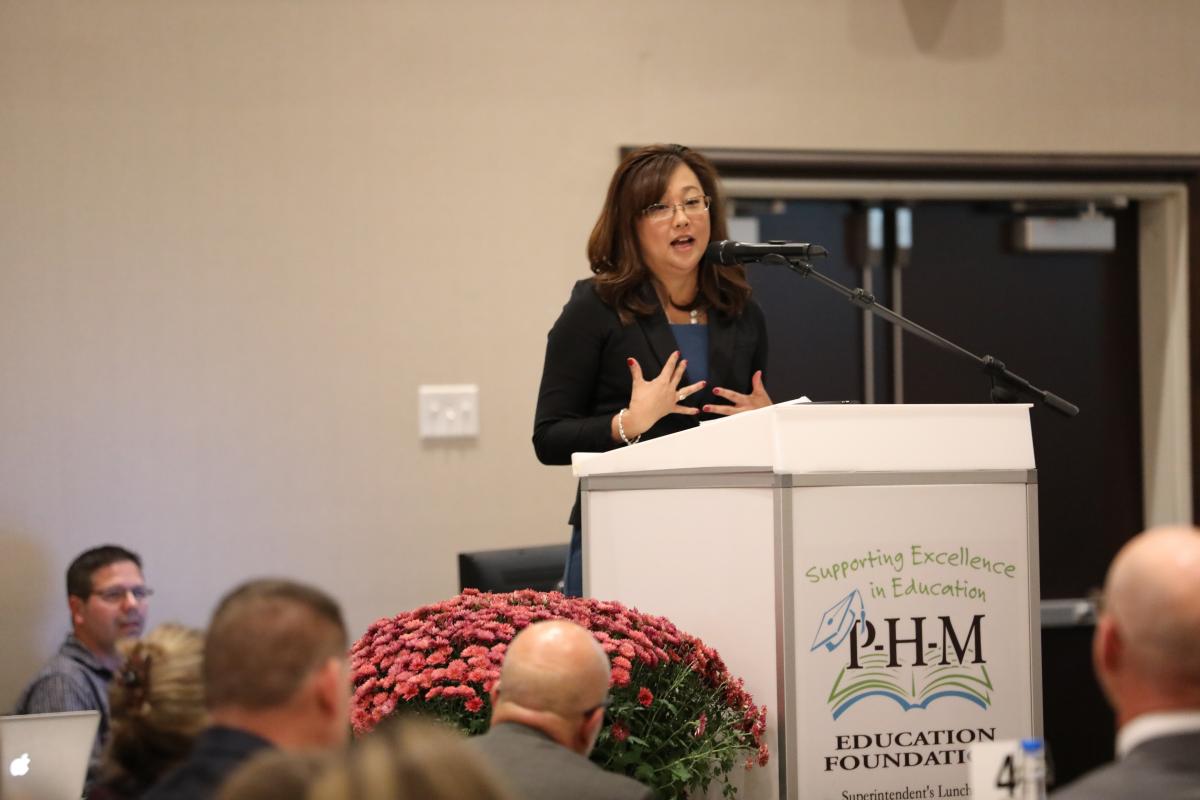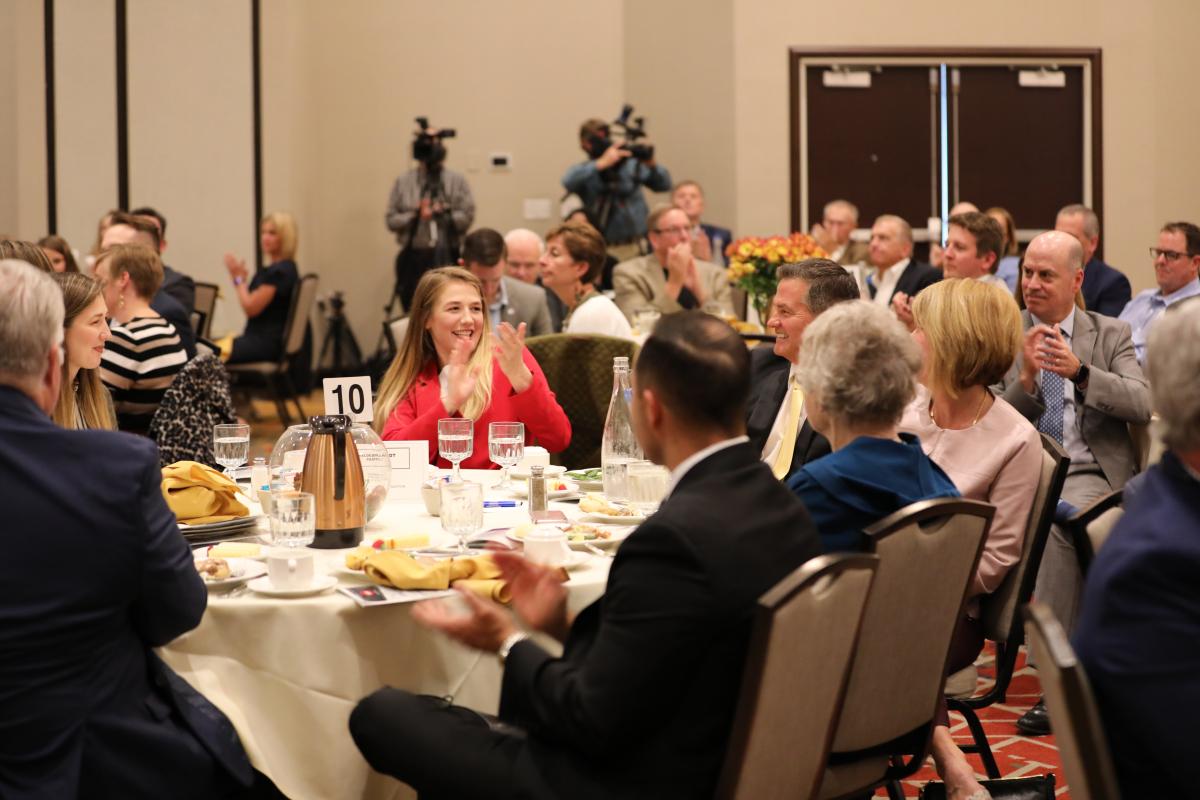 Other highlights of the Luncheon included Dr. Thacker's State of the District Address as Superintendent. Dr. Thacker highlighted some of the school corporation's most recent points of excellence which included, some not all, of the accomplishments below: 
Out of Indiana public school corporations (292 school districts), P-H-M ranks 12th in the state for combined ELA & Math scores in grades 3-8.
P-H-M has four elementary schools that rank among the state's Top 15 schools in combined ELA & Math Proficiency: #1 Northpoint,  #4 Prairie Vista, #8 Mary Frank, and #11 Horizon
Mary Frank's 3rd grade English/Language Arts ILEARN scores are also the highest in the entire state!
Among the state's public middle schools grades 6-8 (219 schools), Discovery Middle School is ranked #5 in Indiana.
Penn High School is 12th among public schools for combined ELA & Math scores in grade 10.
All of this was accomplished with having the lowest state tuition reimbursement in the area (P-H-M receives $5,804.21 per student vs. South Bend Community Schools which receives the most at $6,866.10). P-H-M also has the lowest tax rate in the area at $.091 compared to Concord, which has the highest tax rate at $1.78.
Some of Dr. Thacker's special guests included Mishawaka Mayor David Wood and State Senator Ryan Mishler.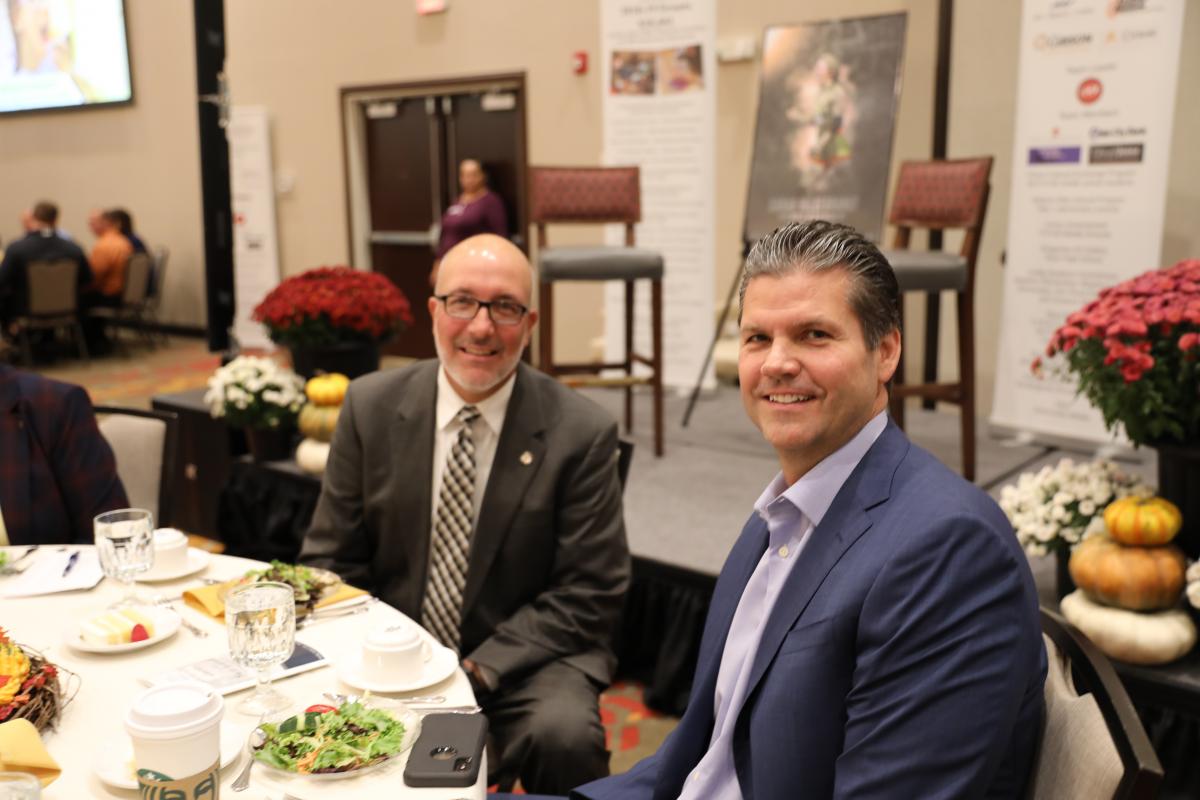 Also as part of the Luncheon, PHMEF Executive Director Mari Linn Wise recognized 2019 P-H-M Elementary and Secondary Teachers of the Year Christine Austin and Jeannie Mitchell. Both received a commemorative brick in their name that is a part of the walkway outside of Penn High School.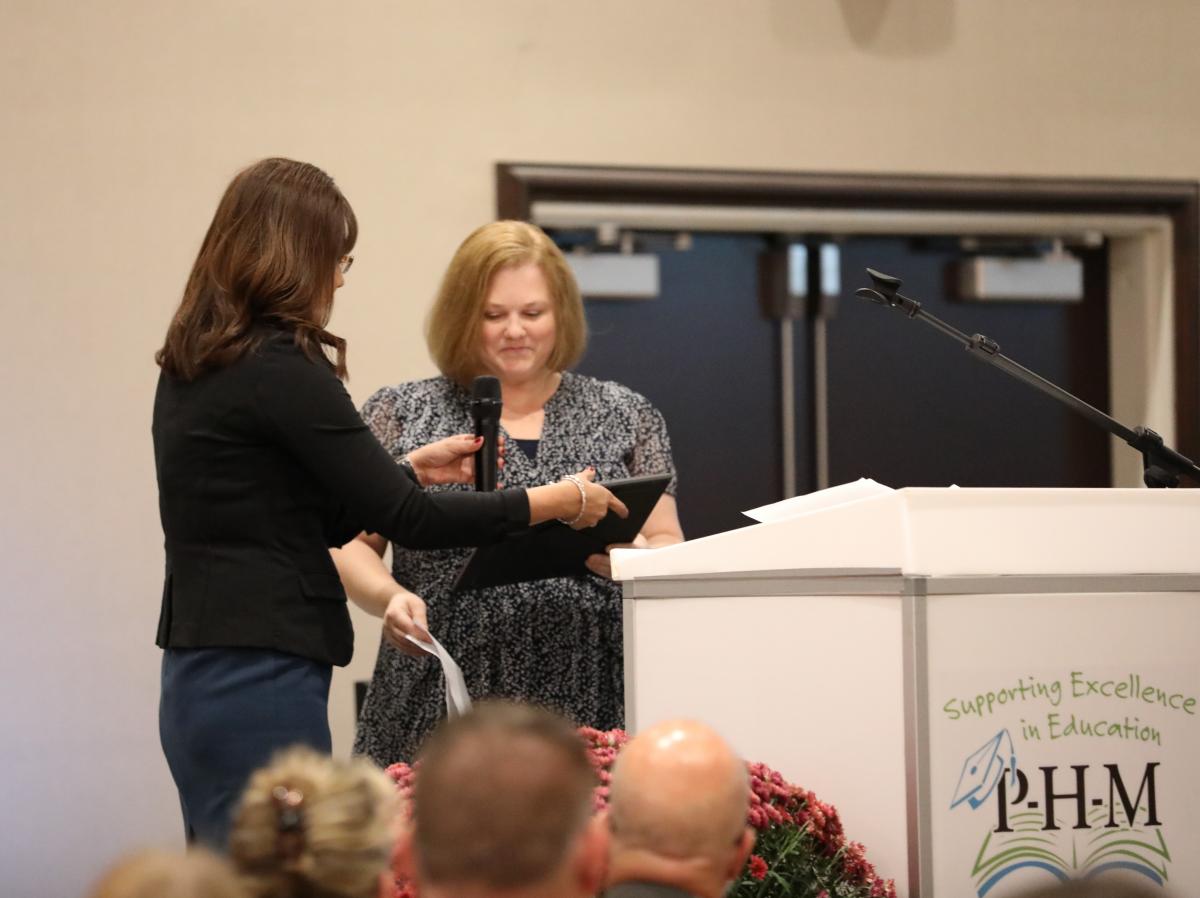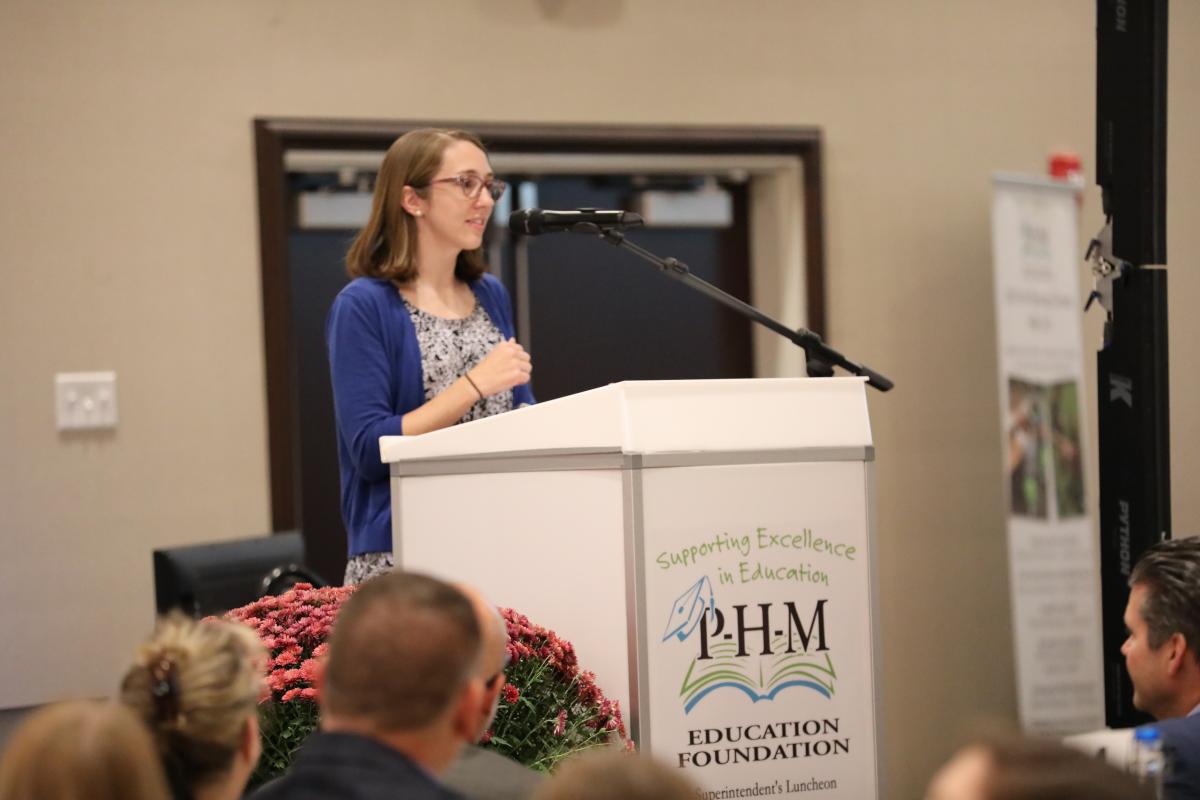 The past school year's grant recipients were also featured as part of the event to highlight the Education Foundation's mission to develop alternative sources of income to support education initiatives in P-H-M by strengthening partnerships between the community and the District. PHMEF supports education through awarding innovative teaching grants, scholarships to students, staff development and other corporation-wide initiatives.
WSBT news anchor Bob Montgomery emceed the event (Bob is married to 1st grade Prairie Vista teacher, Rose Montgomery, and is also a P-H-M parent).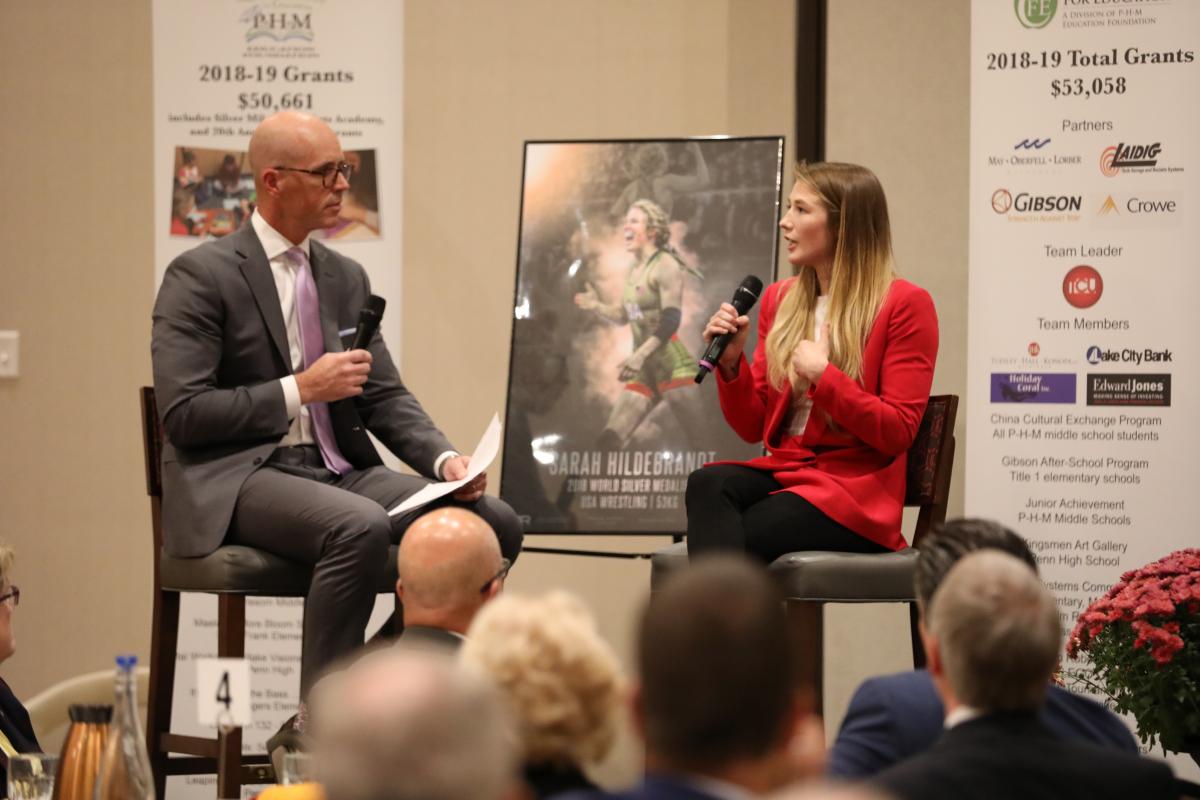 A special thank you to all of the Luncheon and table sponsors, especially …
Presenting Sponsor TCU
Contributing Sponsor Gibson Insurance
Supporting Sponsors Low Associates 
*To download high resolution jpg files from the photo gallery below, just simply click the "DOWNLOAD" button on the bottom right-hand corner of the photo while viewing it in the Photo Gallery function.