Posted: Monday, October 15, 2018 - 3:08pm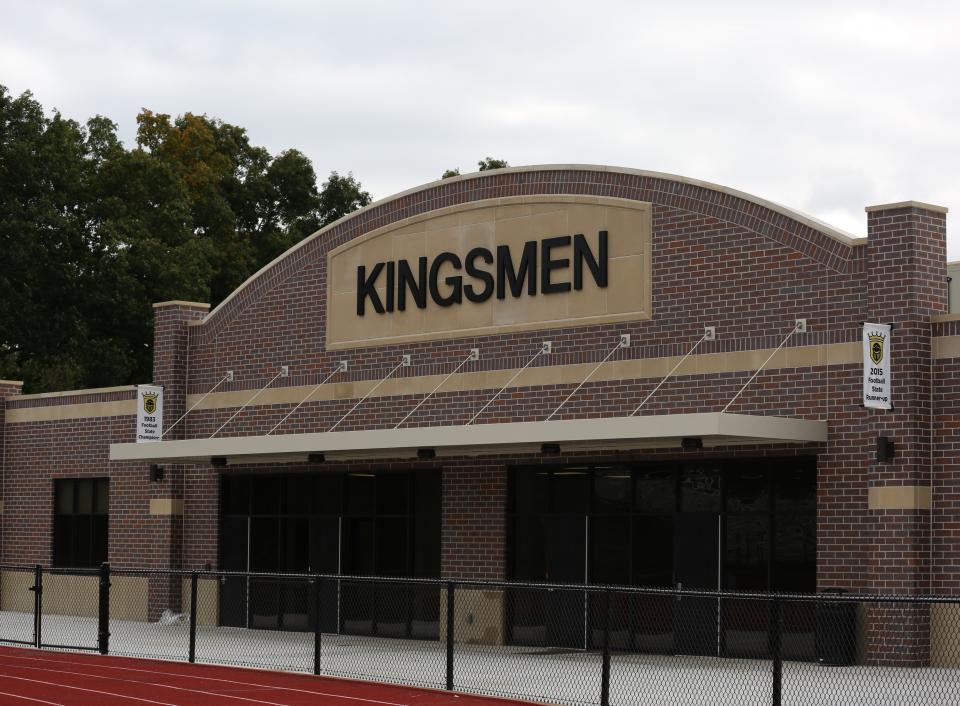 Before the Kingsmen hosted cross-town rivals the Mishawaka Cavemen for a very rainy Backyard Brawl, Penn High School hosted the Penn-Harris-Madison community for the opening of the new Kingsmen Athletic Center and Plaza (Friday, Oct. 12).
For an hour-and-a-half before kickoff, members of the public had the opportunity to get in from the cold and rain and tour the new building which holds locker room space for Penn High School student-athletes and visiting teams. The new 13,264 square foot facility includes three new locker rooms to be rotated during the Fall and Spring sports seasons: Football (varsity, JV and Freshmen), Track & Field (boys & girls) and Girls Lacrosse. There are a total of 255 oversized lockers large enough to house equipment. There are also private shower and rest room stalls. Click for a brochure with more details about the new facility. All three locker room areas have adjacent coaching staff office space for supervision. The two home larger locker rooms include integrated team meeting and film areas with video projection. With the addition of a training room at TCU Freed Field, Penn athletic trainers will have on-site access to equipment and medical treatment supplies during sporting activities. The new building also provides private facilities for sports officials. Click to see the full photo gallery on Penn's website.
The home and visiting locker rooms were not in use for the Oct. 12 home game, but will be on Oct. 26 when Penn hosts Warsaw in the Class 6-A Sectional 2 opener.
On Thursday, Oct. 11, Kingsmen senior football players Caden Paquette, Bryce Stone, Rockne Hurley, Drew Schneider, and Brock Boynton got a sneak peek at the new facilities as part of a media tour with P-H-M Superintendent Dr. Jerry Thacker, Chief Operating Officer Aaron Lenski and Penn Athletic Director Jeff Hart. Click to see the full photo gallery on Penn's website.
On Friday afternoon, Penn Freshmen football players and coaches were also given a tour of the new facility. Check out their reaction in the video below.
P-H-M and Penn administrators along with P-H-M School Board of Trustees Members were on hand to welcome the public. Taking part in the evening's events were Board of School Trustees Members Jim Garrett, Secretary Angie Gates, Jaye Galloway, Vice President Larry Beehler, Jamie Woods, Mr. Lenski, Dr. Thacker, President Chris Riley, Coach Hart, and Penn Principal Sean Galiher (Board member Gary Fox was unable to attend).
The Kingsmen Athletic Center & Plaza also enhances the visitor experience adding features on the south end of TCU Freed Field where none previously existed. Public restrooms (30 stalls for women, 20 for men) and three family restrooms were opened for Friday's game. Patrons were also able to enjoy the new south end zone concession stand and family plaza picnic area. 
The new concession stand has been named the Zolman's Tire Concessions. P-H-M community business partner Zolman's Tire has donated $25,000 (over 12 years) to the P-H-M Education Foundation for the naming rights. Zolman's made the same commitment in 2016 to name the north end zone concession stand. The mission of the Education Foundation is to develop alternative sources of income to support education initiatives in P-H-M by strengthening partnerships between the community and the District. PHMEF supports education through awarding innovative teaching grants, scholarships to students, staff development and other corporation-wide initiatives. Per PHMEF's naming rights campaign, 80 percent of the donation goes into the Foundation's endowment. The remaining 20 percent will directly fund professional development initiatives for P-H-M teachers. The Zolman's Tire Concessions stand will be dedicated in the coming weeks with Zolman's owner Nate Zolman.
The Kingsmen Athletic Center and Plaza has been a year in the making. In November 2017, the P-H-M Board of School Trustees approved the construction of a new athletics facilities building to be built in the south end zone of Penn High School's TCU Freed Field. The bid was awarded in February 2018 to Fanning Howey. Ground broke on March 1 with the project completing October 2018. The project was part of Penn-Harris-Madison's overall $7.5 million 2018 Capital Improvement Projects districtwide for 15 school buildings. The cost of overall TCU Freed Field stadium improvements (such as safety and security upgrades, replacement of asphalt, fencing, drainage, etc.) was $3.7 million, with the cost of the Kingsmen Athletic Center being $2.9 million. The stadium project was financed using General Obligation Bonds. When using bonds to finance projects the goal is to borrow funds within our financial capacity which in turn keeps property taxes level.
Penn-Harris-Madison School Corporation has a vision of excellence serving more than 11,100 students in 11 elementary schools, three middle schools and Penn High School. The School Corporation received an "A" rating from the Indiana Department of Education consecutively since 2011. For grade 10, P-H-M ranks in the Top 5% (out of 291 Indiana public school corporations that have a high school). In grades 3-8, P-H-M is in the Top 6% of public school districts (out of 294 Indiana public school corporations that have grades 3-8).