Posted: Wednesday, October 17, 2018 - 12:36pm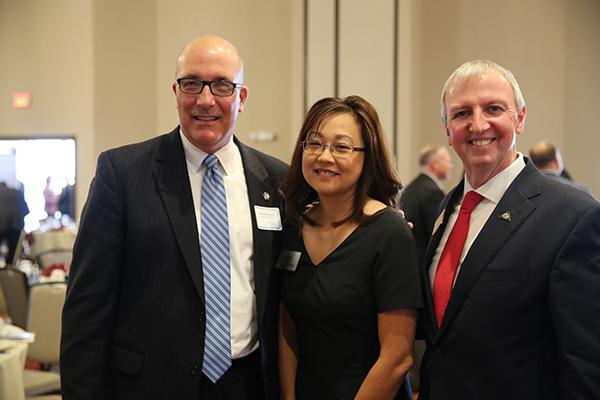 The P-H-M Education Foundation hosted Dr. Jerry Thacker's annual Superintendent's Luncheon on Tuesday, Oct. 16. More than 300 community leaders, business partners, P-H-M parents, and P-H-M staff attended. (See the full photo gallery below). Dr. Thacker is in his 13th year as superintendent of Penn-Harris-Madison. In giving his State of the District Address, he highlighted some of the school corporation's most recent points of excellence: 
For grade 10, P-H-M ranks in the Top 5% (out of 291 Indiana public school corporations that have a high school) for Spring 2018 ISTEP+ scores.
In grades 3-8, P-H-M is in the Top 6% of public school districts (out of 294 Indiana public school corporations that have grades 3-8) for Spring 2018 ISTEP+ scores.
Out of 410 IHSAA members, Penn High School was the only school in the state to win Sectional Titles in all Fall 2017 & Spring 2018 sports!
In Fall 2017, the Penn Girls Soccer Team brought home the Class 3-A State Championship and was also named National Champions! Varsity Football was State Runners-Up.
P-H-M parent, CEO of Lippert Components and featured speaker Jason Lippert talked to the audience about the importance and impact of volunteerism and supporting education. In 2017, Lippert employees volunteered more than 100,000 community service hours! Mr. Lippert talked about the culture of giving back that has been created and nurtured at Lippert. The company created www.actsofservice.com, an online portal that area businesses can connect with non-profits and schools for volunteer and service opportunities.
PHMEF Executive Director Mari Linn Wise introduced grant recipients 2018 P-H-M Teacher of the Year Danielle Black and Title I Technology Integration Coach Jessie Kinney (See the full photo gallery below). The grant recipients were featured as part of the event to highlight the Education Foundation's mission to develop alternative sources of income to support education initiatives in P-H-M by strengthening partnerships between the community and the District. PHMEF supports education through awarding innovative teaching grants, scholarships to students, staff development and other corporation-wide initiatives. PHMEF Board President Christine Rutherford co-emceed the event with WSBT anchor Bob Montgomery. Bob is married to 1st grade Prairie Vista teacher, Rose Montgomery, and is also a P-H-M parent. 
*To download high resolution jpg files from the photo gallery below, just simply click the "DOWNLOAD" button on the bottom right-hand corner of the photo while viewing it in the Photo Gallery function.