Posted: Tuesday, October 17, 2017 - 11:00am
The annual Superintendent's Luncheon held today (Tuesday, October 17, 2017) was a celebration of the District's commitment to excellence and an expression of gratitude to those who support the District through the P-H-M Education Foundation and Corporations for Education.
The Luncheon showcases the various value add educational, extracurricular and co-curricular programs the Education Foundation supports throughout the school year, everything from Penn Robotics to "Running is Elementary," an elementary health and finesses awareness programs.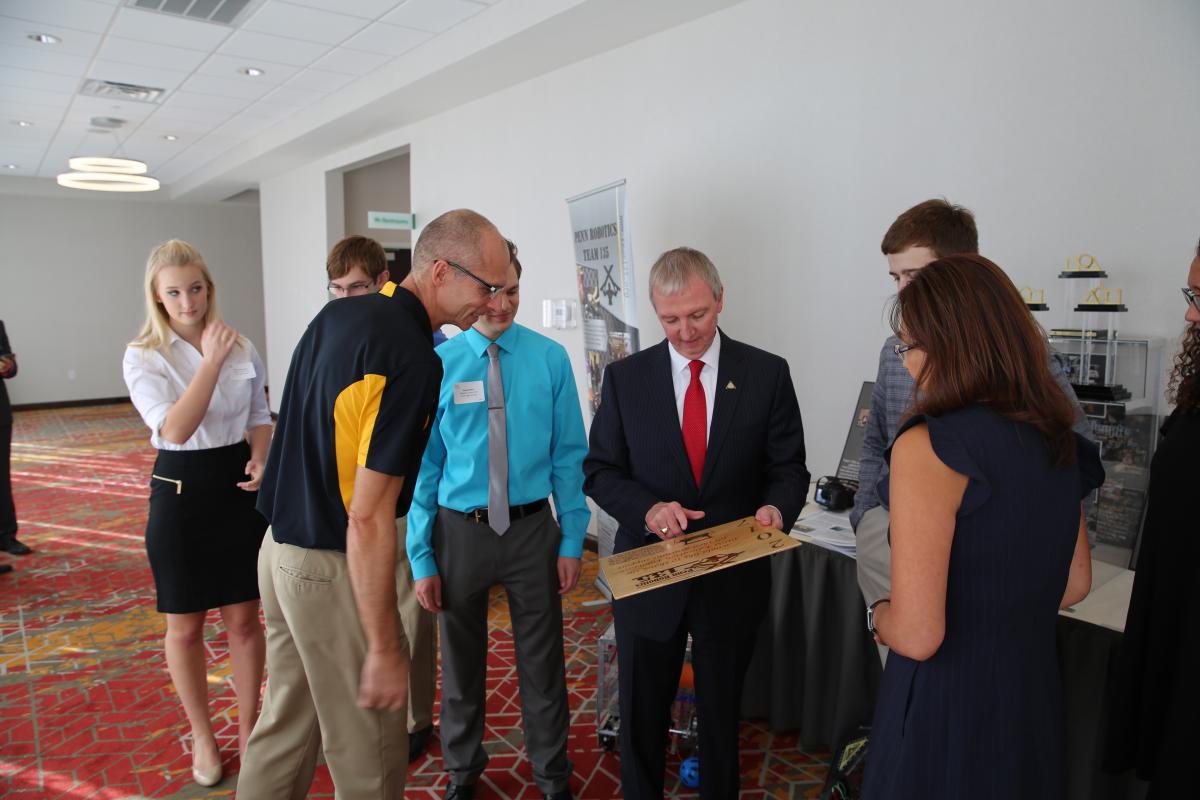 Click here to see more photos in the the photo gallery below.
Executive Director Mari Linn Wise highlighted and thanked the Foundation's generous donors and partners that helped raise the dollar amounts for the programming listed below …
 
$58,502 – innovative grants, Visual Arts Academy, and Silver Mile grants
$51,474 – Corporations for Education grants
$700,000 – naming rights in pledges
PHMEF's funding comes from special events such as its premier Silver Mile Health & Fitness Fair, Donna & Dr. Jerry Thacker 5K Run/Walk for Education, the State of Indiana from the purchase of Read On Education License plates, Thank a Teacher, Entrance to Excellence bricks, and individual donations.
As an independent, nonprofit 501(c)(3), the Foundation develops alternative sources of income to support educational programs that fall outside of the District's funding sources. PHMEF also works to strengthen the partnership between our schools and the community. PHMEF awards innovative teaching grants, scholarships to students, staff development and other corporation-wide initiatives.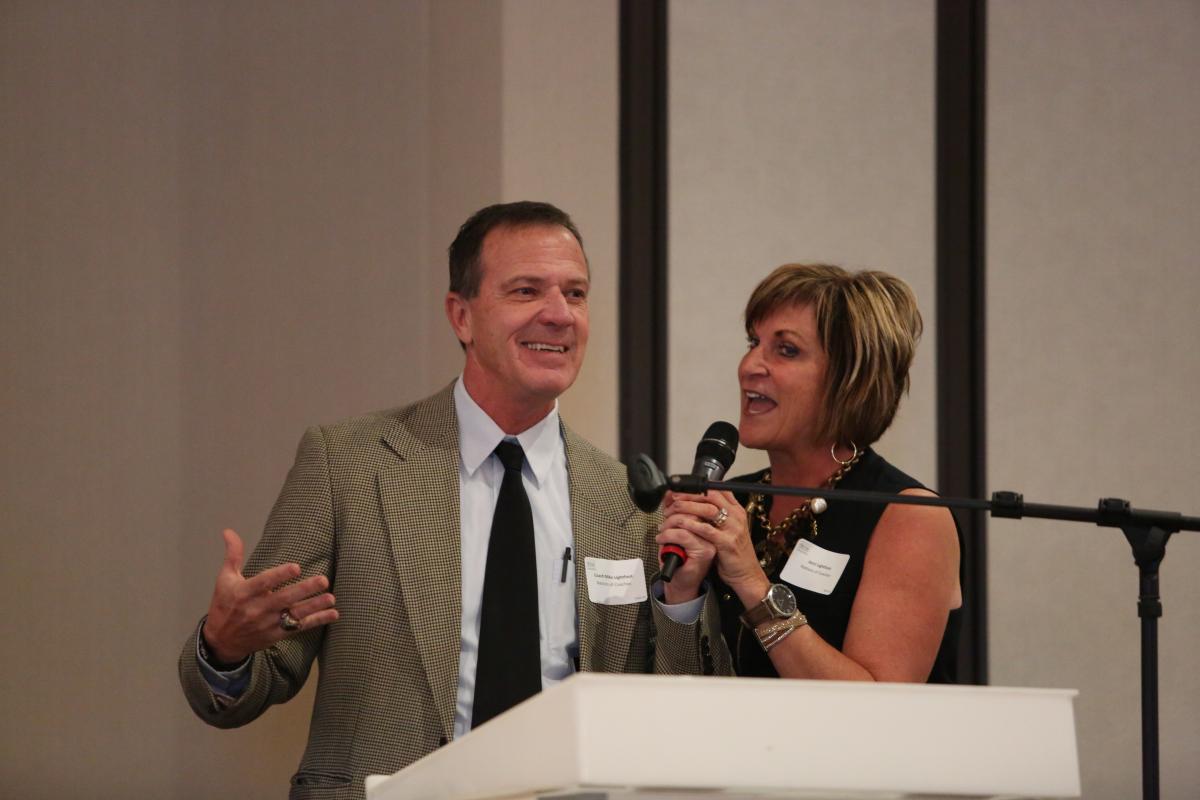 Luncheon special guests and keynote speakers former Bethel Basketball Coach Mike Lightfoot and his wife Jacci praised P-H-M teachers, coaches and administrators for their "ministry" of educating children. The Lightfoots applauded P-H-M business and community partners for their ongoing support noting that the pursuit of happiness should center around families and community, not around individuals.
P-H-M's 2017 Teacher of the Year Anne Tschetter (an orchestra teacher at Penn High School) was recognized at today's luncheon. She received a $1,000 PHMEF grant with her honor last spring. Speaking today, Mrs. Tschetter thanked the Foundation for the much needed funds that she used to buy new instruments for her classroom. Horizon Wellness Teacher Cindy Bitalis thanked the audience for their support of "Running is Elementary" noting that the true value of the vent is the student participants learning perseverance. PHMEF grants make it possible for 4th, 5th and 6th graders to participate at no cost.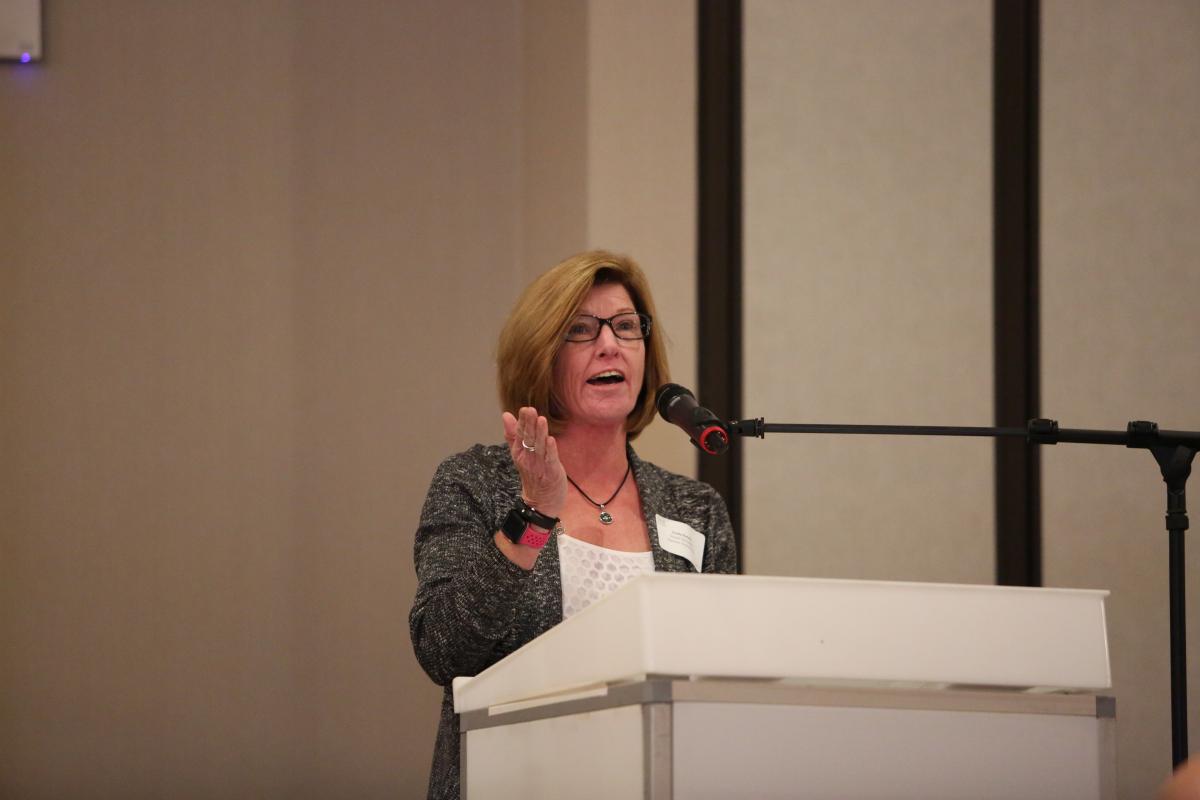 In his 12th year as Superintendent of Penn-Harris-Madison Schools, Dr. Thacker gave his State of the Corporation Address highlighting P-H-M's Triangle of Success, connecting students, teachers and parents.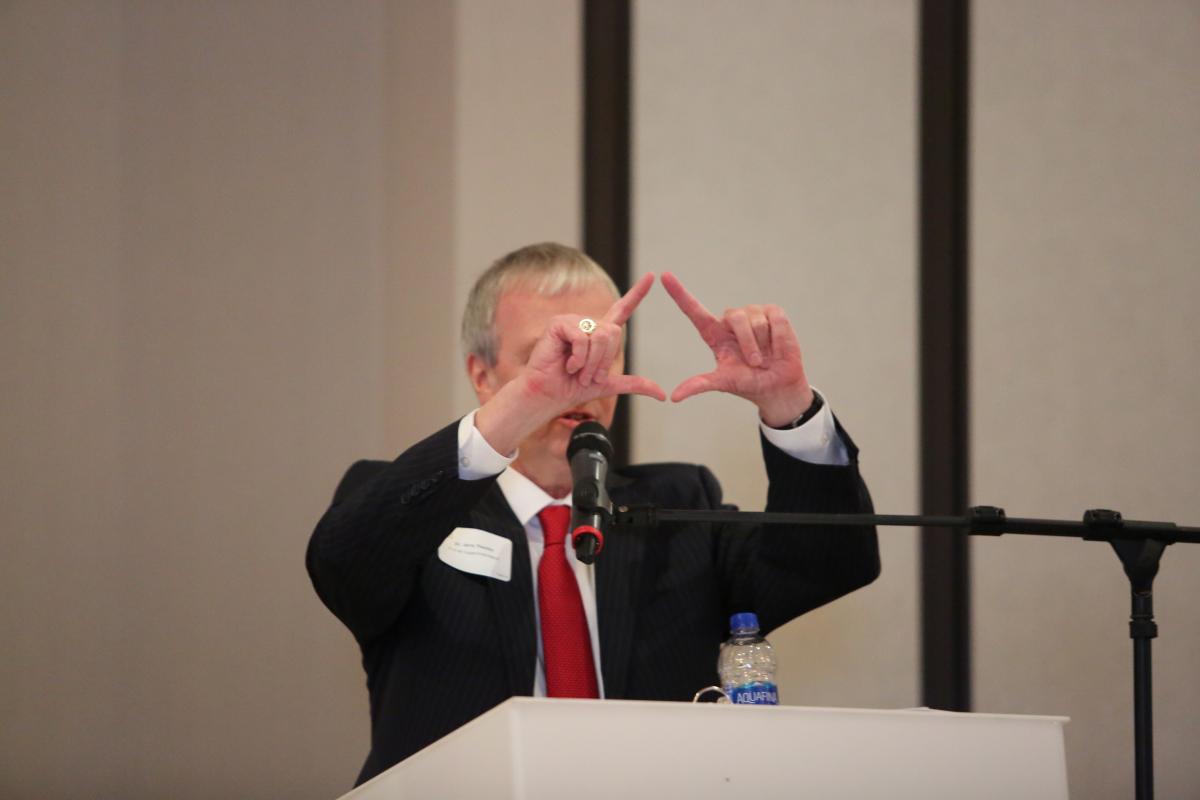 He noted with nine Four Star Schools, P-H-M is in the Top 3 of Indiana public school districts. Dr. Thacker praised the teachers and staff in the District's 15 schools that teach nearly 11,200 students. The IDOE P-H-M has consistently named P-H-M an "A" Rated School District for seven straight years, and he expects the same ranking this year. With the release of the 2017 Spring ISTEP+ results, 10 P-H-M schools earned an 'A' grade. Dr. Thacker also noted these points of excellence:
P-H-M ranks in the state's top 4% of public school districts
P-H-M ranks 12th out of all 292 public school districts in Indiana (based on both Math and ELA pass results of grades 3-8)
For grade 10, P-H-M ranks 9th out of all 292 public school corporations—the Michiana area's only public school district to make the top 20!
Northpoint is the #1 public elementary school in the state
Discovery is Indiana's #3 public middle school
P-H-M has four schools (Northpoint, Prairie Vista and Horizon Elementary Schools, along with Discovery Middle School) ranked among the state's top 50 of all 1,437 public schools.
P-H-M ranks 4th among public school corporations with large high schools (student population more than 500).
The Education Foundation's mission is to assist and support Penn-Harris-Madison School Corporation in providing a premier education to the District's students and families.
The presenting sponsor of this year's Luncheon was TCU, the Gold Sponsor was Beacon Health System. PHMEF is also grateful to the following Patron Sponsors:
LL Low Associates, Inc.
Samuel & Erin McGrath
Sen. Ryan Mishler
Table Sponsors included: Dr. Jerry Thacker, Gates Automotive, IUSB School of Education, Ivy Tech Development, Kruggel Lawton CPAs, Lake City Bank, May Oberfell Lorber, Meilstrup Family, Moore Family, Murphy & Witchie Families, P-H-M Administrators, P-H-M Board of Trustees, P-H-M Teachers Assoc., Penn High School, Saint Joseph Health System, Schwartz Family, South Bend Education Foundation, South Bend Regional Chamber, Tuesley Hall Konopa, the University of Notre Dame and the Wade Family.