Posted: Wednesday, October 19, 2016 - 1:02pm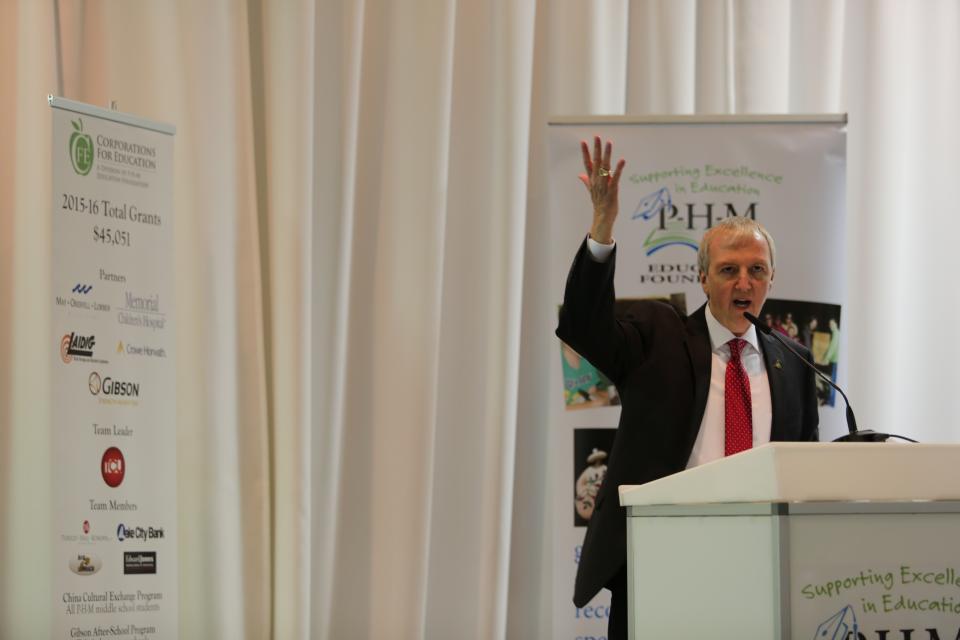 The annual Superintendent's Luncheon was held Tuesday, October 18, 2016.  P-H-M Superintendent Dr. Jerry Thacker presented his State of the Corporation address to a packed house of parents, community, business and education leaders. 
The P-H-M Education Foundation hosts the annual luncheon not only as a fundraiser for the District, but as a way to showcase and say thank you to all its partners who have made grant funding possible for various value-add school programs. Last school year, the Education Foundation awarded more than $45,000 in grants to P-H-M programs.
Entering into his 11th school year as P-H-M Superintendent, Dr. Thacker took the opportunity to look back on the last decade. Just some of the highlights he shared with the audience include:
P-H-M schools are in the top 1% with A-rated letter grades 

P-H-M schools are in the top 2% of Four Star School Award Winners

P-H-M schools are in the top 3% of ISTEP scores

Penn High School's graduation Rate is 97% placing it in the top 1% of large school districts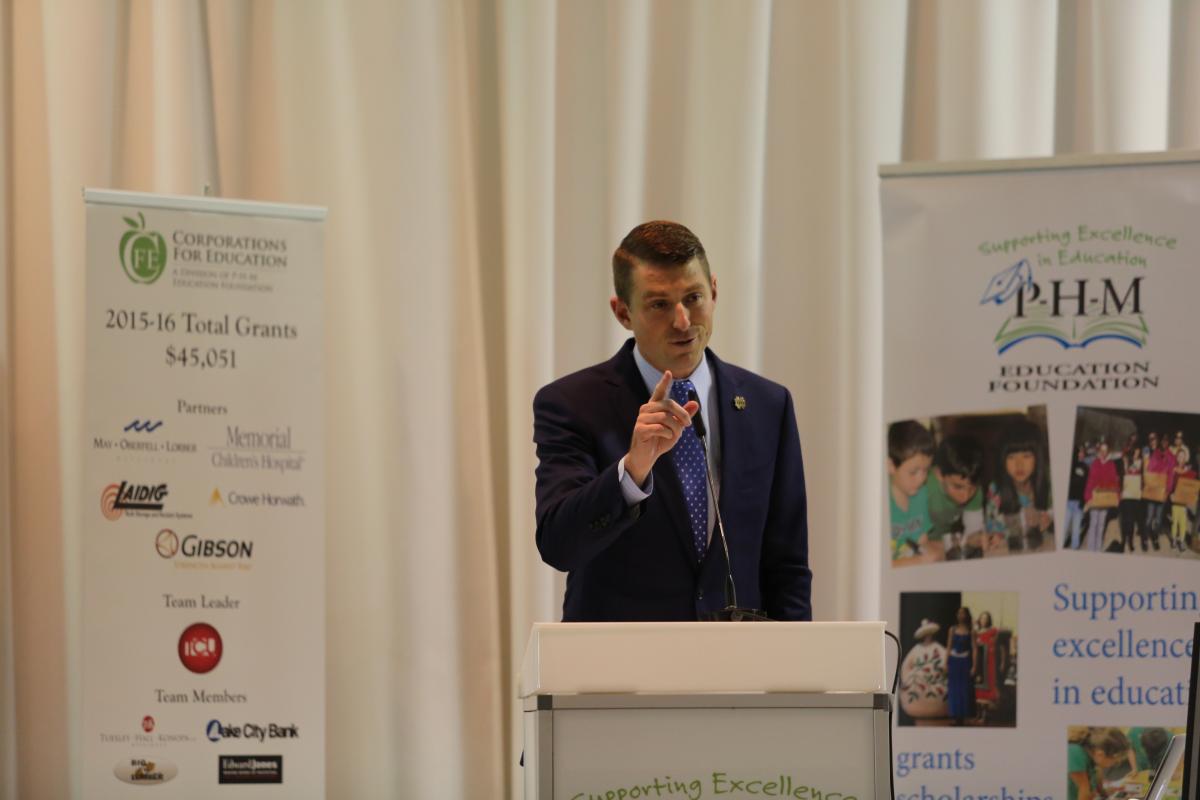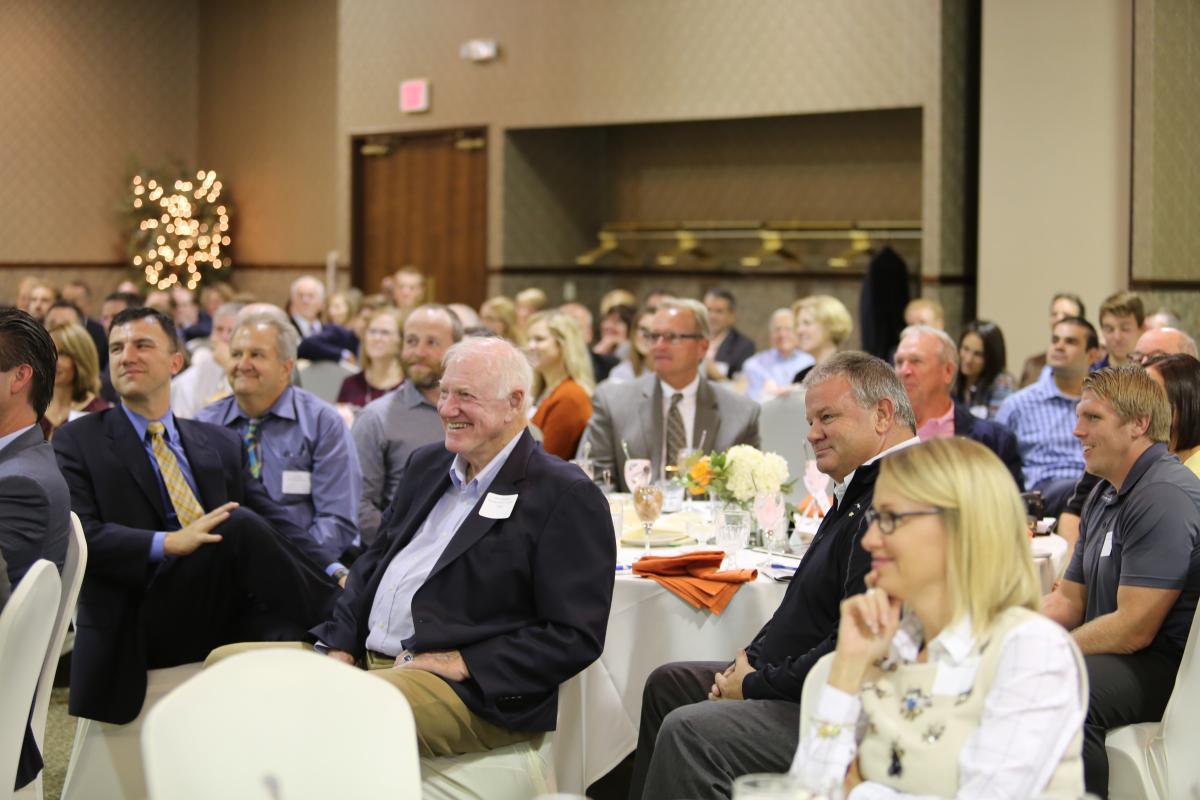 This year's guest speaker was Mike Sanford, offensive coordinator and quarterbacks coach for the University of Notre Dame football team. Sanford's father was also the quarterbacks coach for ND under famed Lou Holtz and Bob Davie from 1996-98. During those years, Sanford attended Penn High School and played on the Kingsmen football team. Sanford quickly made the audience laugh by joking about ND's losing football record this year. He then praised his former Penn football, Hall of Famer Coach Chris Geesman and current Coach Cory Yeoman. Sanford shared with luncheon attendees his philosophy for communicating with the current generation and how he works to build a community amongst his quarterbacks.
Other highlights of this year's Superintendent's Luncheon included recognizing 2015-16 PHMEF grant recipients, 2016 P-H-M Teacher of the Year John Gensic and the presentation of the Cornerstone Award to Saint Joseph Health System.  Emcee & longtime PHMEF supporter himself Jeff Johnson presented the award praising Saint Joseph as a valued partner and sponsor, supporting the Silver Mile Run for Education &  Health and Fitness Fair since its inception in 2005.
The presenting sponsor of this year's Luncheon was TCU. PHMEF is also grateful to the following Patron Sponsors:
Barnes & Thornburg LLP
Crowe Horwath LLP
Four Winds Casino
LL Low Associates, Inc.
May Oberfell Lorber
RE Sutton & Associates
Sen. Ryan Mishler