Posted: Tuesday, May 17, 2022 - 12:50pm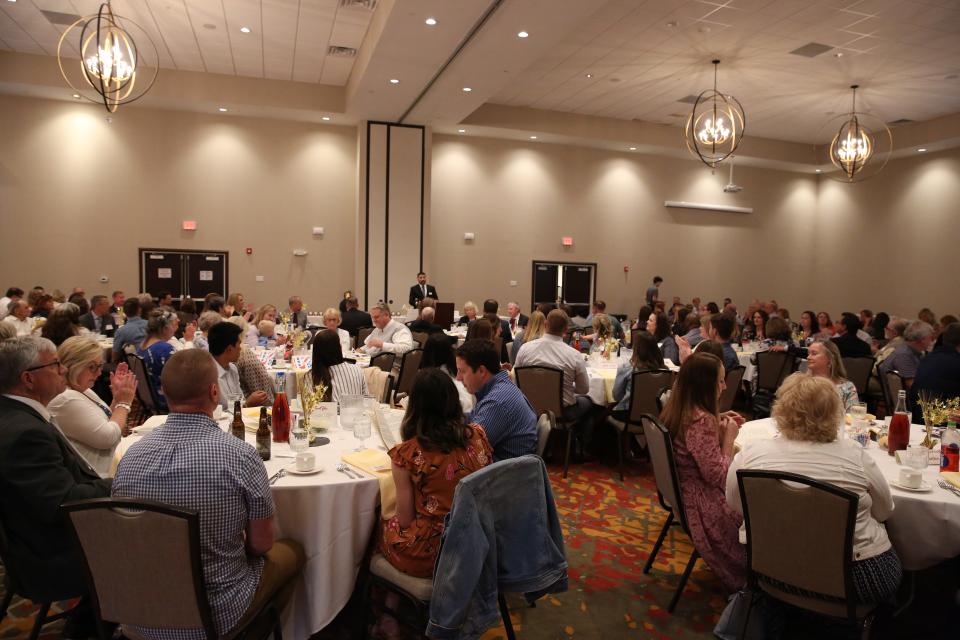 P-H-M's Employee Recognition Program returned to an in-person dinner and event on Monday, May 16 after a two year hiatus due to the pandemic (the dinner was canceled in 2020 and a video recognizing retirees and years of service was put online last year). While not all were present, the Corporation as a whole did honor PHM's Teachers of the Years, Employee of the Year, retirees, as well as employees who've been with PHM for 10, 15, 20, 25, 30 and 35 years. This year we celebrated a total of more than 140 Service Award winners and more than 40 retirees. Click to see the full list, photo gallery and videos of the TOYs and EOY.
During the program Superintendent Dr. Jerry Thacker and Board of School Trustees President Chris Riley honored this year's retirees, as well as Amanda Fox, Elementary Teacher of the Year; Becky Hope, Secondary Teacher of the Year; and Employee of the Year Julie Julie Demske.  
Service Awards were also handed out to employees who have dedicated 10, 15, 20, 25, 30, an 35 years of service to Penn-Harris-Madison School Corporation. Click here to read the full program and list of retirees, Service Award Winners, and bio information on the Teachers of the Year and Employee of the Year.
Board Members Larry Beehler and James Turnwald were on hand to applaud and congratulate employees for their honors. The dinner was generously sponsored by Teachers Credit Union. Human Resources Director Seth Molnar served as Master of Ceremonies.
Miss Fox, Mrs. Hope and Ms. Demske all spoke at last night's dinner; they also received a commemorative plaque for their award. As part of the recognitions for Miss Fox and Mrs. Hope, Executive Director Jennifer Turnblom gave each teacher received a $1,000 grant from the P-H-M Education Foundation to use in their classrooms. Ms. Demske received a gift certificate from the District. Click here to view the full photo gallery below for pictures of the recognitions.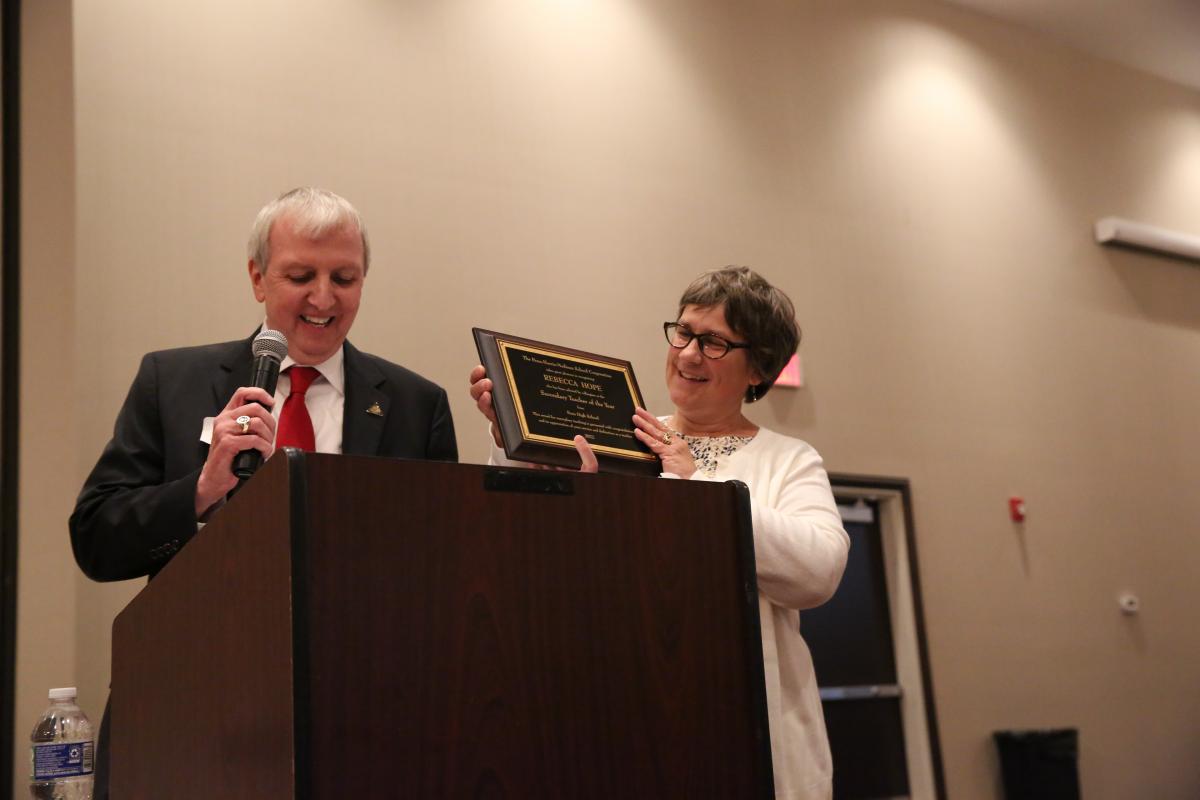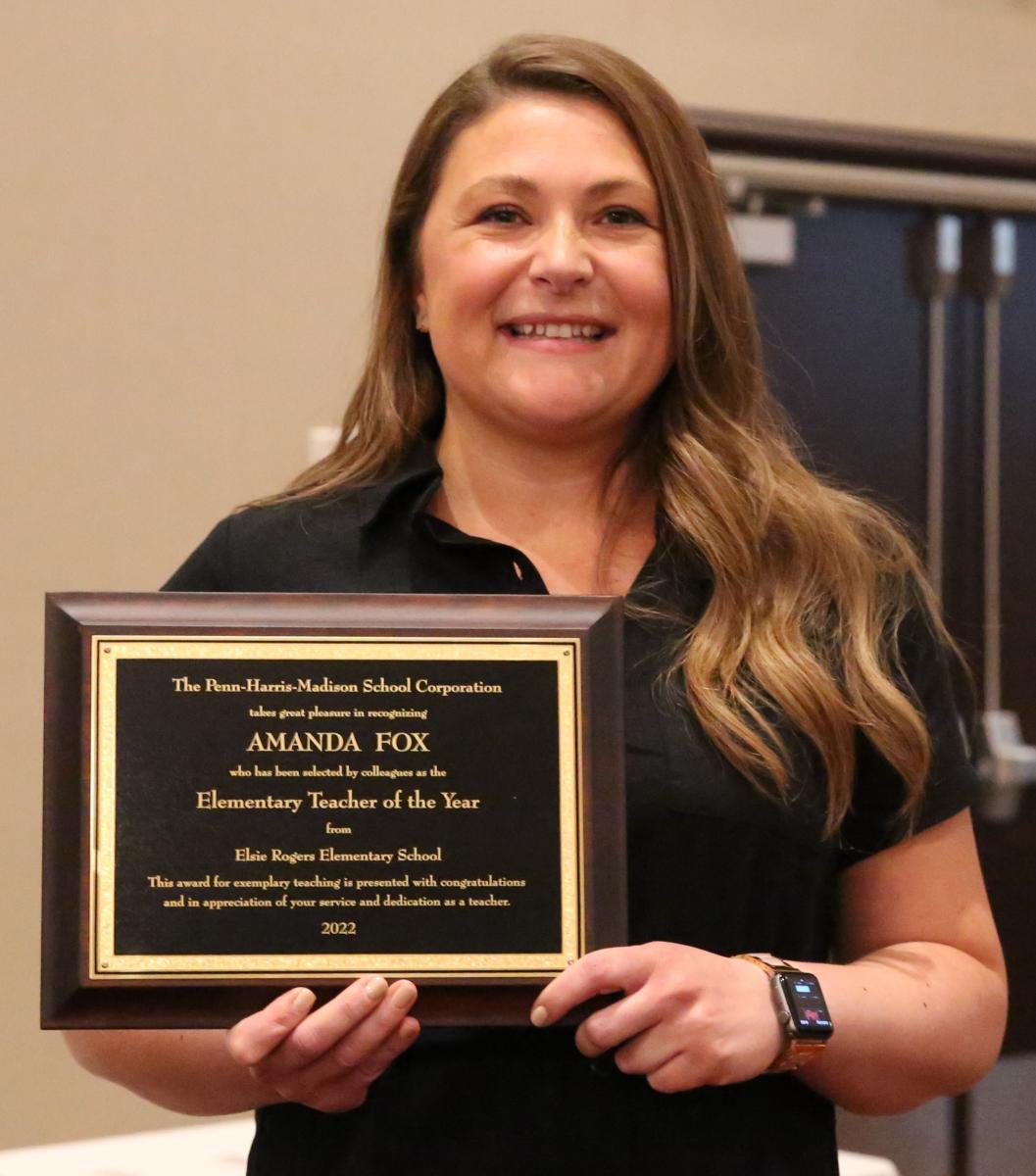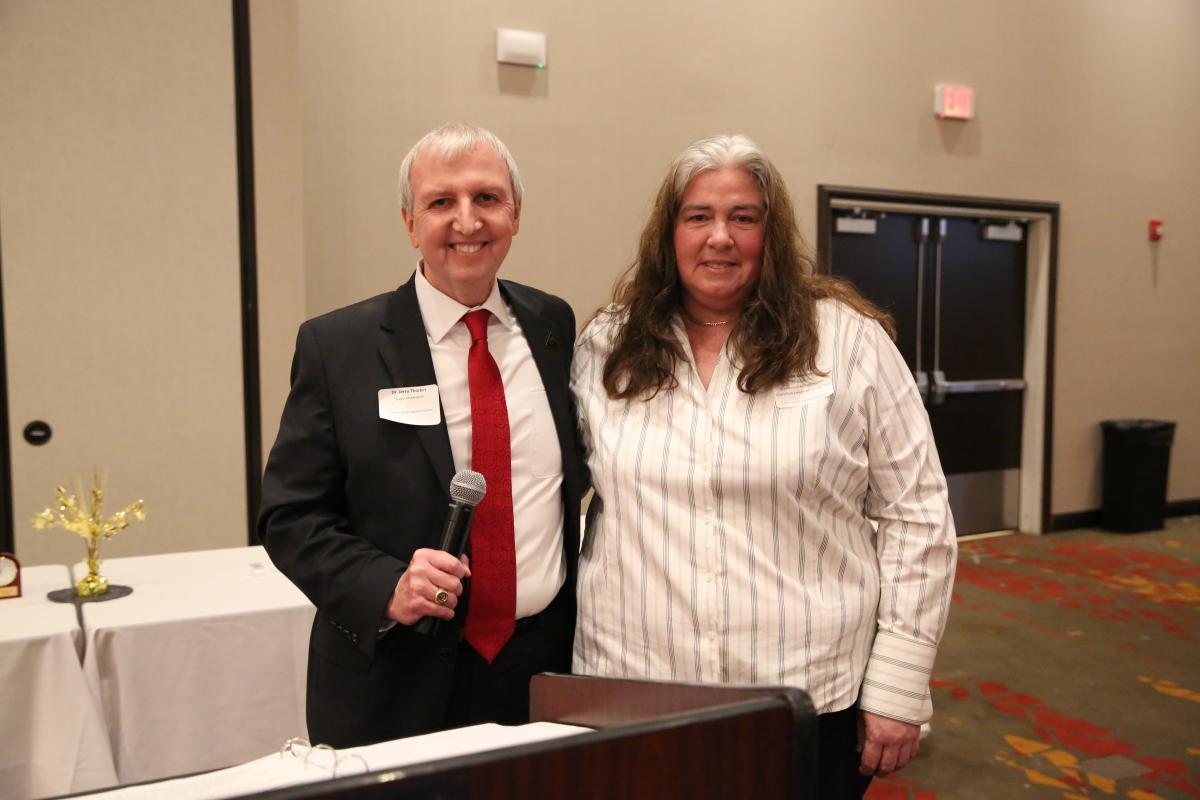 Spring is always a busy time of year for Penn-Harris-Madison; the first couple of weeks of May is when Dr. Thacker makes his rounds of the schools surprising a couple of teachers naming an elementary and secondary teachers of the year; he also names a Classified Employee of the Year. This year Dr. Thacker kicked off National Teacher Appreciation Week (May 2 – May 6) by walking into the 4th grade Elsie Rogers classroom of Miss Amanda Fox. 
See the surprise and learn who inspired Miss Fox to become a teacher herself ...
Excellent teachers do more than just help students learn a subject; they inspire them to not only find their inner genius, but also encourage them to dream big. Penn High School Art teacher Mrs. Becky Hope does just that! She is thrilled beyond belief to be her students' fun loving tour guide on their creative journey as they develop their artistic style. She enjoys spreading joy and hope! The saying "they broke the mold when they made her" definitely applies to Mrs. Hope!
Click to watch video below and see for yourself why students love Mrs. Hope so much …
"A behind the scenes person," that's how Ms. Julie Demske describes herself. As Schmucker's Head Custodian, Julie takes pride in helping things run smoothly and being the person you call when you need help. That's why on May 2nd when Principal Dr. Lavon Dean-Null radioed Julie to come to the WSMS studios, Julie came running—she actually was up on the school roof doing a repair and dropped everything to get to the studio since it was during morning announcements. But as soon as she walked into the studio, right on que, and saw and heard Dr. Thacker talking about P-H-M's Classified Employee of the Year, she knew what was up. 
Watch P-H-M's first school wide surprise live broadcast … 
After these special employees were recognized for their awards, teachers Jeanne Rehlander and Shelli Treely handed out recognition Service Award pins and Dr. Thacker and Chris Riley recognized retirees. Click to see the full list of all the Service Award winners and retirees in the dinner program.
View the photo gallery below of those who attended the May 16th dinner. Just simply click the "DOWNLOAD" button on the bottom right-hand corner of the photo while viewing it in the Photo Gallery function.