Posted: Thursday, May 6, 2021 - 2:58pm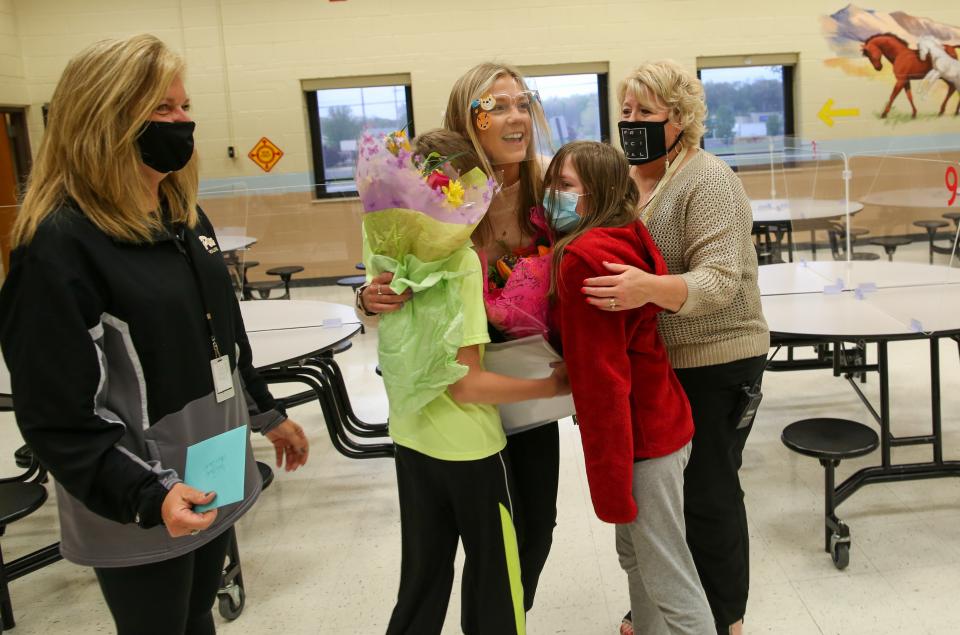 Teacher Appreciation Week brought more surprises and honors for one Mary Frank Elementary School teacher. Today the 5th grade students of Mrs. Alexandra (Lexi) Banks were on hand to help surprise her that she had been chosen as the 2021 P-H-M Education Foundation's Jeneane Arter Excellence in Education Award. Please see the full photo gallery below.
The Arter Award is named after Northpoint Elementary School teacher Jeneane Arter and and is given to an outstanding P-H-M staff member. Students nominate their candidate to P-H-M Education Foundation by submitting an essay describing how a P-H-M teacher or staff member has contributed to their educational experience in P-H-M. Mrs. Banks' students wanted to honor their teacher for all she's done during this challenging school year. Fifth grade co-teacher Mrs. Erin Horvath helped the students with their nomination. The winner of the Arter Award receives $2,000, which is underwritten by Jason and Darla Lippert. 
These are some of the comments students submitted as part of their nomination:
~I love it when she gets excited during morning meetings, it always makes me happy.
~Mrs. Banks makes coming to school fun because she is so funny, she helps you with whatever you need, and if you are ever feeling down, she'll make you feel so much better.
Click to read the student's full nomination submission.
Mary Frank Principal Christie Heerschop and Mrs. Horvath orchestrated this morning's surprise by telling Mrs. Banks there was a 5th grade Assembly in the cafeteria. While Mrs. Banks and her students waited for the "Assembly" to begin. Mrs. Banks was surprised when PHMEF Executive Director Jennifer Turnbloom walked in with Mrs. Lippert and a giant check! Also hand for the surprise were Mrs. Banks' mother Lisa Pawlik, Penn High School Volleyball Coach and teacher.