Posted: Tuesday, May 26, 2020 - 4:04pm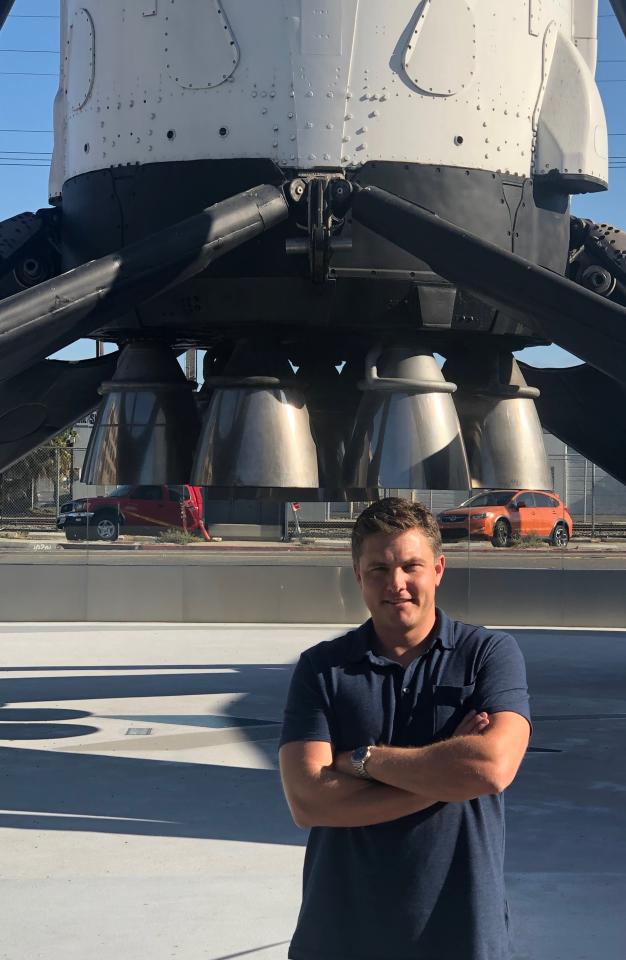 Tomorrow (Wednesday, May 27) at 4:33 p.m. EDT the next stage of the United States space program will blast off, in a small part due to the engineering efforts of a 1997 Penn High School alum!
Jon Edwards is a "Kingsmen Making a Difference" in the world of aerospace engineering and space travel as the working for SpaceX as the Vice President of Falcon Launch Vehicles. SpaceX is only one of two commercial companies (Boeing being the other) NASA contracted with to build private "space taxis" to fly its astronauts to and from the International Space Station. The goal of NASA's Commercial Crew Program is a turning point for America's future in space exploration that lays the groundwork for future missions to the Moon, Mars, and beyond."
The Falcon 9 rocket will launch late Wednesday afternoon from NASA's Kennedy Space Center, FL (rain days are Saturday, May 30 at 3:22 p.m. EDT, and Sunday, May 31 at 3:00 p.m. EDT) carrying NASA astronauts Bob Behnken and Doug Hurley on board the Dragon spacecraft. The Demo-2 mission is the "final major test for SpaceX's human spaceflight system to be certified by NASA for operational crew missions to and from the International Space Station." Coverage for the historic launch will begin about 4 hours before liftoff. Click the links for more information on watching the launch LIVE on NASA TV and to participate in the events virtually. There are lots of educational components for students.
Jon was promoted to Vice President of Falcon Launch Vehicles in February of this year. Last July, we reached out to Jon via email to ask him about his role at that time in this historic space mission and joint project with NASA. At the time of the interview, Jon was the Senior Director of Falcon Engineering and Falcon Product Director. He described his role then as leading a team of 100 engineers in the development and operation of the Falcon 9 and Falcon Heavy launch vehicles. He stated then that he was "responsible for all Falcon related development projects during all phases of the vehicle life cycle including: design, development, qualification, and operation." SpaceX.com describes the Falcon rocket as a "reusable, two-stage rocket designed and manufactured by SpaceX for the reliable and safe transport of people and payloads into Earth orbit and beyond. Falcon 9 is the world's first orbital class reusable rocket." Throughout the course of SpaceX's development and testing of the Falcon 9 rocket, the Penn grad provided briefs and updates to SpaceX CEO/CTO Elon Musk and President Gwynne Shotwell. Jon also works closely with SpaceX's commercial and government customers including the United States Air Force and NASA.
We asked Jon about his time as a Penn High School student. Obviously his favorite subject was Physics, but we were also curious as and asked him … Who was your favorite Penn teacher and how did they influence you?
"My absolute most favorite teacher ever was Mr. Jim McPhee. He was my AP Physics I and II teacher back in '96 and '97. Mr. McPhee was fantastic at getting the class excited about the way the universe works. He would often start the class by beginning to discuss the normally scheduled topic, but if the class asked a question that took the discussion in a different direction, he was more than happy to spend the rest of the class exploring the tangential topic. We used to explore questions such as 'what would happen if you jumped into a tunnel that went all the way through the earth?' and even dove into discussions about astrophysics and electromagnetism. The discussions we had in class were so exciting to me I would often read ahead in my physics book and seek out other physics media such as Carl Sagan's Cosmos documentaries and Stephen Hawking's A Brief History of Time. There is no doubt that Mr. McPhee inspired me to pursue a career in aerospace. I even think about becoming a high school physics teacher someday in the hopes that I might inspire kids in the same way."
After Jon graduated from Penn in 1997, he attended Purdue University's School of Aeronautical and Astronautical Engineering, receiving a Bachelor of Science degree in 2001, and later a Master of Science degree in 2004. Jon also earned his MBA from Kelly School of Business at Indiana University in 2012.
Jon started at SpaceX in 2004. His career highlights over the years at SpaceX include:
Lead Engineer for the Kestrel rocket engine and Responsible Engineer for the Falcon 1 2nd Stage (2004-2009)

Falcon 1 became the first ever privately funded liquid fueled rocket to achieve earth orbit in September 2008

Responsible Engineer for the Falcon 9 2nd Stage (2009-2010)

Falcon 9 successfully reached orbit on its first launch attempt in June 2010

Promoted to Manager of Falcon 9 Propulsion Systems Engineering (August 2010)

Promoted to Director of Falcon 9 Propulsion Systems Engineering (May 2013)

Promoted to Falcon Product Director (May 2014)

The Falcon 9 1st stage booster successfully landed after performing an orbital launch on December 22, 2015; the first time an orbital class rocket has ever successfully landed propulsively (with propulsion force) 

Promoted to Senior Director of Falcon Engineering (January 2016)

Successful reflight of recovered Falcon 9 booster on March 30, 2017, proving orbital class rocket reusability.

Successful inaugural launch of the Falcon Heavy in February 2018. Falcon Heavy is the most powerful rocket in operation today. 

Promoted to Vice President of Falcon Launch Vehicles (February 2020)
Jon received the Purdue Outstanding Aerospace Engineer award in April 2017--the school's highest honor to recognize the school's most distinguished alumni!
Jon Edwards is not the only Penn graduate involved in our nation's efforts to return humankind to space. Last summer during the 50th anniversary of the Apollo 11 launch, we told you about 2010 alumna Sadie Holbert--a government contractor for Leidos working as a flight controller in mission control at NASA's Johnson Space Center in Houston.  Sadie, also a 2015 graduate of Purdue University, is involved in NASA's "Explore Moon to Mars" missions that will send humans back to the moon. 
Sadie is on the Guidance, Navigation, and Control team for the first Orion mission. The Orion capsule will fly out around the moon and back, testing the vehicle before NASA flies humans on the capsule for deep-space missions to mars and possibly beyond. The project was delayed because of COVID-19 and is now projected for November 2021, with the goal of flying astronauts around the moon on the second SLS/Orion flight in late 2022 or early 2023. Click to read the full "Kingsmen Making a Difference" profile on Sadie Holbert here.