Posted: Friday, May 22, 2020 - 12:58pm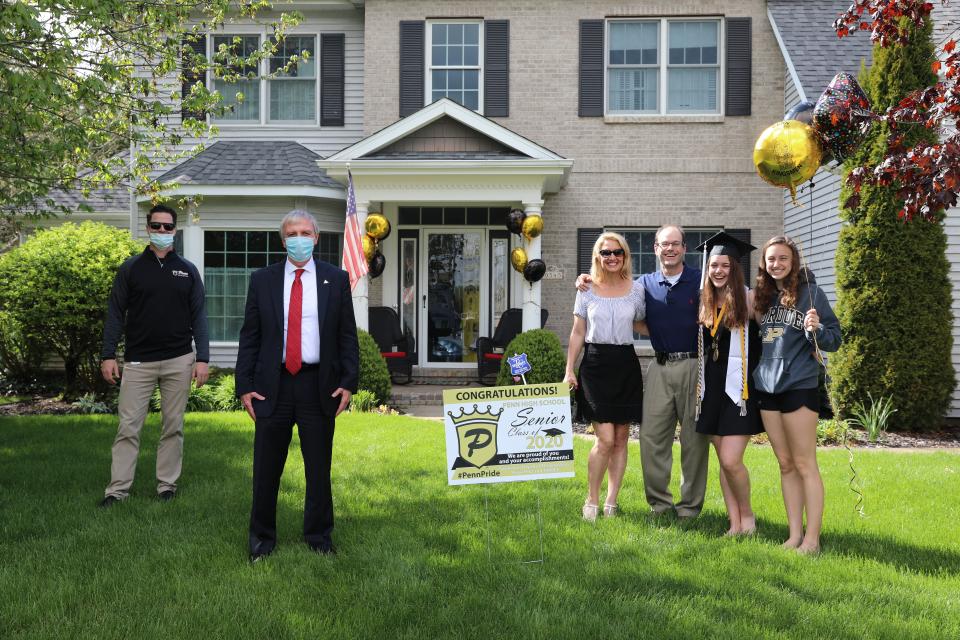 Penn High School will graduate approximately 820 students on Friday, May 29 at 7:00 p.m. in a Virtual Commencement will premiere LIVE on P-H-M District's Facebook page and YouTube Channel.
Click to preview a pdf copy of the 2020 Commencement program (a version will be printed and given to graduates when they receive their diplomas at a later date).
The Class of 2020's Senior Recognition was held online this year due to the pandemic that shutdown schools. Instead of a Recognition Night ceremony seniors were recognized on Penn's Facebook and Twitter accounts academic excellence, scholarships, leadership, service to school and community, citizenship, attendance, athletic accomplishments, Academy awards and many other accomplishments. Click here for a full listing of this year's Academy award winners. Many of the award winners will also be recognized during the Virtual Commencement on the 29th.
This year's graduating class seniors have earned more than $9 million in scholarships!
This year's graduating class includes 17 valedictorians: Elisabeth Casetti, Richard Chapple, Abbie Clay, Rajeev Datta, Andew Kabowski, Vishrut Khandelwal, Michelle Kwok, Darbie Kwon, Lyvia Li, Yewon Oh, Mia Schwartz, Courtney Sharpe, David Simonetti, Seunghoon Sun, Emma Tornquist, Karen Wang, and Peter Yang. This year's valedictorians have an average GPA of 4.4 on a scale of 4.0.
There are three salutatorians with an average GPA of 4.3 on a scale of 4.0. This year's salutatorians are Jack Dinnon, Jeffrey Du, and Josiah Railton
The Principal's Leadership Award is presented annually to students who contribute their talent, time, energy, and motivation to the leadership of Penn's student body. Haley Sidorowitz  and Aidan Meuninck were honored for helping to make a difference in the culture of Penn on behalf of their classmates. 
The Principal's Citizenship and Service Award was presented to eight Penn High School students who have selflessly donated many hours to make sure that Penn High School is well represented in whatever service project they're involved in. The winners of the 2020 Principal's Citizenship and Service Award were: Elisabeth Casetti, Caroline Dell, Jada Edison, Michelle Kwok, Abigail Nush, Megan Rach, Rachel Santosh, A.J. Tu, 
Every year since 1967, Penn's faculty vote to recognize an outstanding member of the graduating class based on service, character and leadership; the student must also, at the end of seventh semester, be in the top 10% of their graduating class. The senior selected is awarded the Paul H. Schmucker Award in memory of the distinguished member of Penn High School faculty from 1960-1967. This year's recipient is Abbie Clay.
The graduating class also nominates a classmate who best exemplifies the qualities of service to his/her school community, school spirit, respect for classmates and Penn High School for the Kingsman of the Year Award. A tradition since 1970, the recipient is recognized for his/her leadership and willingness to accept challenge and is a great honor and show of respect from the recipients fellow classmates. The Class of 2020 Kingsman of the Year Award winner is Karen Wang.
Some P-H-M elementary or middle schools award scholarships to students who attended those schools. Click to see this year's P-H-M school scholarships on Penn's Facebook page. Scholarships for the Dr. and Mrs. Jerry Thacker Scholarship and the Larry Beehler Scholarship are also awarded every year. Dr. Jerry Thacker is Superintendent of Penn-Harris-Madison School Corporation and Mr. Larry Beehler is a longtime member of P-H-M's Board of School Trustees. Anna Madlem received the Larry Beehler Scholarship; and Abbie Clay won the Dr. & Mrs. Jerry Thacker Scholarship.
Here are some other points of excellence from the Class of 2020:
374 students graduating with Academic Honors Diplomas (3.0 GPA)
31 students graduating Summa Cum Laude (4.25 GPA)
83 students graduating Magna Cum Laude (4.0 GPA)
103 students graduating Cum Laude (3.75 GPA)
303 students graduating with High Honors (3.5 GPA)
73 students graduating with Technical Honors
12 National Merit Scholarship Semifinalists, 11 were named Finalists
11 students Commended Scholars
5 Students were nominated for Presidential Scholars: Lyvia Li, Richard Chapple, Rajeev Datta, Andrew Kaboski, and Michelle Kwok
Elisabeth Casetti was named Indiana Regional Academic All-Star, one of only 40 students across our state to be honored.  Elisabeth chose her Penn English teacher, Michael Coffee to be recognized along with her.
Michelle Kwok, Courtney Sharpe, and Lyvia Lee are being awarded the Community Foundation of Saint Joseph County Eli Lilly Endowment Scholarship based on their high academic merits and test scores. 
David Simonetti was named one of four winners of the 2020 Governor's STEM Team awards. David received the Technology award. Each student will receive a $1,000 scholarship, courtesy of the College Choice 529 Program.
11 students are enlisting in the military: United States Marine Corp, United States Army, United States Air Force, United States Navy, and the United States Army National Guard
Josh Temeles will be attending the Naval Academy
12 students competed Penn's Cadet Teaching program
This is the 3rd co-hort for Penn's Early College Academy. Here are the highlights from the Class of 2020:
100 graduates
19, earned 30 credits or more through Ivy Tech Community College
64, earned Associate's Degrees
On Friday, May 22, approximately 130 teachers and staff from Penn High School and P-H-M staff and Administration, practicing safety precautions, delivered signs to the more than 800 seniors. Penn Principal Sean Galiher and P-H-M Superintendent Dr. Jerry Thacker paired up to deliver some of those signs. See the pictures below. 
To download high resolution jpg files from the photo gallery below, just simply click the "DOWNLOAD" button on the bottom right-hand corner of the photo while viewing it in the Photo Gallery function. We are happy to provide this service to you, free of charge!