Posted: Wednesday, May 15, 2019 - 4:30pm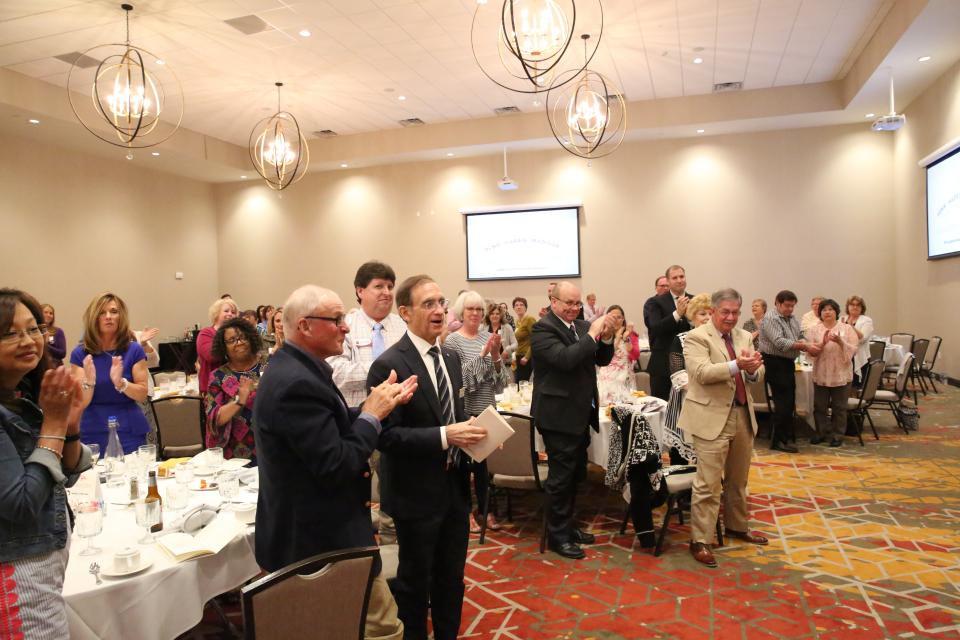 P-H-M's 28th Annual Employee Recognition Dinner was held on Wednesday, May 15 honoring the District's Teachers of the Year, Employee of the Year, and retirees. Service Awards were also given to employees who have dedicated 10, 15, 20, 25, 30, 35, 40 and 45 years of service to Penn-Harris-Madison School Corporation. Click here to see a full list of this year's Service Award honorees. Several employees received standing ovations as part of their recognitions. Along with members of P-H-M's Administrative Cabinet, Board of School Trustees President Chris Riley, Vice President Larry Beehler, and Board Member Jim Garrett were also on hand to applaud and congratulate employees for their honors. The dinner was generously sponsored by Teachers Credit Union.
P-H-M's Teachers of the Year Christine Austin Elementary Teacher of the Year and Secondary Teacher of the Year Jeanie Mitchell, as well as Employee of the Year Diane Dyer all spoke at last night's dinner; they also received a commemorative plaque for their award. As part of the recognitions for Austin and Mitchell, each teacher received a $500 grant from the P-H-M Education Foundation to use in their classrooms; Dyer received a gift certificate from the District. Click here to view the photo gallery below for pictures of the recognitions.
Walt Disney's Christine Austin is in her sixth year of teaching. She started with P-H-M full-time in 2014 as a teacher at Prairie Vista Elementary School. She moved to Walt Disney in 2015 and is currently teaching fourth grade there. Christine is a Spell Bowl Coach, a sponsor for after school learning clubs, teaches Saturday Enrichment for the District, and volunteers for Young Authors' Conference. She's also an important integral part to Disney's Teacher Leadership Team (TLT), supporting all grade levels as well as her own fourth grade team. Christine has led staff PDs for Guided Math, Guided Reading for Exceptional Education, and presented at Technovation. Christine and her husband Lamar lived in Bulgaria for several years doing humanitarian work. These are just some of the reasons why her colleagues nominated her for P-H-M's Elementary Teacher of the Year.
Click to watch the video below and learn more about Christine …
Penn's Jeanie Mitchell came to P-H-M and to Penn High School to teach French in the World Languages Academy in 2008. Last September, she also became Freshman Academy Leader.  Mme. Mitchell provides classroom project based learning projects, as well as field trips to the French Market in Chicago and even to France! As the Freshman Academy Leader, Jeanie helps make the transition from middle school to high school more manageable and less daunting for incoming freshmen. Jeanie has also worked on a Tier 3 RtI program to identify Penn's most at-risk freshmen students pairing them up with an administrator, counselor or dean. Jeanie also frequently leads staff professional development on a variety of topics such as technology, literacy strategies, effective parent communication, and how to use social media to develop teachers' personal learning networks.
Click to watch video below and learn more about Jeanie …
Kids Club Assistant Program Coordinator Diane Dyer was chosen as P-H-M's Classified Employee of the Year and was also recognized as part of the program. Diane Dyer has worked for P-H-M for five years; she started at Prairie Vista Elementary School as a Kids Club Assistant in August 2014. In 2015, she was promoted to Site Coordinator at Horizon Elementary. And in February 2019, she was promoted as the Kids Club Assistant Program Coordinator, based at Elsie Rogers Elementary School, helping to train the other Site Coordinators. As Program Coordinator, Diane is now working with the rest of the Kids Club staff to put into place the best practices at all other nine P-H-M Kids Club locations. During her time as a Site Coordinator for Horizon, Diane implemented "After Homework Clubs." Horizon's Kids Club also had the largest Kids Club enrollment.
Click to watch the video below and discover how well loved Diane is by her students and colleagues …
This year 40 longtime employees retired from P-H-M.
The names listed below noted with an asterisks (*) submitted a reflection. You can click here to read those reflections in the Dinner program.
Those retirees noted in bold were present at the dinner and their picture is in the photo gallery posted below. Click here to view that photo gallery.
Dennis Addison, Teacher *

Mark Baldwin, Teacher*

Debra Barrier, Transportation

William Bauer, Food Service

Diane Bowersox, Teacher*

Donna Christensen, ESP* 

Lorri Csakany, ESP

Tom Csenar, Teacher*

Cynthia Davenport, ESP*

Mary Davison, Teacher

Karen Edison, Educational Assistant

Janet Germann, Transportation

Cindy Grover, Exceptional Education*

Kimberly Grunawalt, Teacher

Jan Hank, Teacher

Sheryll Harper, Administrator*

Thomas Hartman, Administrator*

Pam Hollenberg, Teacher*

Jane Hostetler, Teacher*

Joel Howard, Custodian

Lynn Johnson, Custodian*

Leslie Kistler​, Teacher*

Charlotte Koelndorfer, Kids Club

Barbara Langle, Food Service

Susan Lynn, Educational Assistant*

Ann Metzner, Educational Assistant

Richard Moroni, Custodian*

Deb Nehls, Teacher

Valerie Ong, Teacher

John Rice, Teacher*

Richard Roberts, Custodian

Eileen Sherk, Educational Assistant

Kathleen Strycker-Healey, Educational Assistant

Vicki Topolski, Teacher*

Laura Vanderheyden, Teacher

Denise VanHulle, Educational Assistant

Debra Wassenhove, ESP*

Mark Watts, Teacher*

Nietta Wright, Teacher

Conley Yoakum, Transportation
Click here to download a pdf copy of the Employee Recognition Dinner program to read the submitted retirement reflections. Only those noted above with an asterisks (*) submitted a reflection.
*To download high resolution jpg files from the photo gallery below, just simply click the "DOWNLOAD" button on the bottom right-hand corner of the photo while viewing it in the Photo Gallery function.