Posted: Monday, March 11, 2019 - 2:58pm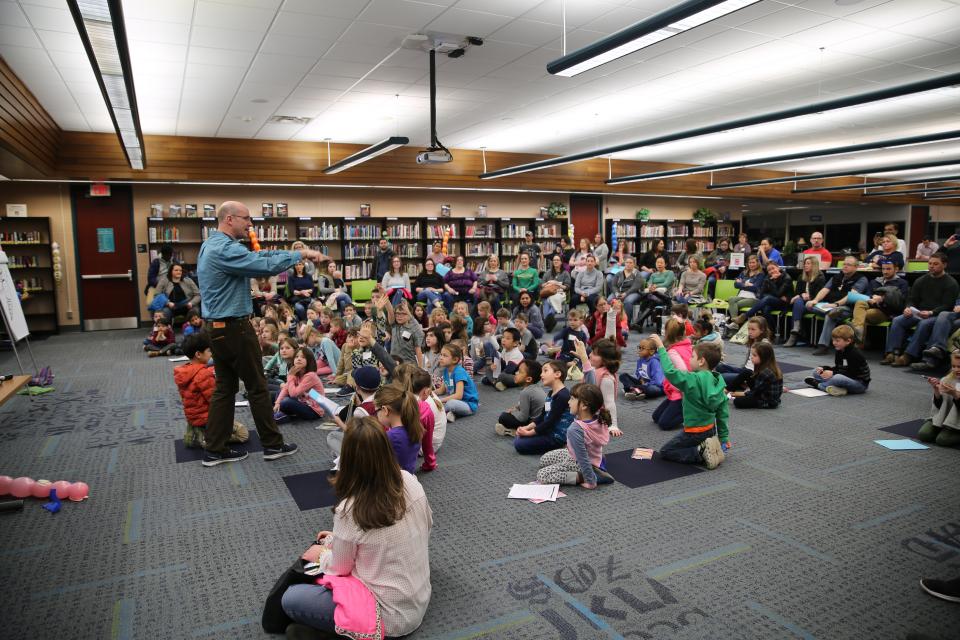 This year's Young Authors' Conference, held this past Saturday, March 9, was a huge success with 215 students in attendance with their parents! Troy Cummings was this year's celebrity author and illustrator of the popular series "The Notebook of Doom." 
During this unique learning experience, P-H-M students in grades K-5 have the opportunity to learn directly from a well-known children's writer. Through interactive, engaging Q&A with the children, Cummings led the students through the process of creating colorful storylines. He and the students also came up with offbeat book characters like a ice cream eating monster and a cow-dog. See the photo gallery below.
Students also participate in small group sharing sessions, led by P-H-M teachers, where they share stories they've created. Students give each other positive feedback, encouraging and inspiring their fellow students.
Students aren't the only ones that benefit from the Young Authors' Conference, parents do too! While students were participating in their small group writing sessions, parents attended a special presentation by Bethel College education professor Dr. Michelle Fish who gave parents fun tips on ways to inspire ideas for creative writing with their children. Click here for Dr. Fish's presentation and list of Mentor Texts.
Students and parents also enjoyed a presentation of "Tuck Everlasting, The Musical" by Penn High School students. This was the 11th year for Young Authors' Conference; it is sponsored by Corporations for Education, a division of the P-H-M Education Foundation. 
To download high resolution jpg files from the photo gallery below, just simply click the "DOWNLOAD" button on the bottom right-hand corner of the photo while viewing it in the Photo Gallery function. We are happy to provide this service to you free of charge.