Posted: Tuesday, June 22, 2021 - 12:34pm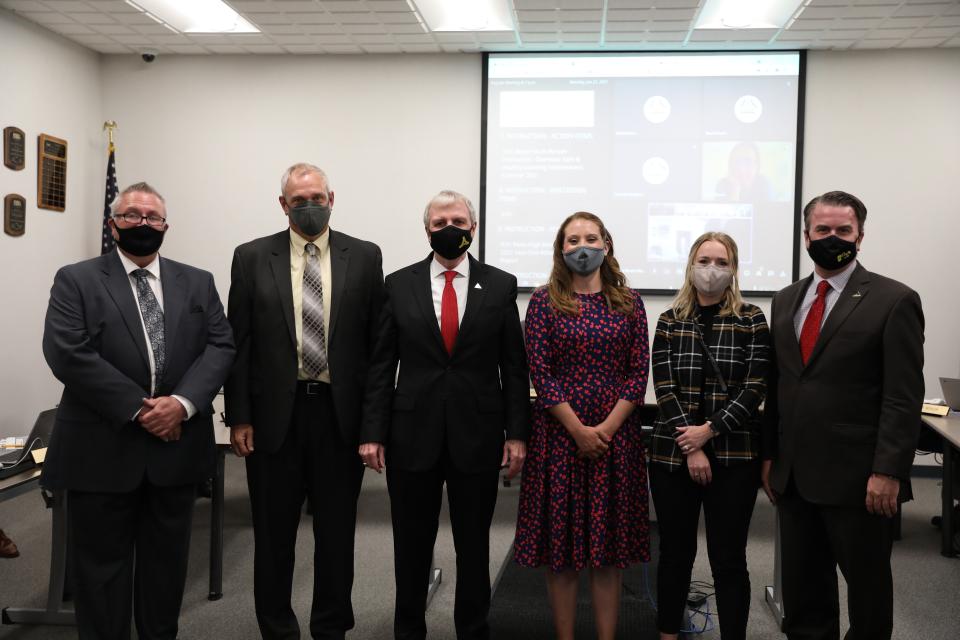 On Monday, June 21, 2021 the Board of School Trustees approved the administrative changes submitted by Superintendent Dr. Jerry Thacker. The changes below will take effect July 1 for the upcoming 2021-2022 school year:
 
Bob Thompson was approved as the new Director of Alternative Education and Special Projects. This position opened when Seth Molnar was appointed Director of Human Resources replacing Mike Lureman who retired. Bob began his career in education in 2000 and has been with P-H-M for thirteen years, beginning in 2008 when he was hired as the Assistant to the Principal for Elsie Rogers Elementary. From 2009-2012, he served as Principal of Elsie Rogers. Bob was Principal of Bittersweet Elementary from 2012 until the end of this school year. He has also served as an Adjunct Professor for Bethel University in the Graduate Education Program since 2015. Bob is a Penn alum receiving the Penn High School Distinguished Alumni Award, Teacher of the Year at Battell Elementary during his time with School City of Mishawaka, as well as the IUSB Outstanding Future Educator Award.
Katie Carroll was appointed as the new Principal of Bittersweet Elementary. Katie has been the Assistant to the Principal at Walt Disney Elementary since 2017 and served as K-4 Summer School Co-Principal since 2018. She is also a product of P-H-M attending Mary Frank, Horizon, Discovery and Penn. She began her teaching career in 2008 at Elsie Rogers after doing her student teaching with P-H-M. Katie taught kindergarten and first grade for nine years at Elsie. She is certified in Orton Gillingham Multisensory Approach, CPI trained, and is a certified Indiana School Safety Specialist.
Brad Boyd was named Night School Supervisor following the retirement of Ginny Mueller. Brad began with P-H-M as a substitute teacher in 2009 and then moved to Walt Disney Elementary as a full-time Educational Assistant through Joint Services in January of 2010. Brad started teaching at Penn in 2012 as a half-time Social Studies Teacher and a half-time Dean of Students. He became full-time Dean of Students in 2014, with the exception of the 2016-2017 school year when he acted as an interim Assistant Principal.
Kevin McMillen will be moving to the Assistant Principal position at Grissom Middle School. Kevin was hired in 1995, teaching German at Penn High School. He transitioned to Discovery Middle School the following year to teach multiple foreign languages for 7th and 8th grades. Kevin served as an interim Assistant Principal at Schmucker Middle School before being named principal at Madison Elementary in 2017.
Jennifer Sinclair was approved as the new building principal for Madison Elementary. Jennifer has been with P-H-M for nine years, beginning in 2012 as a classroom teacher at Walt Disney Elementary. In 2018, she became an Assistant Principal at Grissom Middle School. During her time at GMS she has served as the RtI coordinator, the School Threat Assessment Team Leader and District Team Member. This past school year Jennifer was one of three Assistant Principal's who worked at the ESC supporting central office staff, managing COVID communications, and providing COVID protocols and guidance for building principals.