Posted: Monday, July 2, 2018 - 1:59pm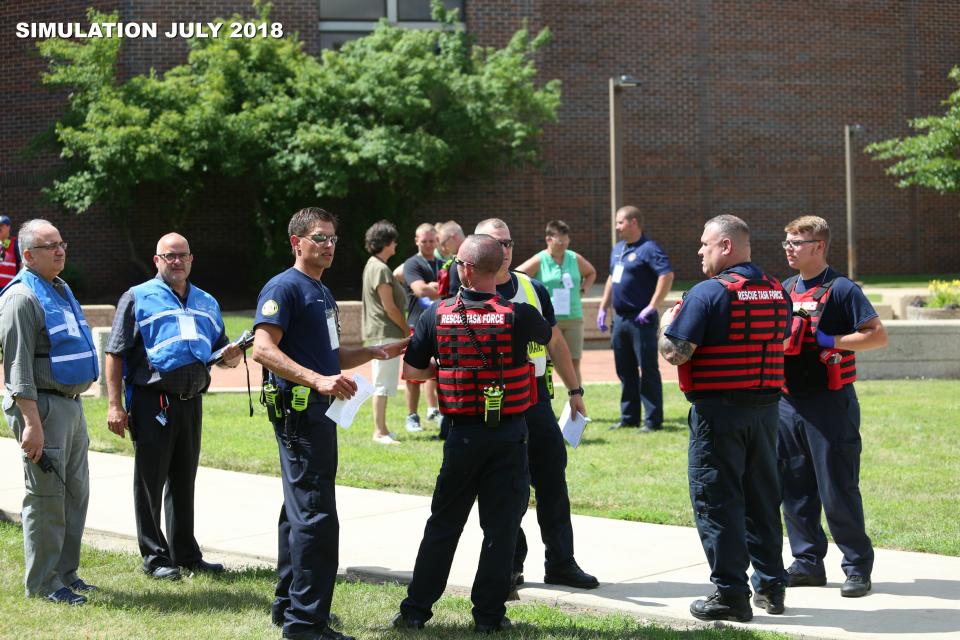 More than 250 people participated in today's (Monday, July 2) an active shooter training drill held at Penn High School. Personnel from multiple local emergency, first responder and police agencies, along with Penn High School and Penn-Harris-Madison administration and staff were all involved in today's valuable community exercise. Participants in today's drill either partook as active participants in their emergency responser role, actors, observers or evaluators. Please see a photo gallery below from today's drill. 
P-H-M's Director of Safety and Student Services Mike Seger worked with Sgt. Bryan Fox, Training Coordinator with Mishawaka Police Department, and several other St. Joseph County agencies for nearly a year planning today's safety exercise. Other participating agencies included: St. Joseph County Police, Mishawaka Fire Department, Penn Township Fire Department, Clay Fire Department, St. Joseph County Emergency Management, Memorial Hospital, Elkhart General Hospital, St. Joseph Medical System, St. Joseph County 911 Center, South Bend Fire Department and Honeywell Security Group. Representatives from the FBI, Department of Homeland Security and the Indiana Department of Education Office of School Building Physical Security & Safety were also on hand to observe today's drill.
"Today's drill was important for P-H-M because it gets our community first responders working together for the benefit of our school and all other schools in the community," said P-H-M's Director of Safety and Security Mike Seger.
"Anytime you get the opportunity to have this many disciplines, this many organizations do a real life exercise in the environments that they may have to work in some day, it's a benefit," said St. Joseph County Police Assistant Chief Bill Thompson. "Today was a worthwhile venture because we were able to get some many people involved, test a lot of our systems, to see not only what we do well, but the things we can improve on. Any time you get a chance to do that, it improves our capacity to respond and it makes our community safer."
The scenario for today's training exercise was an after school hours event at Penn High School: a student/staff dodgeball game taking place in Penn's Main Arena. Actors were on the gym floor and in the stands simulating crowd patrons, as well as staff actors stationed at the event door entrance. A St. Joseph County police officer playing the role of the active shooter entered the building using noise bombs and blanks. The drill included simulation of multiple victim casualties. This allowed for law enforcement personnel to practice their tactics of finding and neutralizing the shooter within the building. By having actor victims, this gave local Fire Departments' Rescue Task Forces and First Responders the opportunity to practice arrival on the scene to access, triage and transport victims. St. Joseph County's 911 Center involvement in today's drill allowed the dispatch systems to be tested. Today's exercise also involved the extra step of transporting the actor shooting victims to Memorial Hospital and Elkhart General Hospitals; St. Joseph Medical center used paper patients. Including the hospitals in today's drill was key affording our local hospitals the chance to test their internal emergency and surgical staff and systems.
"The overall goal was to test the system to identify the intra agency communication breakdowns in order to overcome and correct what we can to make the system better together," said Cmdr. Bryan Fox, Uniform Devision.
The exercise was an evaluation and was conducted in a no- fault atmosphere.  A debrief was held immediately following; however, a more detailed report and findings will be provided to participating agencies at a later date.