Posted: Monday, July 3, 2017 - 9:36am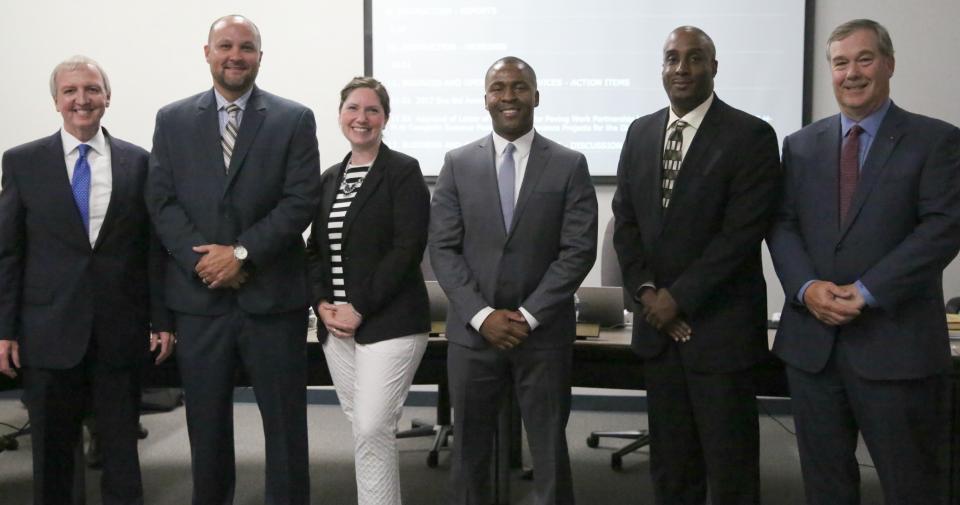 At the June 26th Board Meeting, existing P-H-M administrators and new hires were introduced and welcomed into their new positions.
Heather Short, Assistant Superintendent for Instruction
Jayson Snyder, Director of Professional Development and Student Learning
Sean Galiher, Principal of Penn High School
Lavon Dean-Null, Principal of Schmucker Middle School
Kevin McMillen, Principal of Madison Elementary School
Kent Mikel, Principal of Meadow's Edge Elementary School
Ryan Towner, Principal of Walt Disney's Elementary School
Derrick White, Assistant Principal of Penn High School
Lucas Fry, Assistant Principal of Schmucker Middle School
Jean Milfort, Assistant Principal of Schmucker Middle School
Several of the positions were previously announced on June 20 and May 31. The following appointments were new: Derrick White to Assistant Principal of Penn High School; Lucas Fry to Assistant Principal of Schmucker Middle School; and Jean Milfort also to Assistant Principal of Schmucker Middle School.
Mr. White joins the P-H-M administrative team bringing 20 years of experience in the educational field, most recently as Assistant Principal at Riley High School. Before that, Derrick served as Principal of the Navarre Intermediate Center for 10 years. He has also served as an assistant principal and dean of students at John Adams High School. As a teacher, he taught Social Studies at Adams and Jackson Intermediate Center and was a seventh grade Special Education teacher at Navarre. He has participated in the Principals Leadership Academy (IPLA) and is a member of the National Association of Secondary School Principals, and is affiliated with the Association for Supervision and Curriculum Development and worked with Community Foundation of St. Joseph County. Mr. White holds a Bachelors of Science in History and a Masters in Secondary Education from Ball State University, and earned his Administration Certification in Education Administration from Indiana University South Bend. Mr. White brings a wealth of experience in the area of instruction and professional development to P-H-M, participating in and leading a number of initiatives with South Bend Schools.
To fill the two open assistant principal positions at Schmucker Middle School, Lucas Fry will be moving from Penn High School and Jean Milfort was hired from Elkhart Central High School.
Mr. Fry has nearly 10 years of experience, the past six years as dean of students at Penn. Before that, he taught U.S. History, Government and Anthropology for two years. Prior to joining P-H-M in 2011, Mr. Fry was with Mishawaka Schools. He holds a Masters in Educational Administration & Supervision from Ball State, where he also received his B.A. in Criminal Justice and minored in Sociology. Mr. Fry has been instrumental in developing and implementing positive behavior and student engagement initiatives at Penn High School.
Jean Milfort is joining Schmucker from Elkhart Central High School where he was assistant principal. Mr. Milfort has 14 years of experience in the field of education. Before serving at Elkhart Central High, he was assistant principal at Hawthorne Elementary School and taught middle school for eight years. Mr. Milfort holds a Bachelor's degree in Social Studies/Elementary Education from Bethel College and a Masters Degree in Education and Principal Licensure Program from Indiana Wesleyan University. At Elkhart Schools, Mr. Milfort led teacher staff development programs. He also has done a lot of work in the area of student behavior modification, helping to develop a district wide bullying prevention program.
All the new positions became effective July 1, 2017.