Posted: Monday, January 23, 2023 - 1:49pm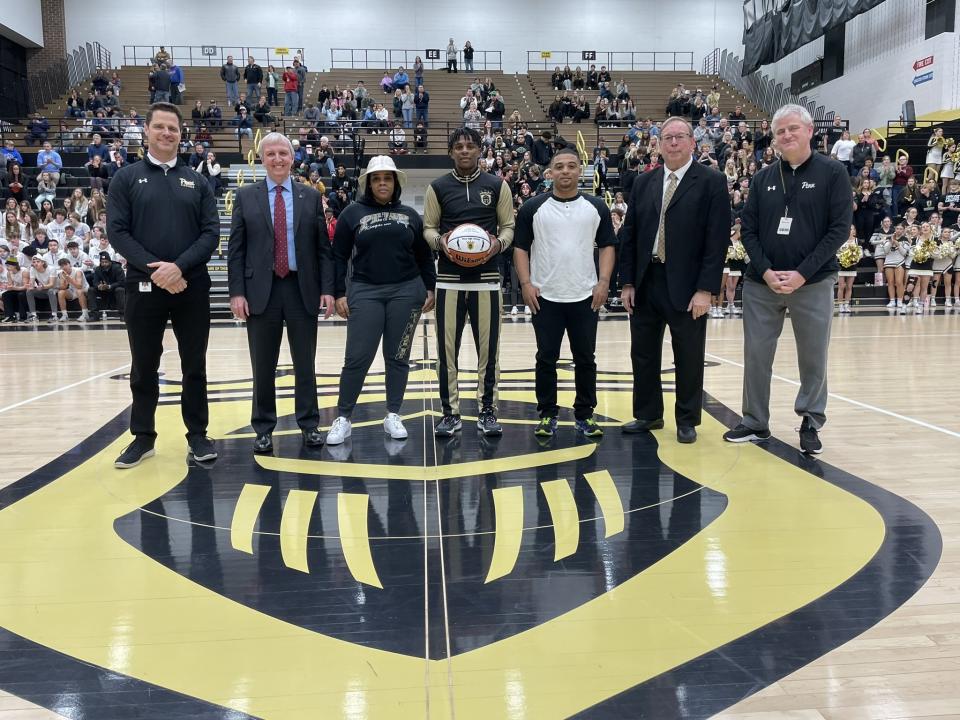 Friday, January 20, 2023 will go down in "Penn History Books." It was a sell-out crowd at the Palace, all there to for two reasons:
to see the Kingsmen (No. 2 in 4A) beat rival, No. 1 (Class 3-A) ranked Marian; and
to see senior point guard Markus Burton beat Penn's All-time Scoring Record.
The atmosphere was electrifying! Watch the video below of the starting line up.
The anticipation had been building for a few weeks as Markus was hitting bucket after bucket, averaging  29.7 points a game (the State leader according to MaxPreps). And Markus and his fellow Kingsmen teammates lived up to the hype!
Going into the game, the Notre Dame commit needed just 11 points to tie (12 to break) Noah Applegate's All-time Scoring Record of 1,709 points set in 2019 (the previous scoring record of 1,413 points set in 1964 by Keith Berkey). The packed student section, a couple hundred students deep, were on the their feet from before the beginning of the game anxiously counting down each shot Markus made until he broke the record. The students erupted in cheers as Markus came closer and closer to breaking the record with each shot. 
 
Finally the big moment happened in the second quarter. Markus stole the ball, drove the court and swooped in for a lay-up for the record-setting basket giving him points 11 and 12 pushing him into the Penn Athletic record books as Penn's All-time Scoring Leader. Click the image below to watch the video of the record-breaking shot.
After that, the Palace (at least Penn fans) took a collective sigh of relief—for at least that milestone portion of the game. The stakes were still high. Coach Rhodes, the senior Kingsmen players, heck all the players, students, parents, and Penn fans wanted to beat Marian, who have beaten Penn the last eight times. All of Kingsmen Nation wanted the win, and the Kingsmen didn't disappoint.
The Kingsmen took command early and kept up the attack. Markus proved once again why he's a top candidate for Indy Star's Mr. Basketball! Markus eventually racked up a total of 32 points, five assists and four steals, finishing the January 20th game with a  total of 1,730 points.
Trey Miller scored 11 points for the Kingsmen against Marian.
Joe Smith scored eight points and had five assists.
Dominic Bonner scored six points, Joey Garwood scored five points.
Penn outrebounded Marian 32-13 and owned an 11-2 edge in second-chance points.
Penn pounced on Marian early, taking a 16-7 lead after the first quarter. Penn's biggest lead was a 17-point margin, 53-36.
PENN 66: Joey Garwood 5, Markus Burton 32, Joe Smith 8, Josh Gatete 2, Dylan Derda 2, Trey Miller 11, Dominic Bonner 6, Ethan Good 0, Mookie Ward 0, Maverick Brown 0.
Marian 52: Deaglan Sullivan 15, Dareon Thornton 7, Paxan Sullivan 0, Zion Rhoades 0, William Oweens 10, Jackson Price 11, Jackson Horvath 0, Ben Warnell 2, Thomas Murphy 0, Jordan Maust 0, Grant Mishler 0, Elias Norgaard 7.
PENN             16        15        22        13 – 66
Marian            7          15        16        14 – 52
Three-pointers: PENN 7 (Markus Burton 3, Trey Miller 2, Joey Garwood 1, Joe Smith 1), Marian 4 (Price 3, Thornton 1).
Penn's student section went wild, albeit somewhat constrained. The students held off storming the court until Penn Principal Sean Galiher gave the students the final OK. Once on the court, the students celebrated with the each other and the team, hoisting Markus onto their shoulders chanting MVP, MVP, MVP! Watch the videos below of the different perspectives of this memorable night.
Click the image below to watch the aerial view of the students storming the court.
So if you missed this monumental night, don't despair you'll probably get at least another chance, maybe a couple ... Markus isn't done yet! After Penn's win over St. Joseph Tuesday, Jan. 24 (where he was recognized with his parent's before the start of the game as Penn's new All-time Leading Scorer), Markus now sits at 1,809 points!
Markus is on track now to become All-time Leading Scorer for St. Joseph County beating out his soon-to-be Notre Dame teammate, former St. Joseph player J.R. Konieczny. His record of 1,996 points was set between 2017-2021. Markus is 188 points away from breaking this record, and 191 points shy of the 2,000-mark, which has never been achieved by a St. Joseph County Boys Basketball Player—that includes athletes selected in last year's NBA Draft, Jaden Ivey (Pistons) and Blake Wesley (Spurs).
At his current pace and averaging 29.7 points a game, it's very possible Markus could set both records at Elkhart (Feb. 17), or at home against Mishawaka (Feb. 21). 
It could happen sooner, Markus scored 44 points on Jan. 24th against St. Joe, Penn winning 86-69. That shooting record just projected Markus into first in the state in scoring.
Penn students and fans, you'll want to make sure to catch as many games as you can if you want to continue to watch history! And hopefully, Markus Burton will become Penn's first Mr. Basketball and the second in South Bend area's history. Dave Magley, LaSalle High School, won in 1978, who went on to play for Kansas and was a 2nd round draft pick in 1982 for the Cleveland Cavaliers.