Posted: Tuesday, January 23, 2018 - 3:19pm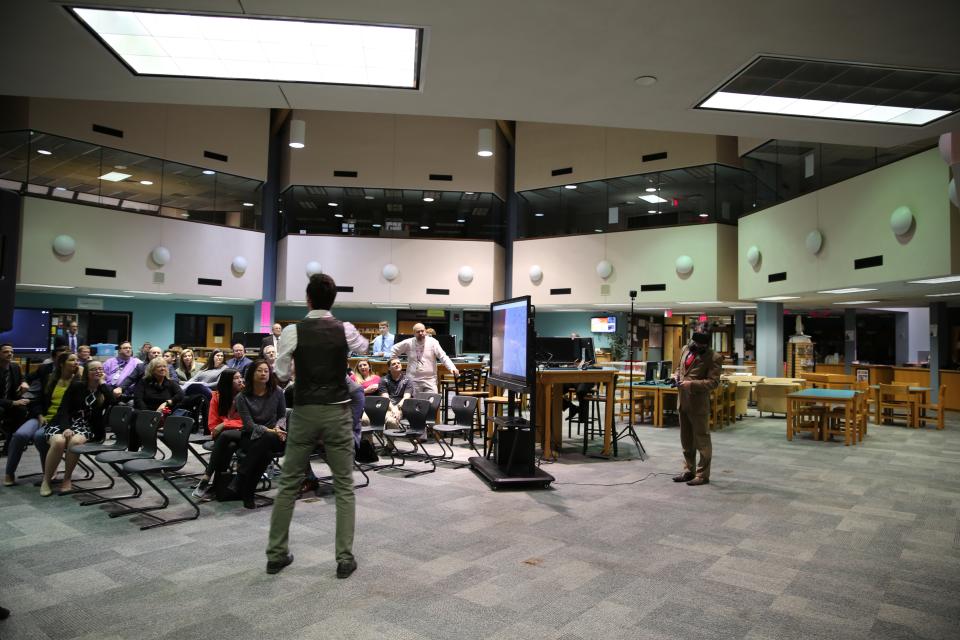 Penn High School students and programs were the stars of the show at Monday night's Board meeting (Jan. 22, 2018). Every year, the Board chooses a few schools to hold their Board meetings. The school meeting sites are a way for the Penn-Harris-Madison Board of School Trustees to not only visit the schools, but to also give the schools a chance to highlight their successes.
As Board Members and guests arrived for the meeting, they were treated to Penn's Jazz Combo, under the direction of Mr. Lavon Oke. The group recently received the "Judges Award" (third place) at the Purdue Jazz Festival.
With the help of Board President Chris Riley, STEM Academy/Biology teacher Andrew Warner demonstrated the school's virtual reality unit that he uses in his classroom with students. President Riley travelled from outer space to Paris and climbed the Eiffel Tower all while never leaving Penn's IMC!
Penn Principal Sean Galiher also asked students to present on the value of the dozens of Clubs offered at Penn.
More than half of Penn's approximate 3,700 students take courses within Penn Fine Arts. Academy Leader Glenn Northern updated the Board on some of the recent accomplishments of Fine Arts Students:
Penn High School students excelled in the Scholastic Art Awards, which is the largest Art competition in the nation. Penn students received 13 Gold Key Awards, 16 Silver Key Awards, and 25 Honorable Mentions.
Two students have been invited to perform in the 2018 Carneige Hall Honors Performance Series National Youth Orchestra.
The Penn Orchestra will be performing and participating in a recording soundtrack workshop at Disney World in April, 2018.
Symphonic Winds placed 7th in the Indiana State Concert Band Finals in 2017.

  
 
Mr. Northern himself was recognized by the Board for his recent award for 2018 Outstanding High School Music Educator of the Year by the Indiana Music Educator Association Board, as well as Penn Softball Coach Beth Zachary for being named 2016-2017 Central Sectional Coach of the Year by the National Federation of State High School Associations.