Posted: Wednesday, April 19, 2023 - 8:20pm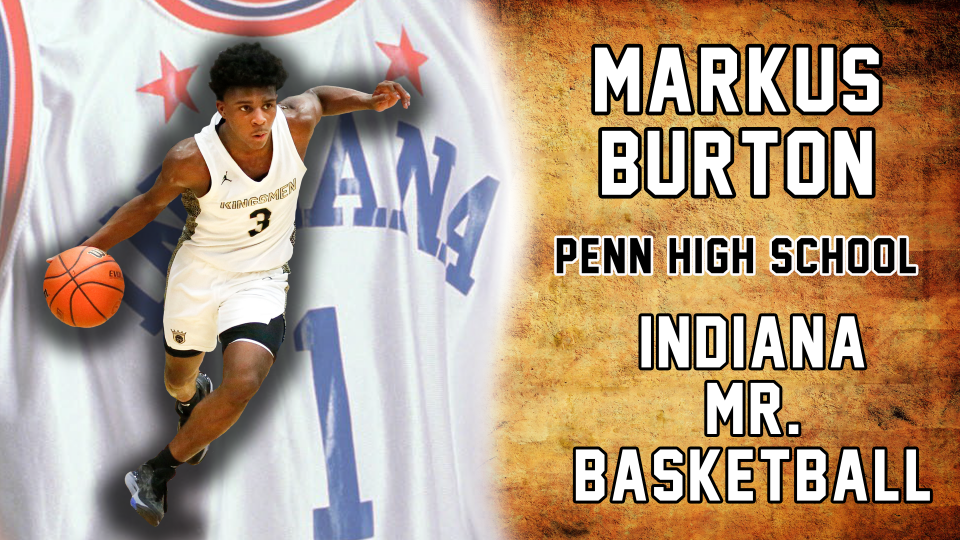 Penn High School's Markus Burton carved his name into the Indiana Boys Basketball history books, as the 6-foot-1 point guard was named the 2023 Indiana Mr. Basketball in a vote by the state's coaches and media!
The honor was announced at the Indiana High School Sports Awards Show, presented by the Indiana Pacers, at Butler University's Clowes Memorial Hall on Wednesday, April 19, 2023. Click here to see the photo gallery on Penn's website from the Indiana High School Sports Awards Show taken by Indy Star (Wed., April, 19, 2023).
Burton, a Notre Dame signee, is the first Mr. Basketball from Penn High School. He is only the third Boys Basketball player from St. Joseph County to win the coveted Mr. Basketball Award! David Magley of South Bend LaSalle was named Mr. Basketball in 1978, and John Coalman of South Bend Central was named Mr. Basketball in 1957.
"I'm humbled to be the first Mr. Basketball from Penn High School, and only the third Mr. Basketball from St. Joseph County," Burton said. "Winning Mr. Basketball means a lot to me, knowing it's been a long time since someone from South Bend brought Mr. Basketball back home. It means a lot to me, and I hope it means a lot to the community."
Click below to read and watch the media coverage.
Penn posted a 28-2 record in 2022-2023. The Kingsmen reached the Final Four of the Class 4-A state tournament, claiming Regional and Sectional Championships along the way. Penn also won the Northern Indiana Conference Championship in the regular season.
Burton, who attended Meadow's Edge Elementary and Grissom Middle School, expressed his gratitude to the many people he said have helped him on his basketball journey.
"I especially want to thank my Mom and Dad for all of their love and support," Burton said. "Coach (Al) Rhodes for believing in me, even as a freshman. Thank you to the Penn Coaching Staff and all of my teammates. I also want to thank the Penn community for all of the love and support."
Penn Boys Basketball Head Coach Al Rhodes, who announced his retirement earlier this week, said that Burton deserves the state's top honor for a Boys Basketball player.
"Markus Burton is the best high school basketball player in Indiana!" Rhodes said. "It is so fitting that he has been chosen Mr. Basketball. No other player has put in the work that he has. Great things are ahead for Markus as he heads to Notre Dame."
Rhodes owns the rare distinction of coaching three players who won the Mr. Basketball Award - Burton (2023), Kevin Ault of Warsaw (1996) and Jeff Grose of Warsaw (1985).
Burton owns the Penn career scoring record (2,273 points) and the single-season Penn record (909 points this season). He ranks No. 20 on the all-time Indiana high school boys basketball scoring list. Burton scored in double figures in 57 consecutive games in his career. He scored a career-high 47 points in an 85-51 victory against South Bend Washington on Feb. 10, 2023.
This season, Burton led the state with a scoring average of 30.3 points a game. The Kingsmen Senior ignited a high-flying attack as Penn led the state with an average of 77.9 points a game. Penn also led the state with a 30.0 point average margin of victory.
"I'm grateful to the Indiana Basketball Coaches Association and the Indianapolis Star for this incredible honor," Burton said. "I want to thank everyone who voted for me. Props to the other candidates – I'm honored to be in their company. I know they worked hard and sacrificed and pursued their dreams."
Burton won the award over a star-studded list of finalists that included Xavier Booker of Indianapolis Cathedral (Michigan State recruit), Myles Colvin of Heritage Christian (Purdue recruit), Zane Doughty of Indianapolis Ben Davis (Ball State recruit), Joey Hart of Linton-Stockton (Central Florida recruit) and Mason Jones of Valparaiso (Ball State recruit).
Named the Indiana Basketball Coaches Association Most Complete Player, Burton led Penn this season in scoring (30.3 points a game), rebounding (5.7 rebounds a game), assists (5.1 assists a game), and steals (3.6 steals a game).
Burton also earned an IHSAA Sportsmanship Award in the 2022-2023 season, and he is a two-time winner of the Northern Indiana Conference Most Valuable Player Award.
Former Purdue standout and Indiana All-Star Brandon McKnight, who played his high school basketball at South Bend LaSalle and has mentored Burton, said that Burton stood above the state's greatest players this season.
"Markus deserves Mr. Basketball because he has been the most consistent player in the state of Indiana," McKnight said. "There is not another player who can impact the game with offense, defense, passing like him."
In an interview with Kyle Neddenriep of the Indianapolis Star prior to the state finals, Head Coach John Peckinpaugh of state runner-up Kokomo said of Burton, "He's the best guard I've seen in this state in a while. His ability to make tough shots is unreal and he does a great job of making teammates better."
Burton, the first Penn Boys Basketball player named to the Indiana All-Star Team, will lead the 2023 Hoosier contingent in their two games against the Kentucky All-Stars. The Indiana All-Stars play Kentucky in Owensboro, Ky., on June 9. Indiana hosts the historic All-Star contest on June 10 at Gainbridge Fieldhouse, the home of the NBA's Indiana Pacers. Penn's Kristi Ulrich is the head coach of the Indiana Girls All-Star Team.