Posted: Friday, April 28, 2023 - 3:00pm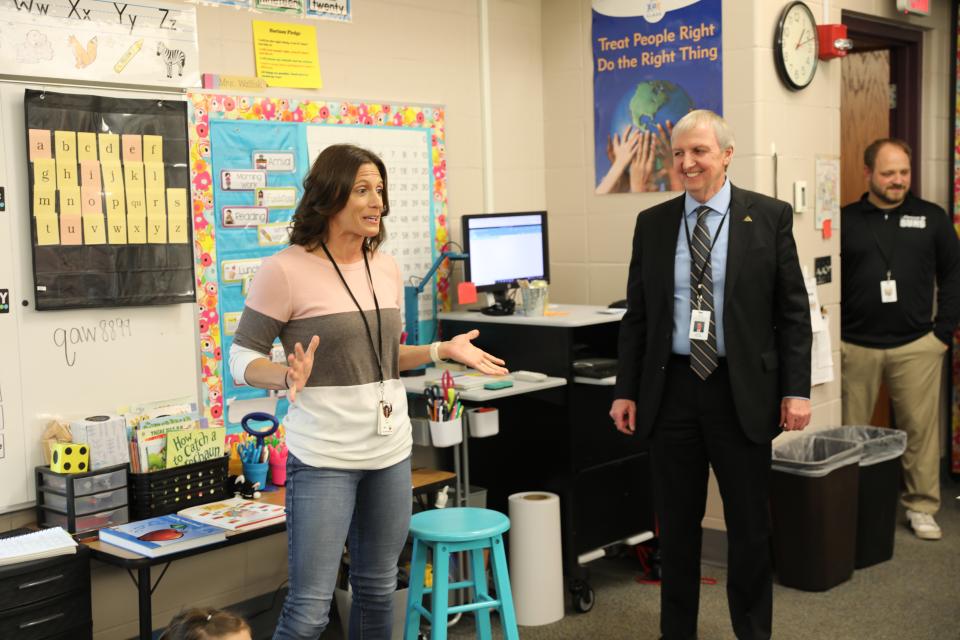 P-H-M Superintendent Dr. Jerry Thacker wrapped up his busy week of surprises this afternoon at Horizon Elementary School by naming Teacher's Aide Julie Mead as the Classified Employee of the Year. Dr. Thacker and Horizon Principal Amy Fadorsen popped into a kindergarten class where Mead was leading a Reading Learning Club session. Mead was so taken off guard she didn't realize the award was actually for her until Dr. Thacker said her name. Click to watch the video below and view the photo gallery.
Mead first came to P-H-M as a parent. All of her three children have attended P-H-M schools and she says grateful for all the opportunities P-H-M has provided for her children and now herself, "Best decision we could have made, not only for our three kids, but for our family as a whole. Not only have they had wonderful educational experiences, but I've been able to find a job that is more like a family at Horizon."
Mead started working at P-H-M in January 2019 as a Universal Substitute at Horizon. A year later she transitioned to a Teacher's Aide position, staying at Horizon. This school year, Mead has also become an Early Learning Academy Teacher's Aide–the only ELA Teacher's Aide at Horizon! 
Mead loves that she's able to interact with students and staff throughout the building, "The job of a TA is a unique one. You spend so much of your day in small time frames all over the building. I touch each grade level daily. I get to learn about each and every year these students spend in the building and I get to help them year after year grow in their learning." Mead says she's found her calling as a TA, "I count it a blessing to be able to help so many all over the building! … There is so much joy in my day to be able to see those little lightbulbs go off above the students' heads."
Mead is appreciated not just for the assistance she provides in the classroom, but for what she does  outside the classroom as well. Her list of school activities include: leading staff after school workouts, helping coach Horizon's "Running is Elementary" teams, taking care of Horizon's outdoor learning space known as the environmental lab, serving as a school traffic guard through VSS, and organizing a school blood drive for staff and the community.
Horizon teacher Jeffrey Hardman, who nominated Mead, explains how important she is to the building community "Mrs. Mead social emotional personality to help and lift up those around her is above and beyond what is needed in our workplace. She brings a cheery and secure personality to work each day." Hardman also states her "positive behaviors have left us all feeling better at the end of the day."
There were two surprise announcements earlier this week for P-H-M Teachers of the Year. On Monday, April 24, P-H-M Superintendent Dr. Thacker surprised Walt Disney Music Teacher Mr. Robi Davidson naming him P-H-M Elementary Teacher of the Year. The next day (Tuesday, April 25) he surprised Penn High School AP History Teacher and Tennis Coach Mr. Eric Bowers and named him Secondary Teacher of the Year. Julie Mead was named Classified Employee of the Year on Friday, April 28.
The Teachers of the Year and the Employee of the Year awardees are officially recognized at P-H-M's annual Employee Recognition & Retiree Dinner which will take place Wednesday, May 17th.