Posted: Monday, April 24, 2023 - 9:00am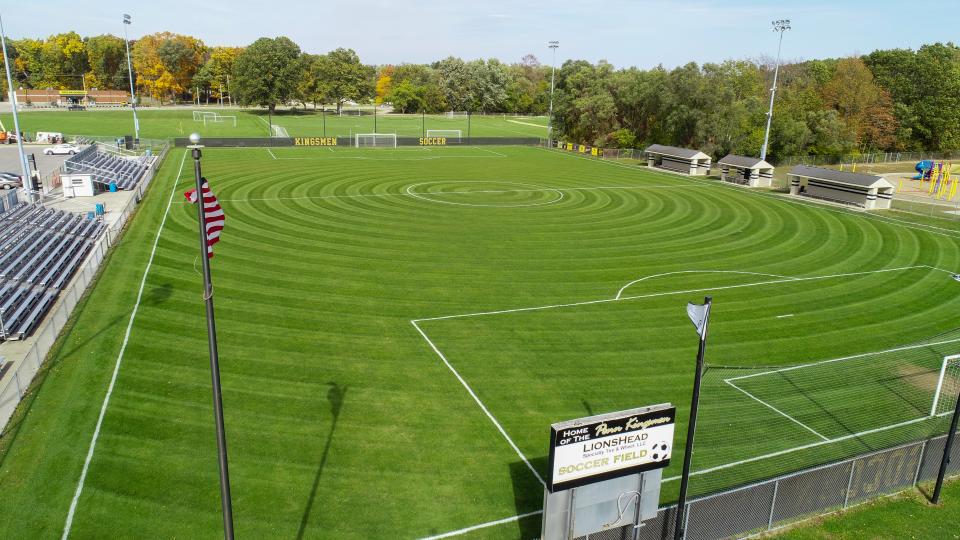 *Update*
In August, 2023, brand new field turf was installed with the Lionshead Logo, take a look!
---
Original Story:
At Monday's Penn-Harris-Madison Board of School Trustees meeting, the Trustees approved a $50,000 (payable over five years) donation by Lionshead Specialty Tire and Wheel as part of the P-H-M Education Foundation naming rights campaign. As part of the contribution, the Lionshead logo will be installed in the turf in July 2023. The logo will remain for the life of the field or 12 years whichever is first.
Lionshead has a longstanding community partnership with P-H-M and the Education Foundation. Lionshead Specialty Tire and Wheel named the Penn High School Soccer Field in 2014 with a $25,000 contribution; the contract will be up for renewal in 2026.
All five children of owners Gary and Mary Graham have attended P-H-M schools and graduated from Penn High School, two of which played soccer. Daughter Maggie was on the 2016 and 2017 Girls Soccer Teams. Both teams were State Champions and were ranked #2 and #1 in the nation respectfully.
The mission of the Education Foundation is to develop alternative sources of income to support education initiatives in the School Corporation by strengthening partnerships between the community and the District. PHMEF supports education through awarding innovative teaching grants, scholarships to students, staff development and other corporation-wide initiatives.
Per PHMEF's naming rights fundraising initiative, 80 percent of donations go into the Foundation's endowment, which will in turn provide alternative and additional funding for various co-curricular and extracurricular programs. The remaining 20 percent directly funds professional development initiatives for P-H-M teachers. Continuing education and training of teachers is a major priority for P-H-M School District.
"The P-H-M Education Foundation is thankful for supporters like the Graham Family who care deeply about their community, supporting our mission through their generosity," said Jennifer Turnblom, executive director of PHMEF. "Their donation builds our endowment to help support grants and programs in all 15 PHM schools for years to come. A strong partnership between PHMEF and community businesses like Lionshead is vital to our ability to support excellence in education."
See the list below for a timeline of P-H-M Education Foundation's other naming rights partners:
August 2014, P-H-M Education Foundation recognized two local families for their longtime support, in-kind donations and financial contributions to P-H-M educational programs:

The music rooms at all P-H-M's elementary schools were named after Jim and Julie Schwartz (representing $50,000 worth of donations over 10 years)
The Band Room at Penn High School was named after the Doshi family (representing $15,000 worth of donations over 10 years)

September 2014, Lionshead Specialty Tire and Wheel donated $25,000 to name the "Lionshead Specialty Tire and Wheel Penn High School Soccer Field"
September 2014, Dar and Dot Wiekamp donated $25,000 to name the tennis courts at Penn High School the "Dar and Dot Wiekamp Penn High School Tennis Courts"
October 2014, May Oberfell Lorber donated $25,000 to name the softball field at Penn High School the "May Oberfell Lorber Penn High School Softball Field"
June 2015, Teachers Credit Union (TCU) donated $400,000 to name Penn High School's Freed Field "TCU Freed Field"
January 2016, Zolman's Tire & Auto Care donated $25,000 to name the north end zone concession stand at Penn High School's TCU Freed Field the "The Zolman Tire Concession Stand"
January 2016, Jordan Automotive Group donated $25,000 to name the Penn High School baseball field "Jordan Automotive Group Baseball Field at Penn High School"
March 2016, Trades Restaurant donated $25,000 to name the 2nd floor concession stand adjacent to Penn High School's Main Arena the "Tradewinds Restaurant Concession Stand"
July 2016, Saint Joseph Health System donated $10,000 to name the tennis courts at Prairie Vista Elementary School the "Saint Joseph Health System Tennis Courts at Prairie Vista"
August 2017, an anonymous donors donated $25,000 to name the newly constructed ticket center at Penn High School's TCU Freed Field named the "Larry Beehler Ticket Center"
October 2018, Zolman's Tire & Auto Care donated $25,000 to name the south end zone concession stand at Penn High School's TCU Freed Field "Zolman's Tire Concessions"
October 2019, the Hildebrandt Family (family of Penn alumnae and Olympic Bronze Medalist Sarah Hildebrandt) donated $15,000 to name the wrestling room at Penn "The Hildebrandt Family Wrestling Room"
December 2021, Dr. and Mrs. Jerry Thacker donated $25,000 to name the newly constructed Kingsmen Athletic Center at TCU Freed Field after Penn's legendary championship football coach, Chris Geesman, renaming the facility the "Chris Geesman Kingsmen Athletic Center"
April 2023, Lionshead Specialty Tire and Wheel donated $50,000 to install the Lionshead logo in the turf of "Lionshead Specialty Tire and Wheel Penn High School Soccer Field"