Posted: Tuesday, April 23, 2019 - 8:23am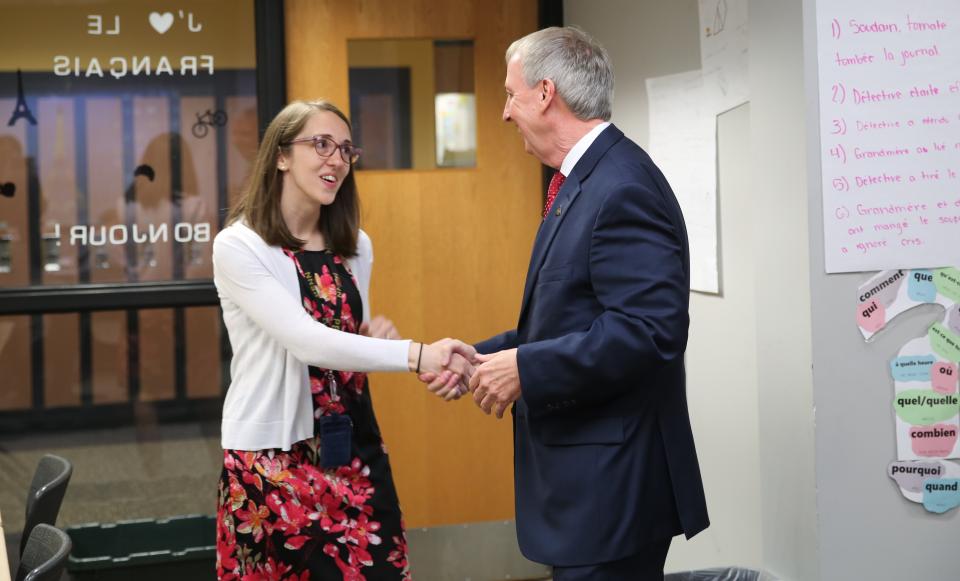 In a surprise announcement Tuesday (April 23) morning at Penn High School, Penn-Harris-Madison Superintendent Dr. Jerry Thacker honored the District's 2019 Secondary Teacher of the Year Penn Freshman Academy Leader & World Languages French Teacher Jeanie Mitchell (click to view the entire photo gallery below).
Watch the video below to see her reaction when she walks into the room to find Dr. Thacker and the cameras waiting ...
Madame Jeanie Mitchell came to P-H-M and to Penn High School to teach French in the World Languages Academy in 2008. Last September, she also became Freshman Academy Leader.
Through her French classes Mme. Mitchell brings the world to her students providing classroom project based learning projects, as well as field trips to the French Market in Chicago and even to France! Mme. Mitchell sees her role as a French teacher is to "encourage students to gain a better understanding of themselves and their own world by studying and relating to the practices and beliefs of others."
As the Freshman Academy Leader, Jeanie helps make the transition from middle school to high school manageable and less daunting for incoming freshmen. She worked with other Academy teachers to begin recognizing two freshman "Students of the Month" (two from each of the four freshman houses); so far more than 60 students have been highlighted this year.
Jeanie has also worked on a Tier 3 RtI program to identify Penn's most at-risk freshmen students pairing them up with an administrator, counselor or dean. These students not only get the wraparound support they need, but more importantly they also come to realize that they have trusted adults who care about them and who they can go to for help. Speaking of help … Jeanie is also involved in Penn's Natural Helper's program, which helps students to not only care for themselves, but to also show compassion and reach out and help others.
Jeanie is a leader among her peers at Penn, frequently leading staff professional development on a variety of topics such as technology, literacy strategies, effective parent communication, and how to use social media to develop teachers' personal learning networks.
Jeanie and her husband have two children who attend Horizon Elementary School.
To download high resolution jpg files from the photo gallery below, just simply click the "DOWNLOAD" button on the bottom right-hand corner of the photo while viewing it in the Photo Gallery function. We are happy to provide this service to you free of charge.