Posted: Tuesday, April 23, 2019 - 8:28am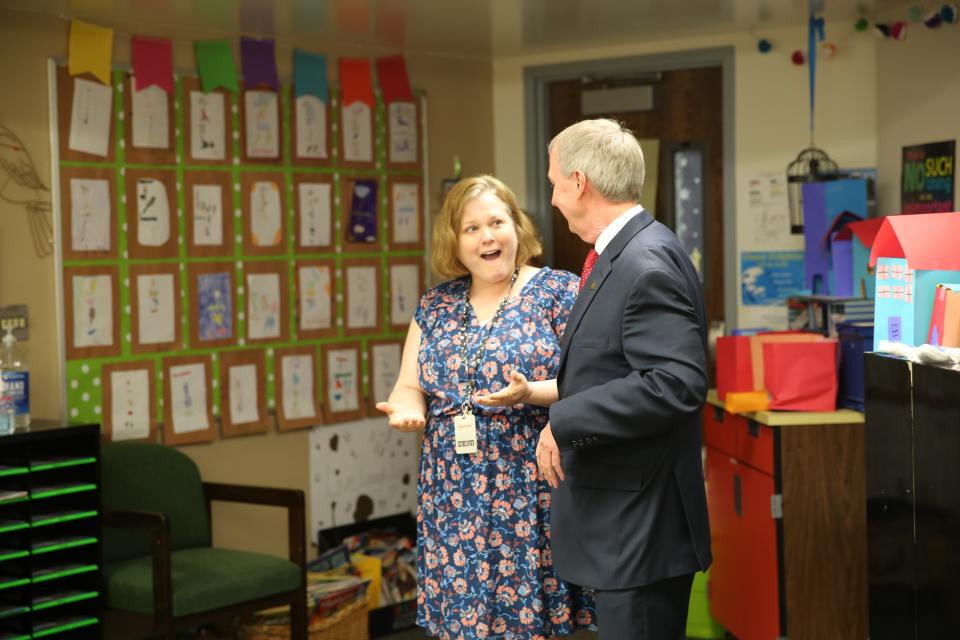 In a surprise announcement Tuesday (April 23) afternoon at Walt Disney Elementary School, Penn-Harris-Madison Superintendent Dr. Jerry Thacker honored the District's 2019 Elementary Teacher of the Year … fourth grade teacher at Walt Disney Christine Austin (click to view the entire photo gallery below).
Watch the video below to see her reaction when she walks into the room to find Dr. Thacker and the cameras waiting ...
Christine Austin is in her sixth year of teaching. She started with P-H-M full-time in 2014 as a teacher at Prairie Vista Elementary School. She moved to Walt Disney in 2015 and is currently teaching fourth grade there.
Fellow teachers describe Christine as innovative, creative, and willing to try new things in her ongoing quest to get her students engaged and keep them engaged. She is proactive and is able to differentiate instruction in the classroom, exploring all avenues to provide excellent, personalized instruction to all students. Her students' consistent growth is evidence that her dedication and ability to go above and beyond for her students pays off.
Christine is devoted to her students working in a number of after school co-curricular activities serving as a Spell Bowl Coach and as a sponsor for After School Learning Clubs; she also teaches Saturday Enrichment for the District and has volunteered for Young Authors' Conference.
She shows extraordinary commitment not just to her students, but in the leadership and support she lends to her colleagues. Christine's an important integral part to Disney's Teacher Leadership Team (TLT), supporting all grade levels as well as her own fourth grade team. She's even led staff PDs for Guided Math, Guided Reading for Exceptional Education, and presented at Technovation. Christine is a mentor not only for beginning teachers, but is also a great resource for veteran teachers.
She's involved in many school related programs and activities including PTO and serves on the Cultural Night Committee. In the past, Christine has also been a coach for Running is Elementary and for Girls on the Run.
In the community, Christine volunteers at the local humane society with her daughter and helps in the nursery at her church.
To download high resolution jpg files from the photo gallery below, just simply click the "DOWNLOAD" button on the bottom right-hand corner of the photo while viewing it in the Photo Gallery function. We are happy to provide this service to you free of charge.